---
Article
Where to Eat Oysters in Savannah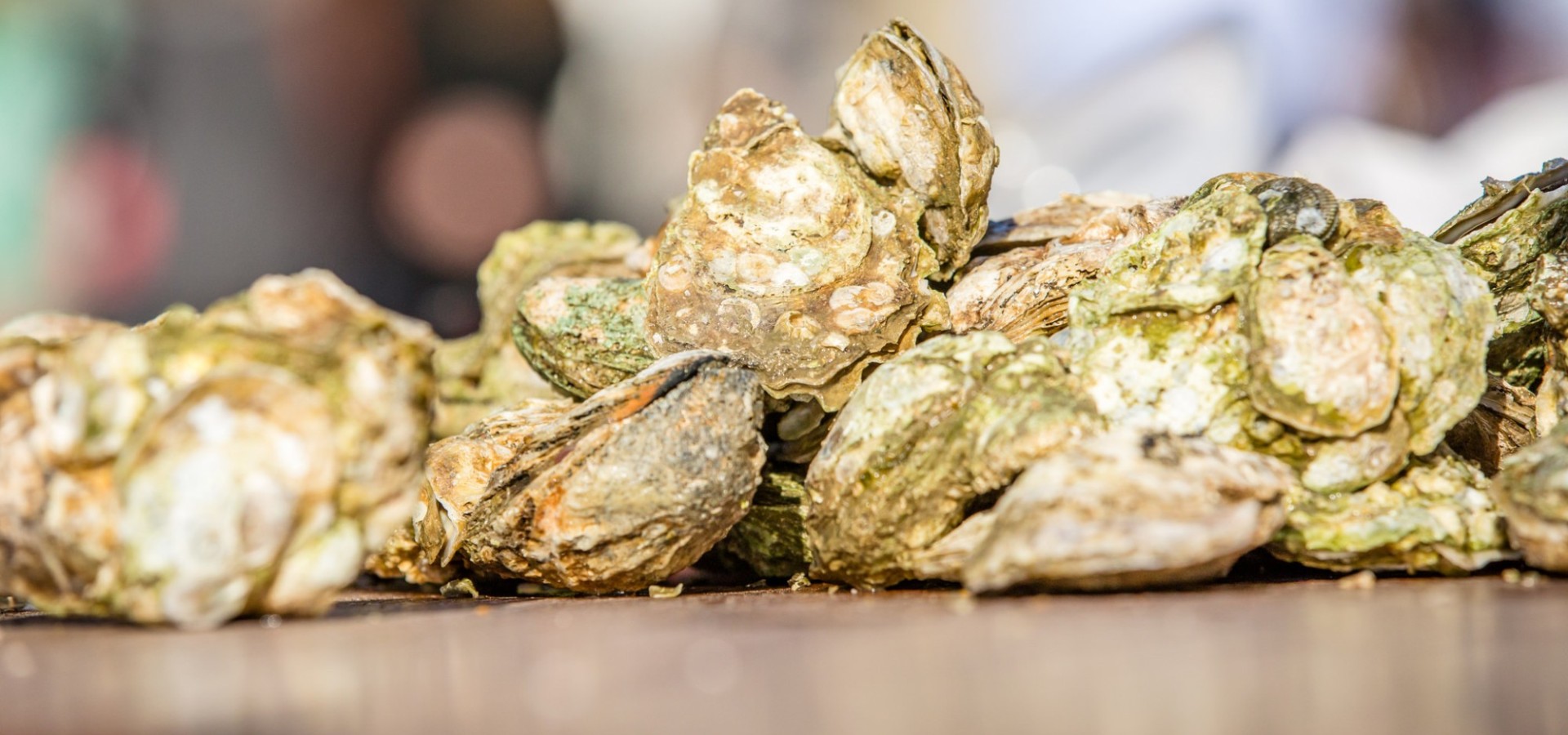 In the Low Country, oysters are an essential part of our coastal-style cuisine. Whether you're visiting and dining locally or hosting an oyster roast, we've got the details on how to get all of the delicious oysters you want.
Learn how to shuck an oyster with our instructional video.
Traditionally, oyster lovers are told not to eat these delicious delicacies during months without an "R." This historical wisdom most likely comes from the knowledge that summer months are the prime breeding time for red tides and algae that can spread toxins in warm coastal water. As the waters cool in the Atlantic in the fall, oysters are harvested from areas approved by the state and are perfectly safe for human consumption.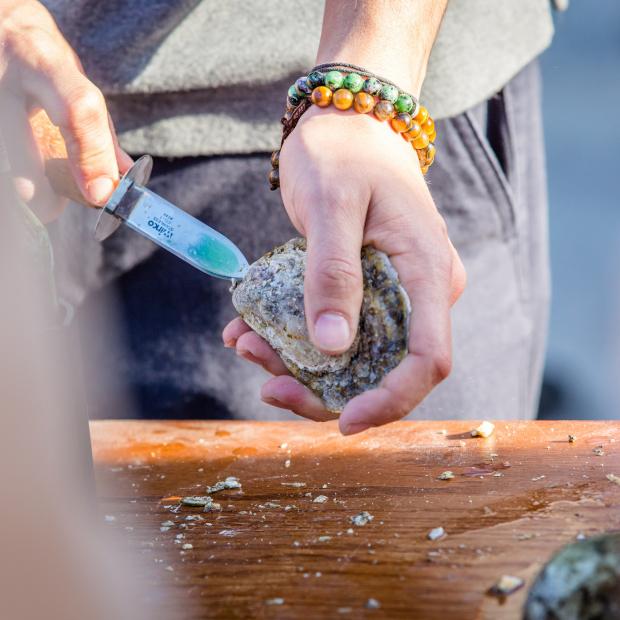 Oysters can be steamed, roasted, grilled, fried or eaten raw (on the half shell). Nearly every restaurant in Savannah serves up some type of local oyster specialty, and many can even bring oyster fun to you for your very own oyster roast!
Where to Eat Oysters in Savannah:
Love's Seafood Restaurant
Oyster options: Fried, Steamed
The Crab Shack at Chimney Creek
Oyster options: Raw, On the Half Shell or Steamed
The Olde Pink House
Oyster options: Blackened, Cornbread Fried, On the Half Shell
Savannah River House Seafood
Oyster options: Rockefeller, Fried
St. Neo's Brasserie
Oyster options: On the Half Shell
Sea Wolf Tybee
Oyster options: On the Half Shell
The Grey Restaurant
Oyster options: On the Half Shell
District Seafood
Oyster options: Fresh, Broiled, Rockefeller, Fried
Stone & Webster Chophouse
Oyster options: Broiled, On the Half Shell
Common Restaurant
Oyster options: On the Half Shell, Rockefeller
Sorry Charlies
Oyster options: On the Half Shell
Oyster Roasts
Oyster roasts are a popular part of Southern culture and have been for generations. They're almost always held outdoors and here's a tip: you're going to be standing up--the entire time. Guests typically stand shoulder-to-shoulder at long tables eagerly waiting for a steaming bushel of oysters to be dumped in front of them, and it's game on from there.
You can quickly tell the experts from the rookies by how fast one pops open a shell and slides the steaming oyster onto a saltine and into his or her mouth. A quick swig of beer and onto the next one. It's almost like a race to see how many you can eat before the next bushel is dumped in front of you!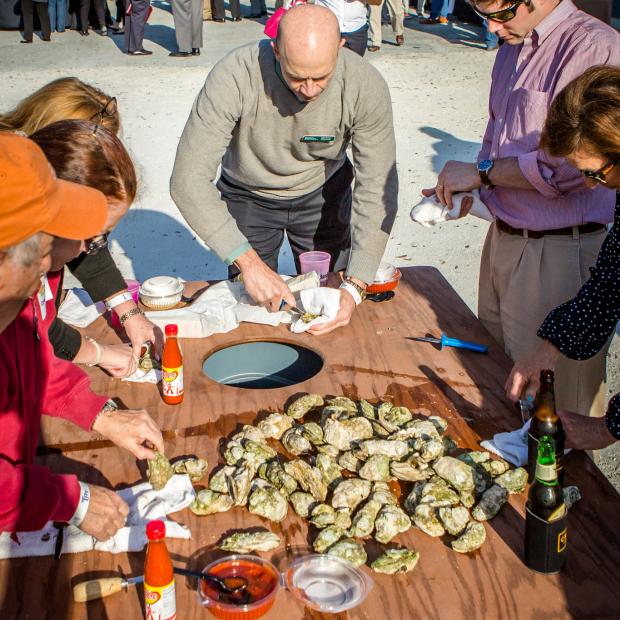 Because you're standing so close to the person next to you, oyster roasts are naturally a very social event! It's always fun to catch up with old friends and make new ones as you're noshing on some tasty oysters. These types of events are perfect for engagement parties, corporate events, family reunions and even wedding receptions.
Lots of Savannah caterers, such as Wiley's Championship BBQ, will bring the oyster roast experience to you! SAVOR…Savannah can host your roast on the picturesque esplanade at the Westin Savannah Harbor Golf Resort & Spa overlooking Savannah Harbor! Barnes Restaurant is another popular call for those wishing to host their oyster roast event. Gerald's Pig and Shrimp has years of experience in catering and loves to throw an oyster roast!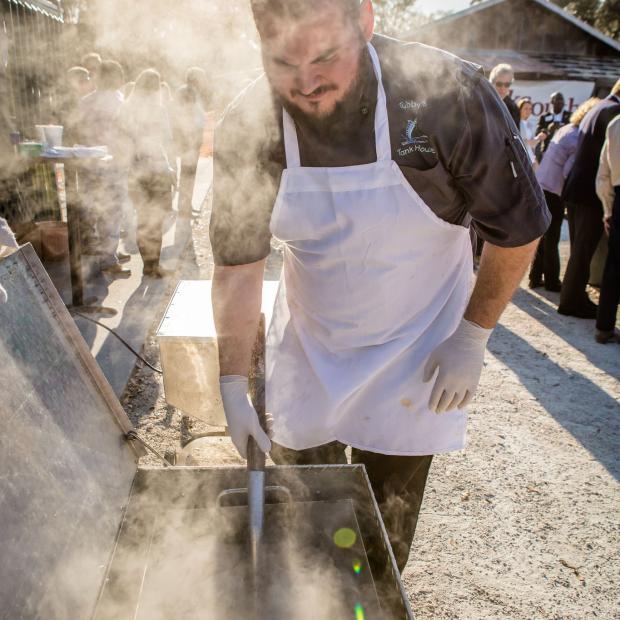 Attire
Oysters are messy. You're going to be standing and hanging out outside. Do not wear anything "special." You will leave smelling a little fishy. It's okay. Jeans, sweaters, fleeces, boots and sneakers are all fine for these occasions. Be casual and comfortable! And make sure to come hungry!