---
Info
Group Transportation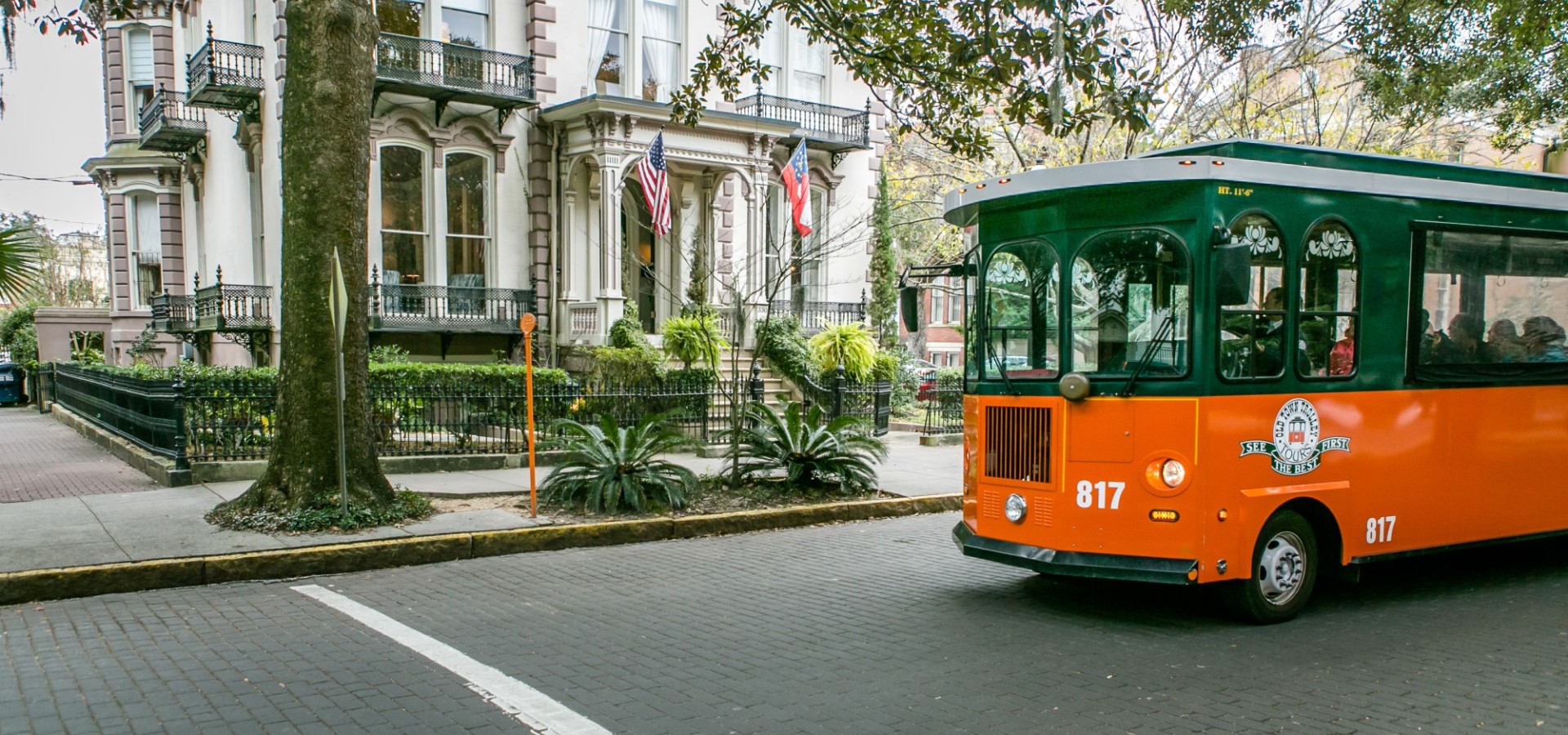 It's totally possible—and incredibly fascinating—for your group to spend days strolling through the nation's largest Landmark Historic District. But with so much here to see and do, their feet might have different plans. Check out some other ways for your group to see Savannah in style.
Unique Transportation
Trolley Tours
Savannah offers a variety of  touring options. One of the best ways to learn about the Downtown Historic District's history is to take one of the many trolley tours available. Many trolley tours offer special group rates or on/off passes, so everyone can explore the city at their own pace and get back on the trolley as they please.
A Savannah Belles ferry crossing the Savannah River from Hutchinson Island to River Street.
DOT Fare Free Visitor Transportation
The DOT is a fare-free service to help visitors and residents get around in the Historic District. Included in the system are shuttles serving 24 stops and the Savannah Belles Ferry:
EXPRESS SHUTTLE
Runs every 10 minutes
Get on and off at any of 24 stops around the Historic District
Connects to municipal parking facilities, Visitor Centers and Ferry
Free Wi-Fi
ADA-Accessible
Pet Policy – Only service animals are permitted on the Express Shuttle
How can your guests use it?
Leave vehicles at the hotel or public parking garages and use dot services to experience Savannah.
Connections also available to the dot Ferry Service providing access to Hutchinson Island without using a car.
Service will be available for any rider at no cost during the following hours:

Monday through Friday from 7 a.m. to 7 p.m.
Saturday from 10 a.m. to 7 p.m.
Sunday from 10 a.m. to 6 p.m.
Savannah Belles Ferry
Named for Savannah's "Belles"—strong local women who shaped the city's history—the Savannah Belles ferries are modern passenger-only ferry boats reminiscent of vessels seen in the harbor a century ago connecting downtown with Hutchinson Island and the Savannah Convention Center. The ferries transports passengers between the Savannah Convention Center Landing (on Hutchinson Island, adjacent to the Westin Savannah Harbor Golf Resort & Spa) to City Hall Landing below City Hall (adjacent to Hyatt Regency Savannah) and Waving Girl Landing in Morrell Park (adjacent to the Savannah Marriott Riverfront).
Monday through Sunday, 7:00 a.m. to 12:30 a.m. (Service to Waving Girl Landing ends at 6:00 p.m.)
Connects downtown with Hutchinson Island and the Savannah Convention Center
Modern passenger-only ferries are reminiscent of vessels seen in the harbor a century ago.
Named for Savannah's Belles, strong women who shaped the city's history.
ADA-Accessible
Pet Policy – Service animals, pets in carriers and non-aggressive dogs on leashes are permitted on the Ferries.
Water ferry service may be interrupted without notice due to inclement weather and/or other river traffic.
For more information, visit www.connectonthedot.com or call 912-233-5767.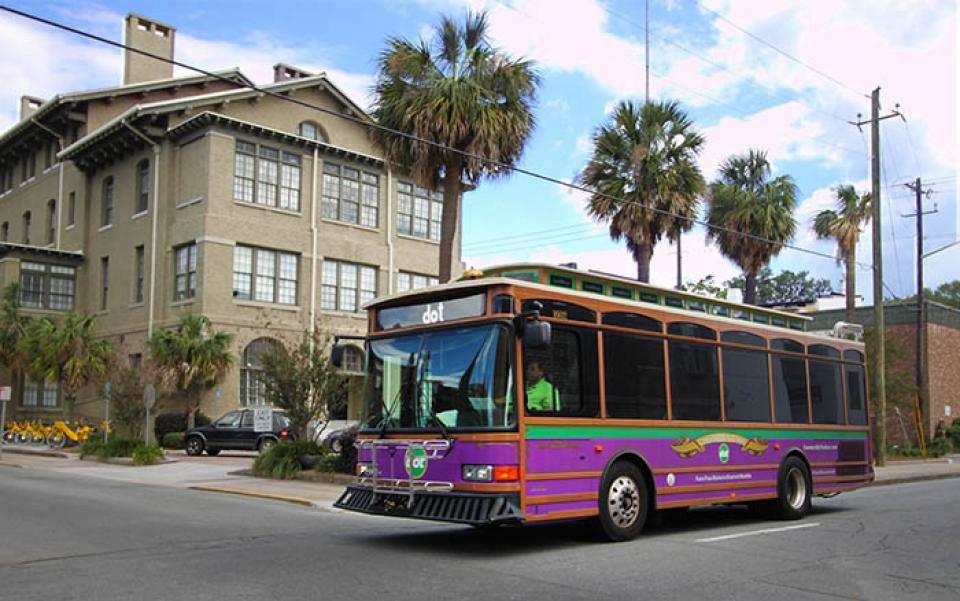 City Parking
Find information on parking in Savannah here.
Sign Up For Our Group Travel Newsletter
Be the first to hear about travel ideas, new local experiences and deals for group travel to Savannah.
Sign Up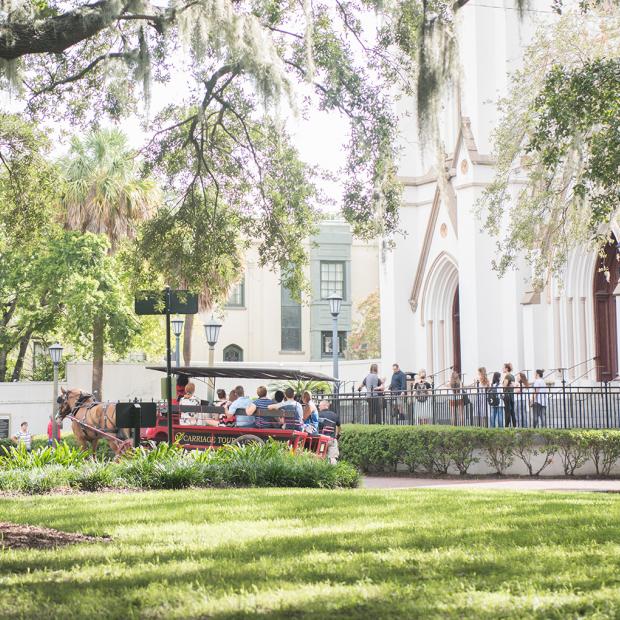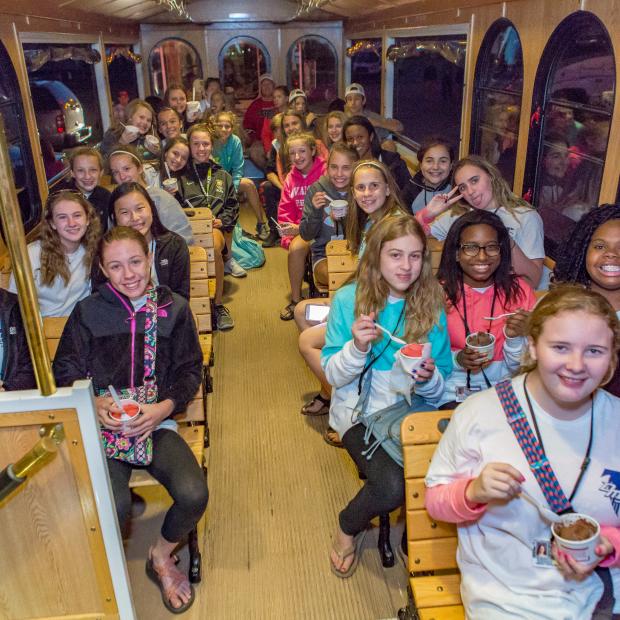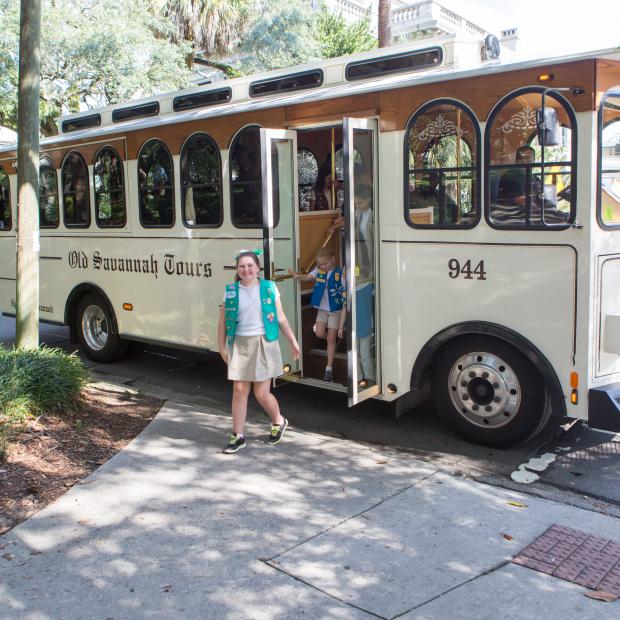 Filter & Sort
Filter & Sort Results
Pages