Profile
The Westin Savannah Harbor Golf Resort & Spa
One Resort Drive, Savannah, GA 31421
Located in Historic Landmark District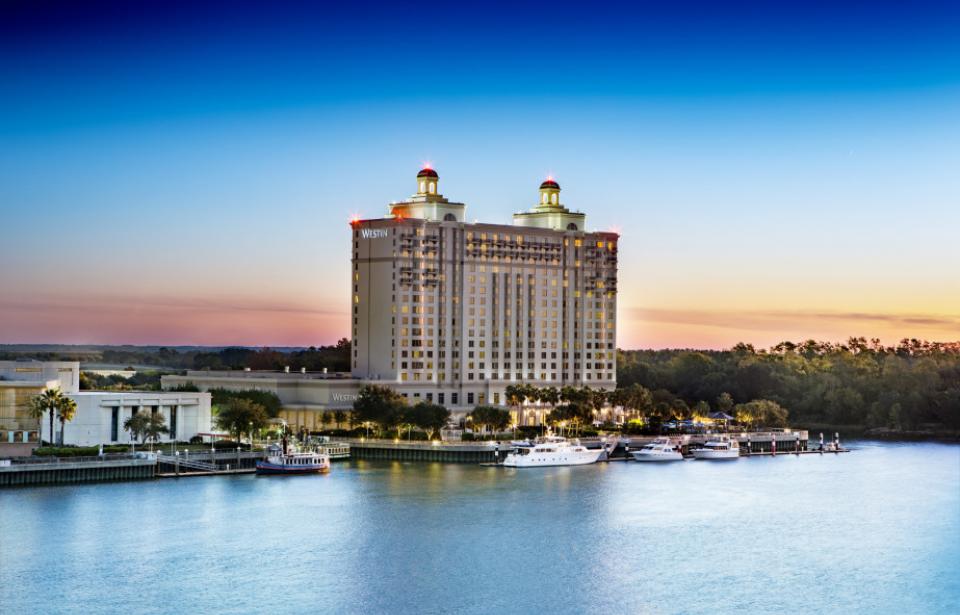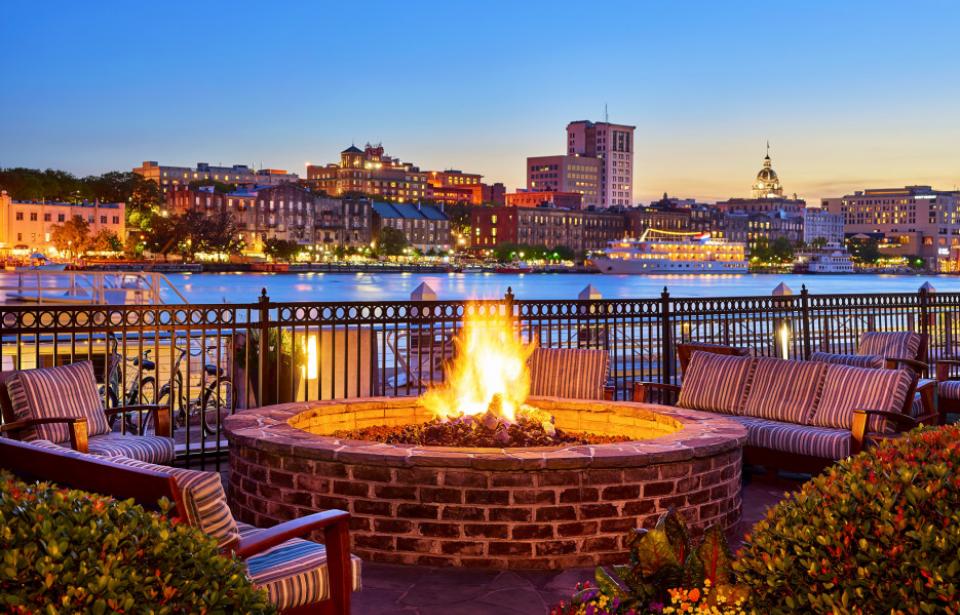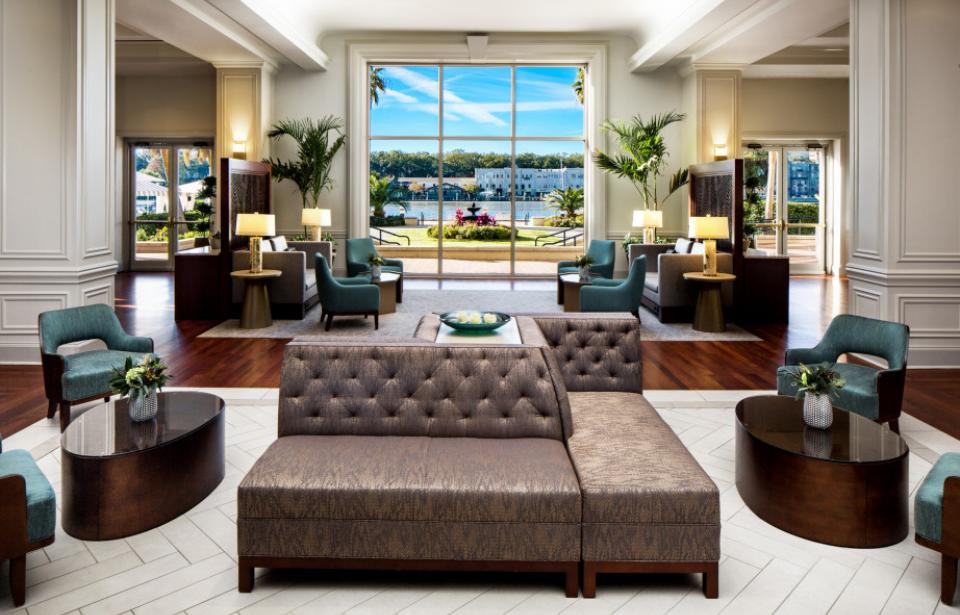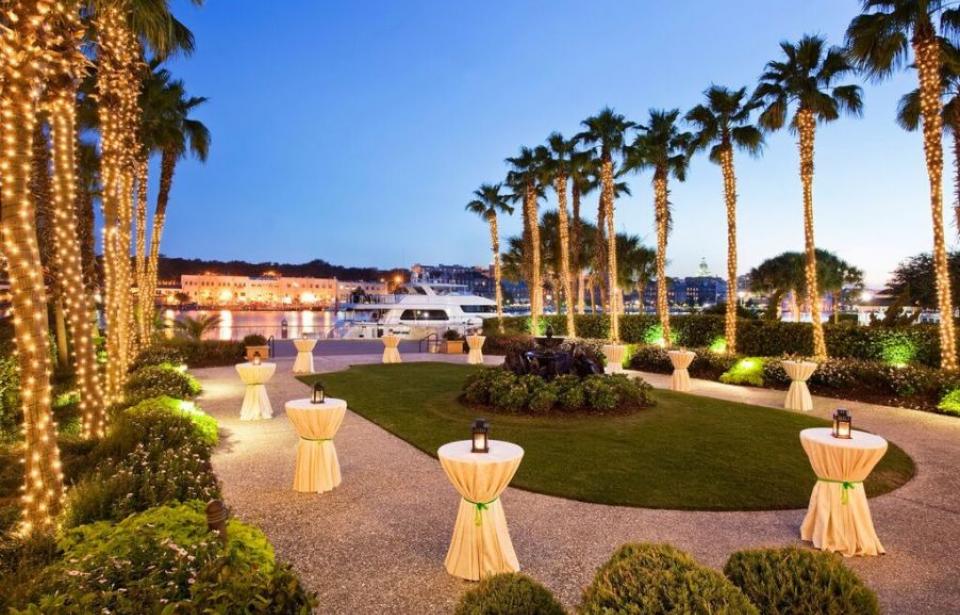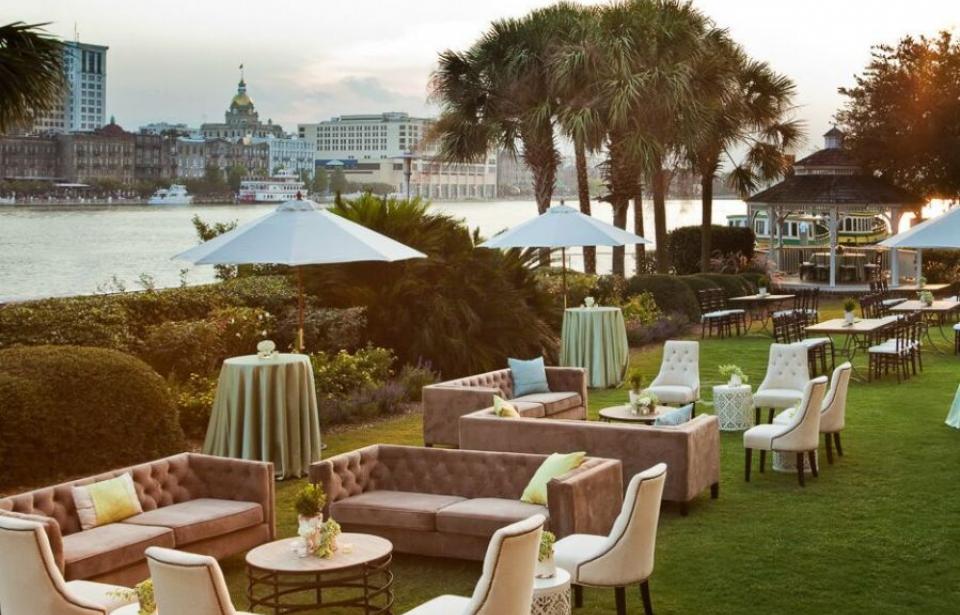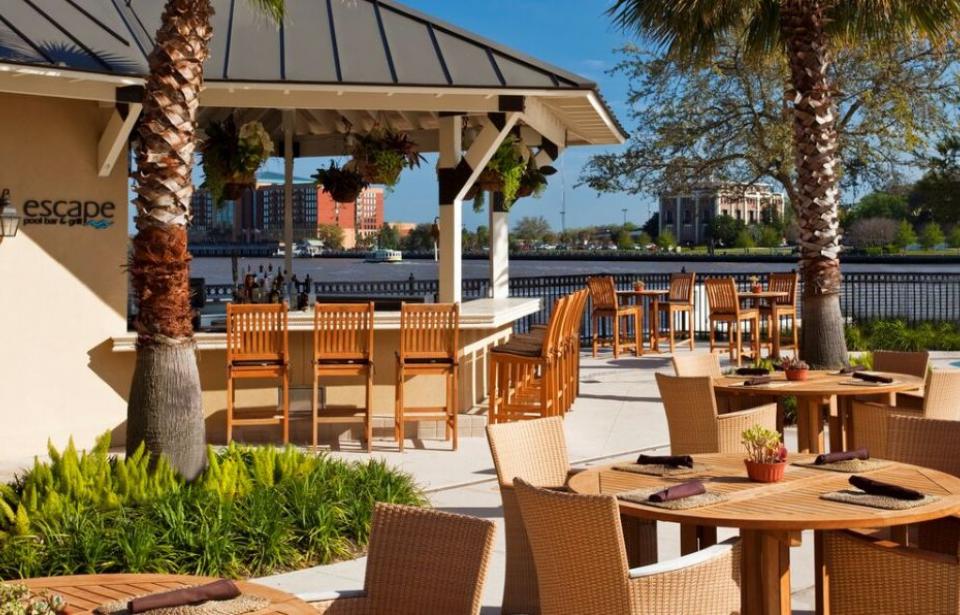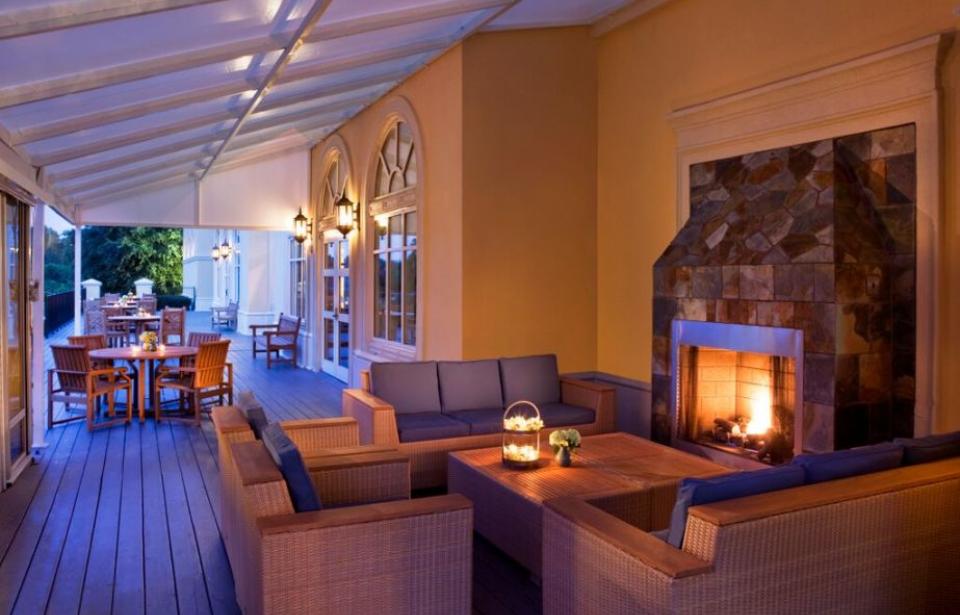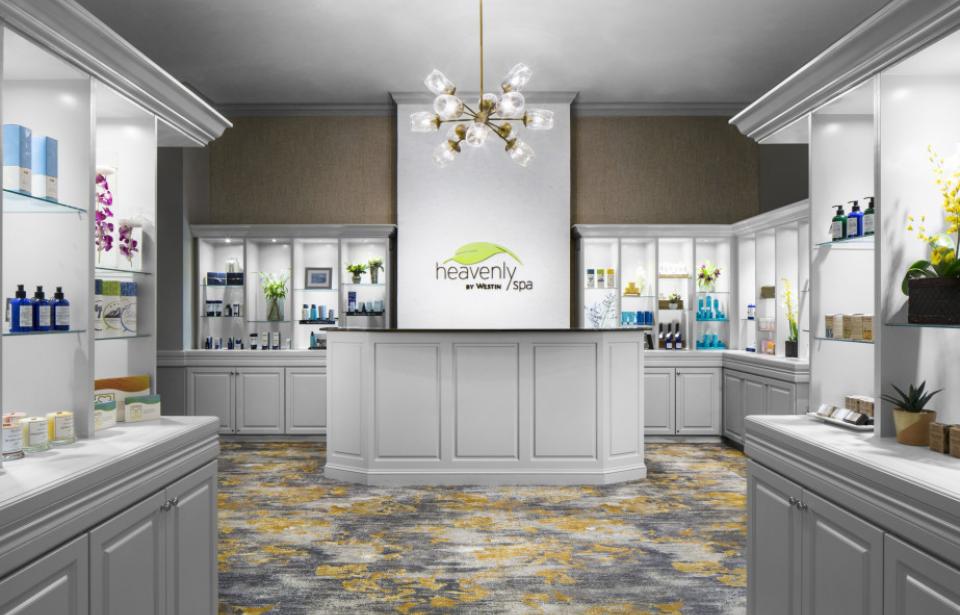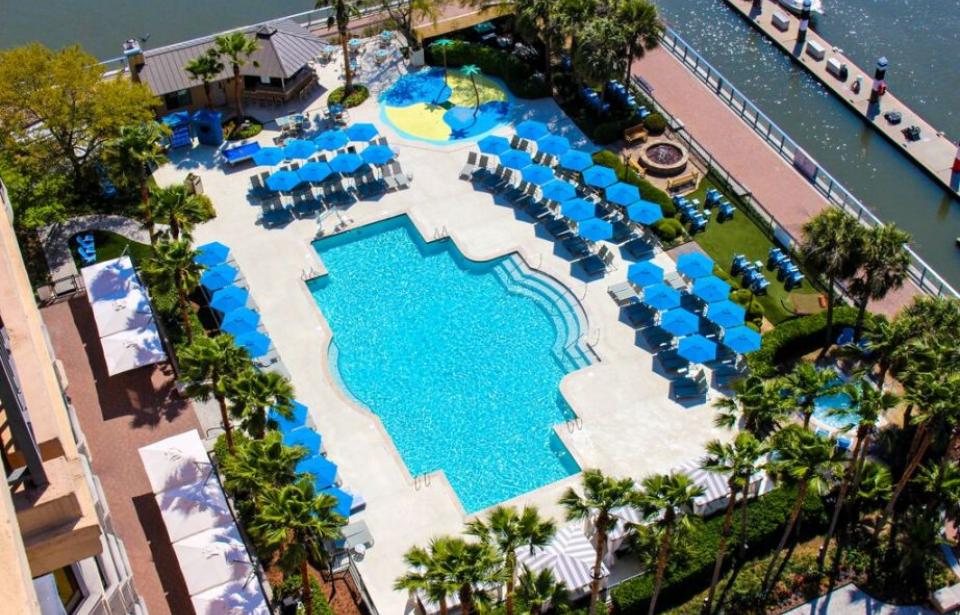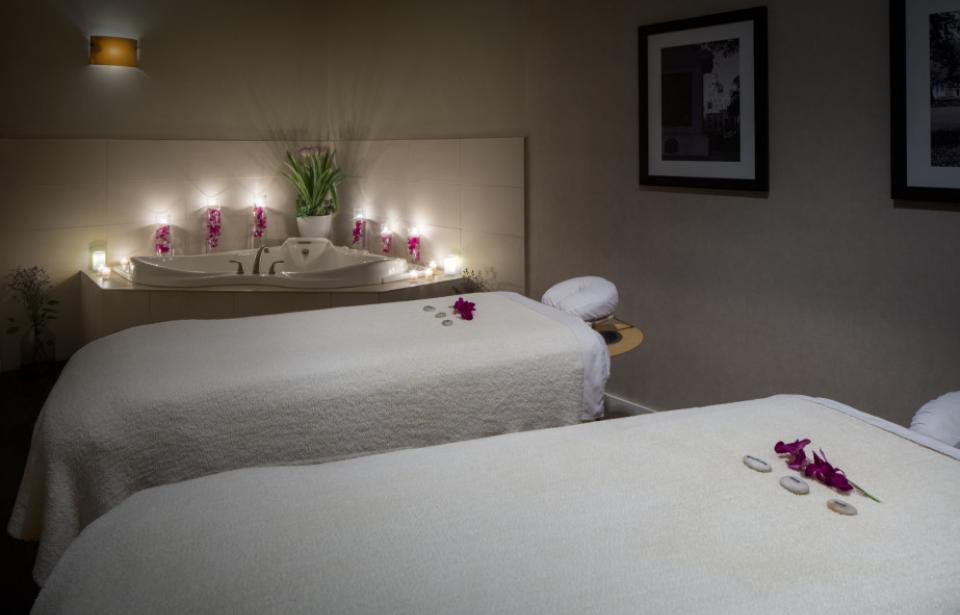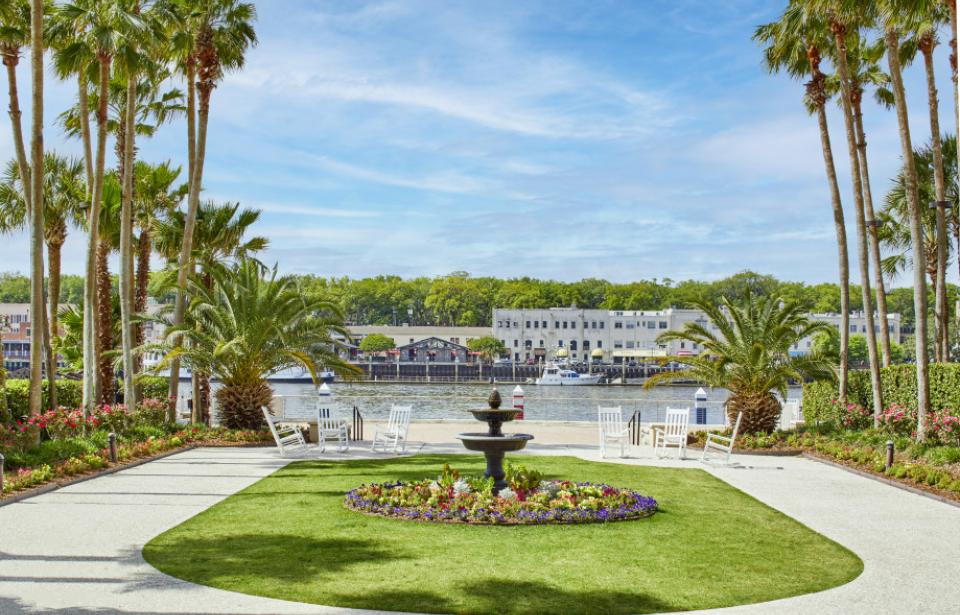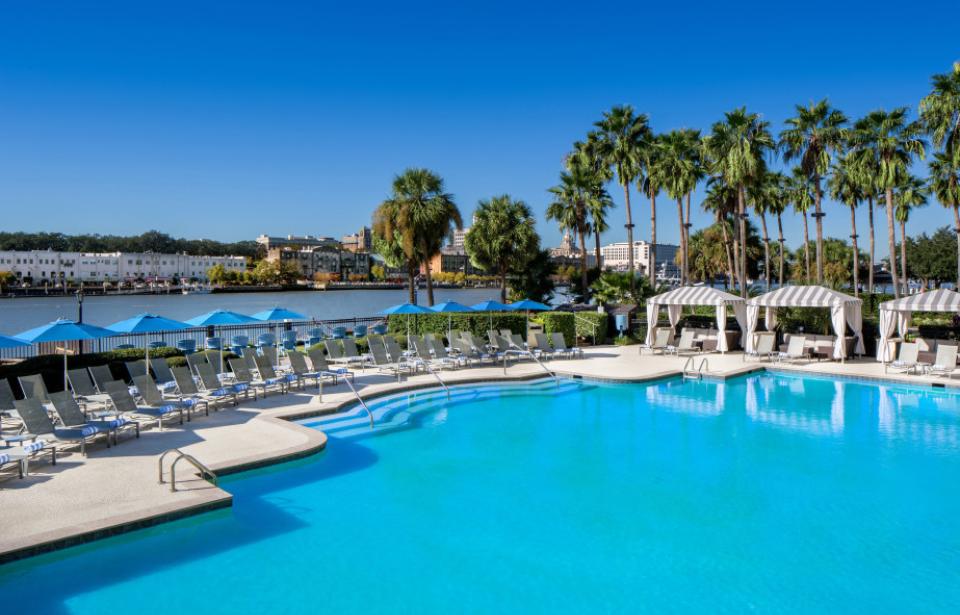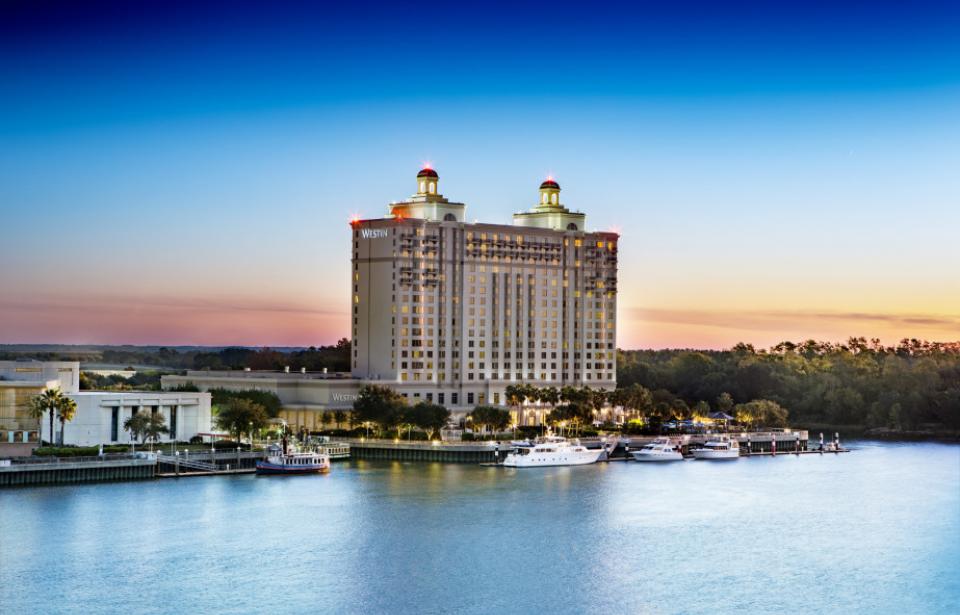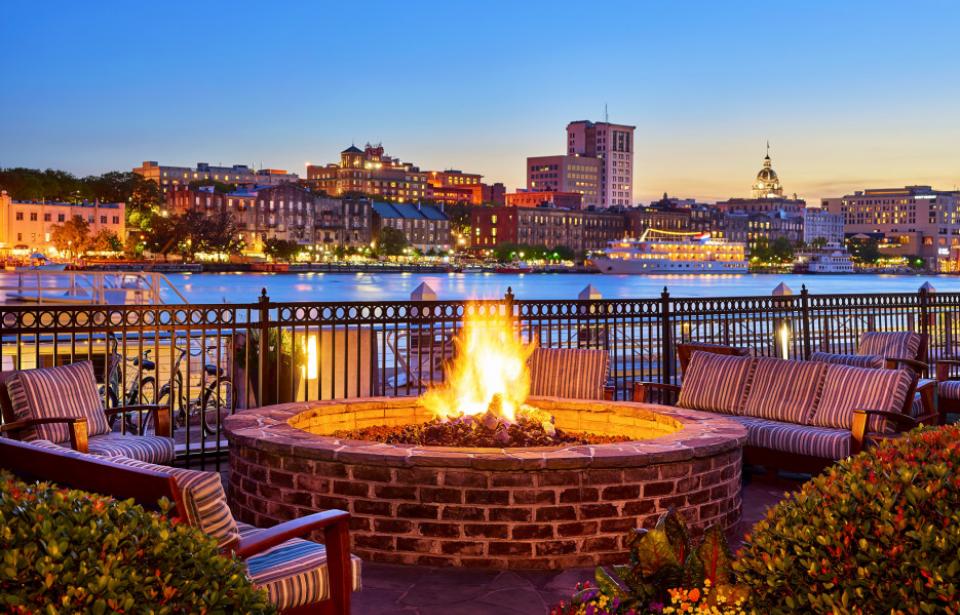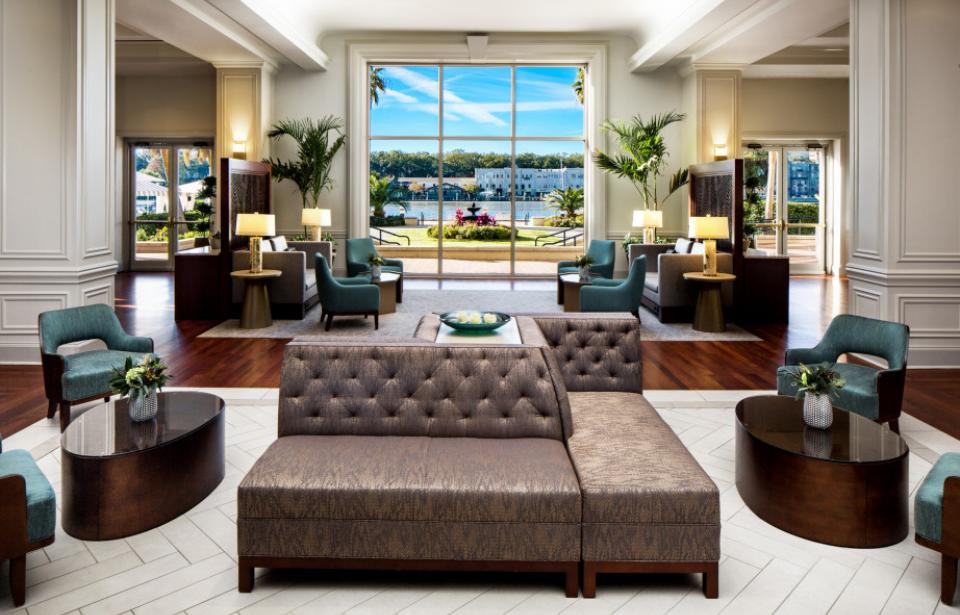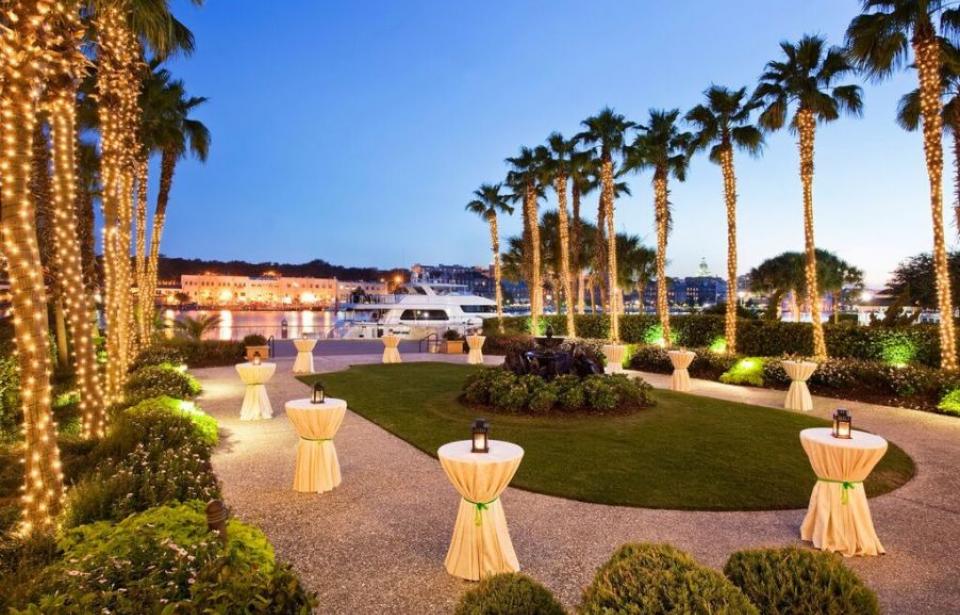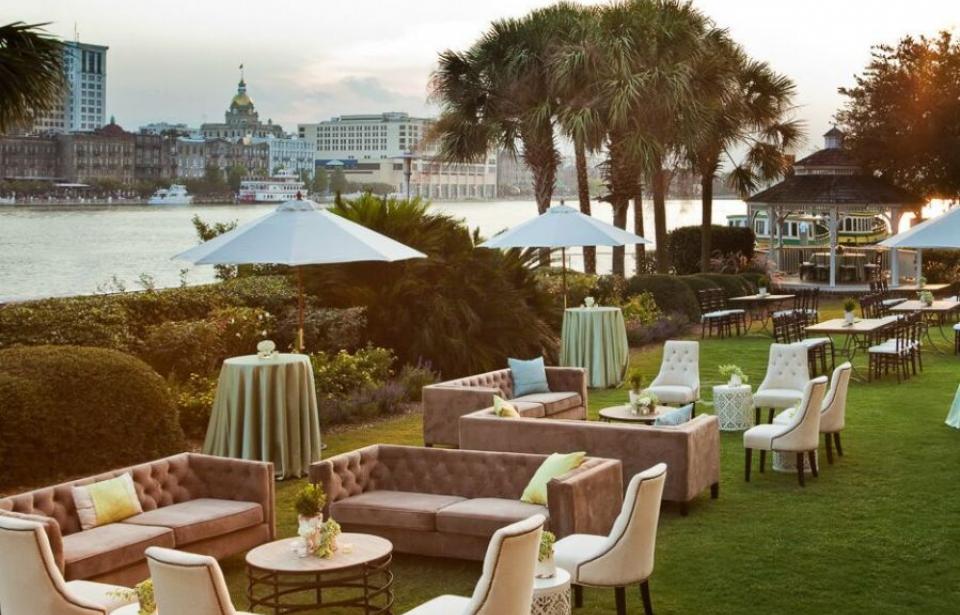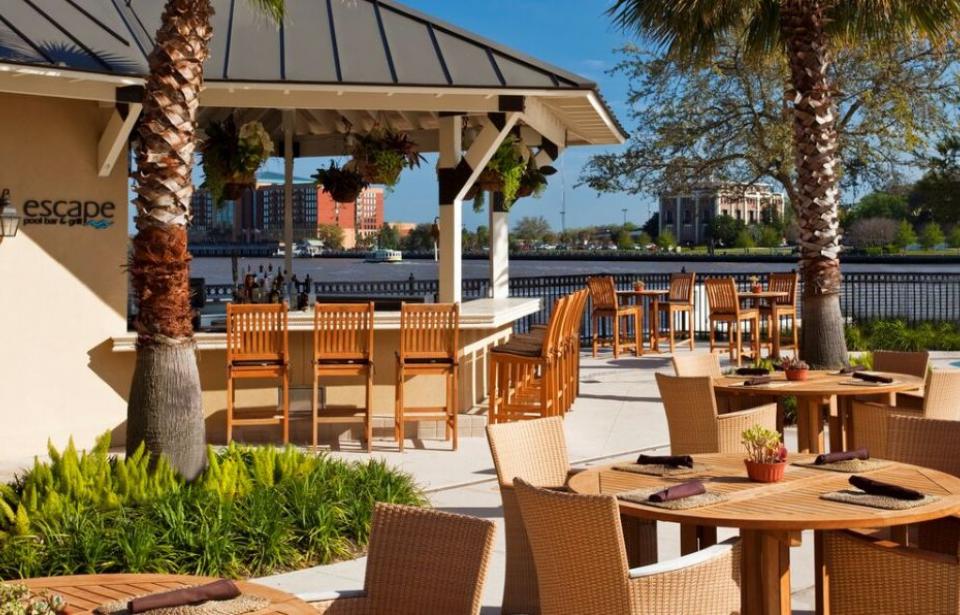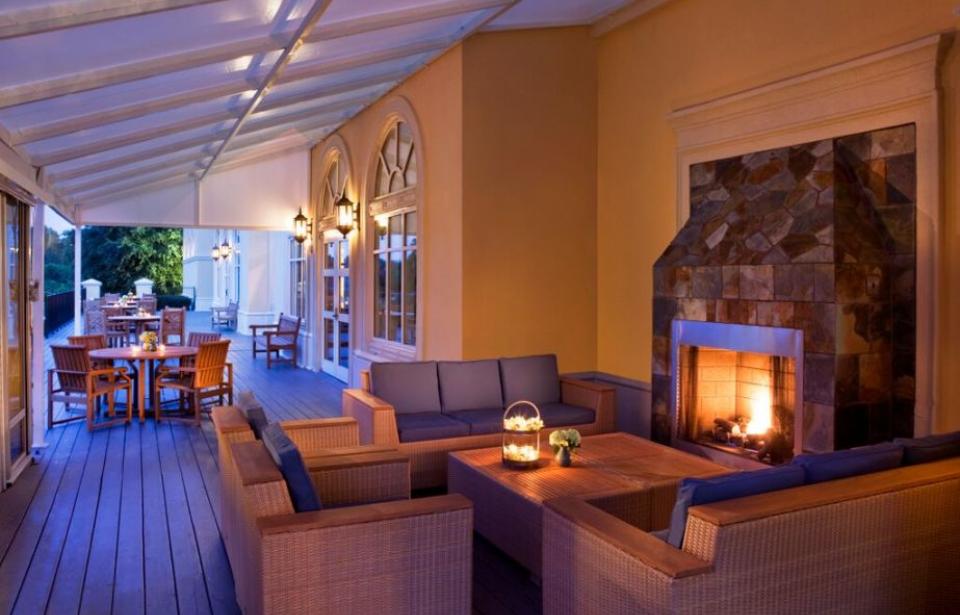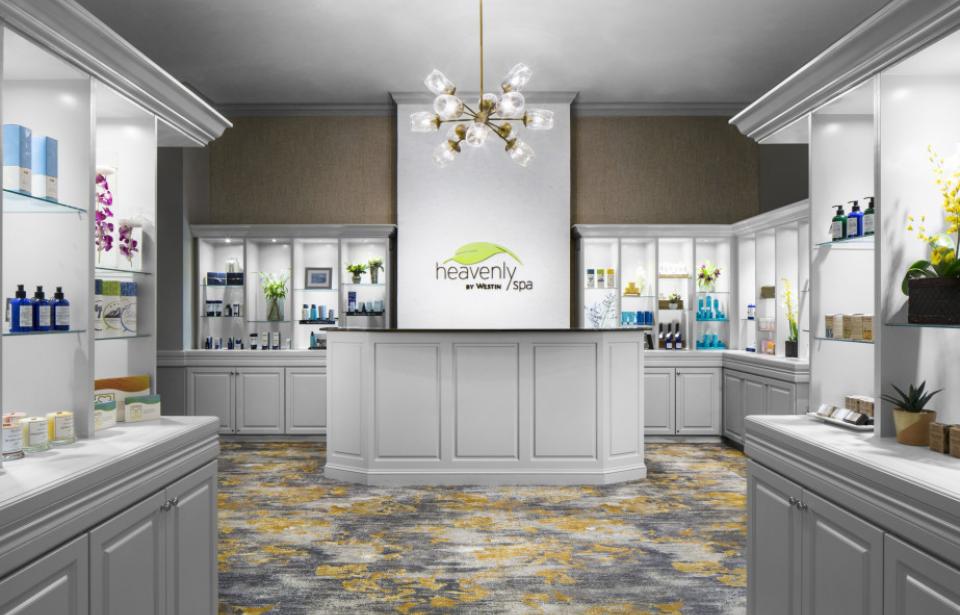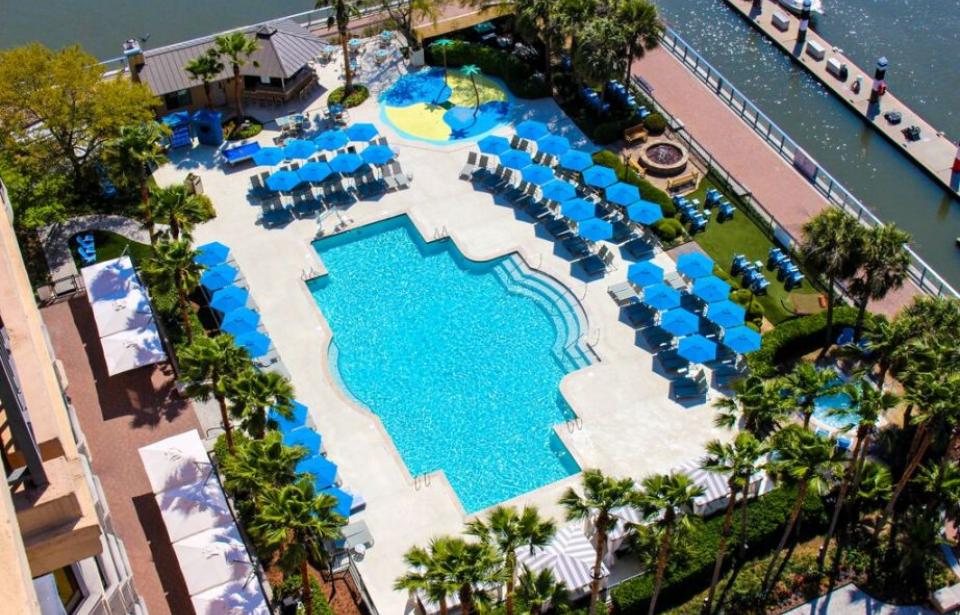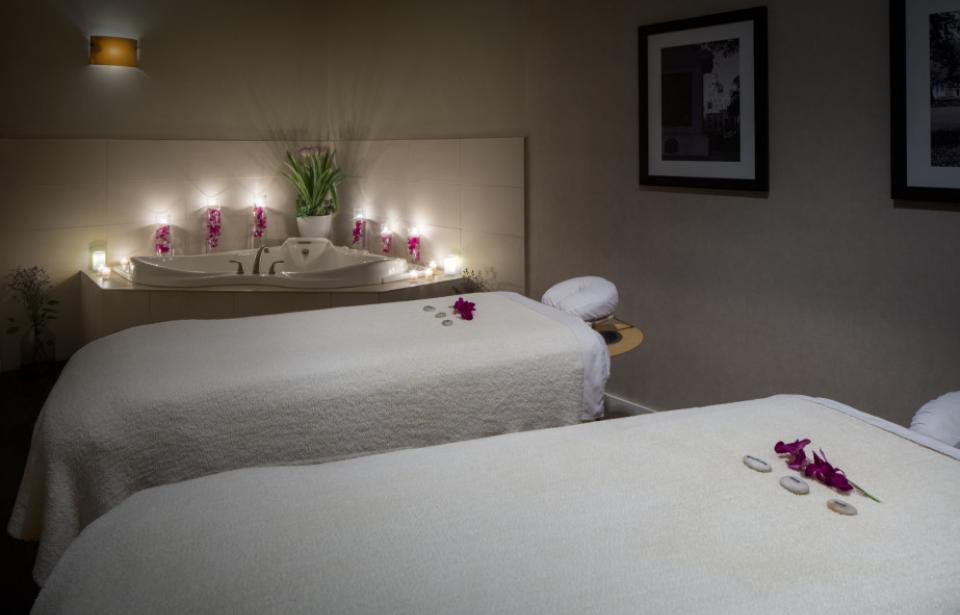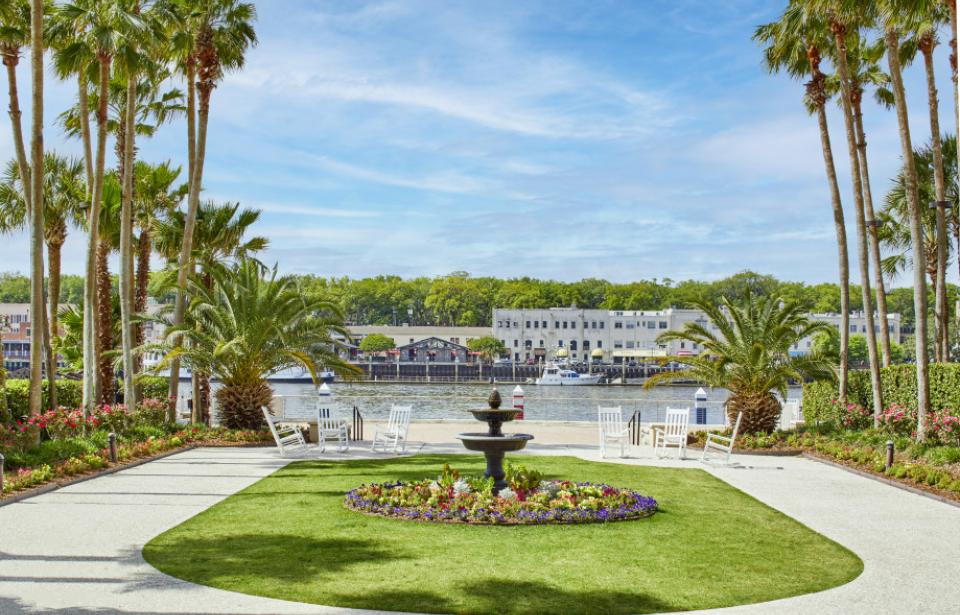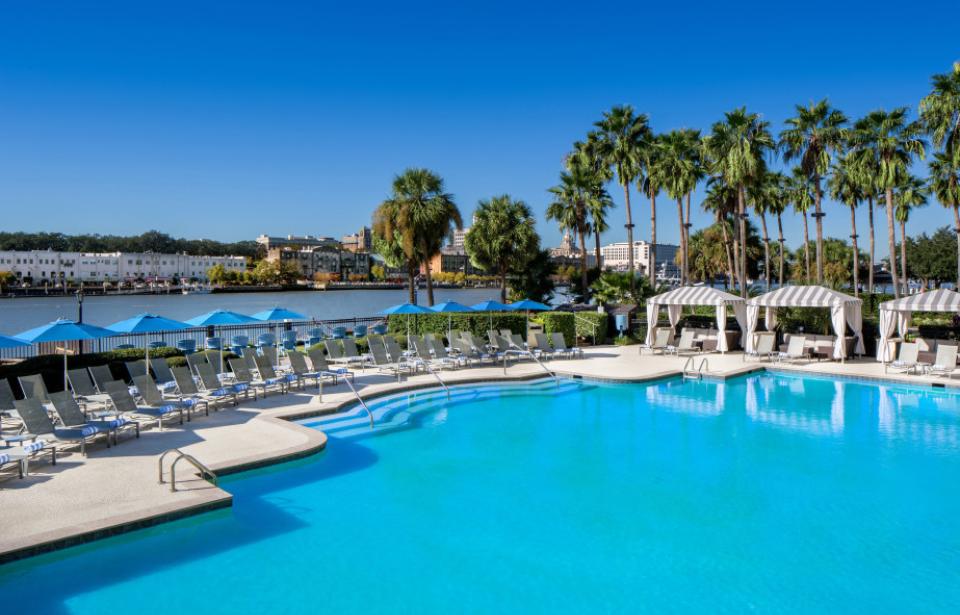 Hotels/Motels / Hotel Meeting Venues / Restaurants w/ Meeting Space / Ballrooms / Venues with On-Site Lodging / Indoor Venues / Outdoor Venues / Restaurants w/ Wedding Space / Film Wrap Parties
Info & Amenities
Southern charm meets modern luxury at our gorgeous waterfront property with recently renovated restaurant spaces and 13 spacious suites. Forty-four rooms include private balconies with state-of-the-art amenities and Old South charm. The Westin Savannah sits on the Savannah River with the best view of the "Hostess City" and the historic Savannah River District. Our premier resort is not far from fantastic shopping and nightlife but removed just enough for tranquility. Enjoy complimentary water ferry service to River Street, refreshing guest rooms, flexible meeting space and comfortable public areas. Be well. Be Westin.
Dining
• Aqua Star: featuring all-day dining, an exhibition-style kitchen, and
floor-to-ceiling windows with expansive views of the Historic Savannah
River Street
• Midnight Sun Bourbon & Chocolate Lounge: featuring specialty
drinks and light fare
• The Legends Bar & Grill: located at The Club at Savannah Harbor
• Poolside beverage and lunch service and 24-hour room service
• Starbucks coffee shop and light fare
Recreation & Activities
• Recharge on our Troon-managed 18-hole golf course,
recent home of the PGA Champions Tour Liberty Mutual
Legends of Golf Tournament
• Rejuvenate in our newly renovated Heavenly Spa, the ultimate in elegant
relaxation
• Explore the coastal waters and beaches with Outside Savannah excursions
• Unlock special deals with premier local businesses, as our guest will receive Resort Partner Perks
• State-of-the-art fitness facility with WestinWORKOUT®
• Four lighted Har-Tru tennis courts
• Waterfront heated swimming pool
• 600-foot deepwater dock
Cuisine
American
Casual Dining
Fine Dining
Seafood
Amenities
Family-Friendly
Outdoor Seating
Pets
Discount
Meetings
Planning your extraordinary event at The Westin Savannah Harbor Golf Resort & Spa is nearly effortless, given our picturesque venues, elaborate catering options, and our impeccable staff. From an intimate champagne reception on the Midnight Sun terrace to a magnificent wedding on the 6,000 square-foot Harbor Lawn, The Westin Savannah Harbor offers a captivating setting with over 35,000 square feet of onsite meeting space, as well as an additional 325,000 square feet next door at the Savannah International Trade and Convention Center.
For information on how our property is implementing social distancing practices, view our updated floor plans and/or seating capacity charts by going to the FACILITIES tab below, then scroll to the bottom of the tab to click on the VIEW FLOOR PLAN button.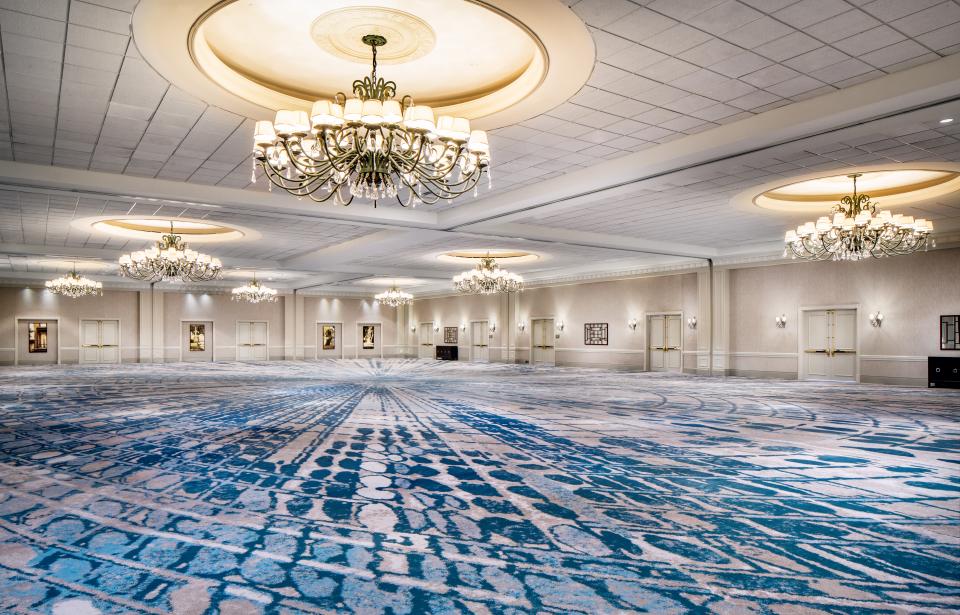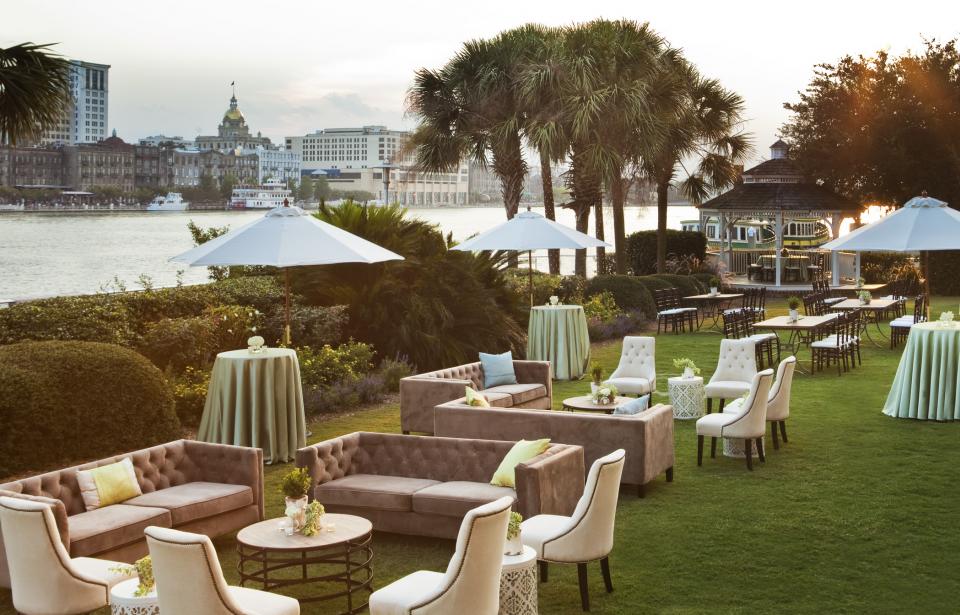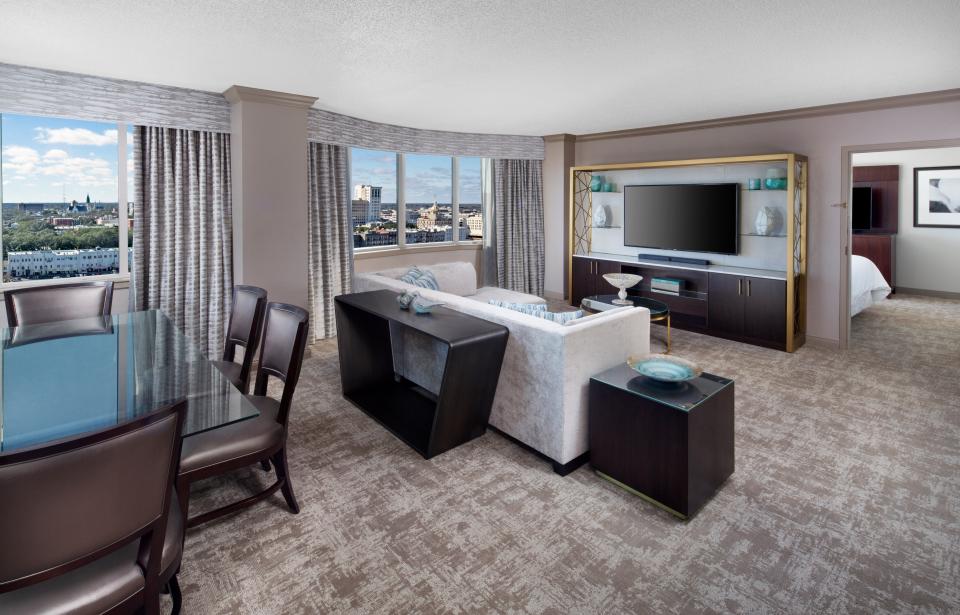 Weddings
Newly renovated resort in Historic Savannah River District. Conveniently situated next to the Savannah International Trade & Convention Center with a picturesque panoramic view of the Savannah River, the Westin Savannah Golf Resort & Spa is your ideal choice among hotels in Savannah, GA. Our completely renovated hotel includes the Heavenly Spa, Har-Tru tennis courts, and the only PGA championship golf course in the Savannah area. Guests love our 403 newly renovated rooms and suites that include such amenities as 55-inch LCD Smart TVs, high-speed internet access, multimedia connectivity centers, and our Westin Heavenly Bed and Heavenly Bath. You don't have to go far for fine dining options with the Champions Bar & Grill, Escape Pool Bar & Grill, the Midnight Sun Lounge, and Southern dining at Aqua Star, all on the premises. We also offer facilities for opulent weddings, important business meetings, and everything between. Whether on the golf course, in town, or in meetings, The Westin Savannah Harbor Golf Resort & Spa is the hotel in Savannah, GA that is sure to give a true experience of the historical city of Savannah.
Facilities
Amenities
Meeting Rooms: 13
Largest Room: 11000'
Sleeping Rooms: 403
Grand Ballroom
Square Feet: 11,537 sq. ft.
Banquet Capacity: 8400
Theater Capacity: 1200
Classroom Capacity: 660
Grand Ballroom ABC
Square Feet: 8,051 sq. ft.
Theater Capacity: 900
Classroom Capacity: 430
Grand Ballroom CDEF
Square Feet: 6,972 sq. ft.
Theater Capacity: 800
Classroom Capacity: 360
Harbor Lawn w/ Terrrace
Square Feet: 6,960 sq. ft.
Harbor Lawn
Square Feet: 6,077 sq. ft.
Banquet Capacity: 550
Grand Ballroom AB
Square Feet: 4,510 sq. ft.
Theater Capacity: 500
Classroom Capacity: 234
River Lawn
Square Feet: 4,136 sq. ft.
Banquet Capacity: 200
Grand Ballroom C
Square Feet: 3,570 sq. ft.
Theater Capacity: 400
Classroom Capacity: 180
Grand Ballroom DEF
Square Feet: 3,550 sq. ft.
Theater Capacity: 400
Classroom Capacity: 180
Harbor Ballroom
Square Feet: 3,400 sq. ft.
Banquet Capacity: 210
Theater Capacity: 380
Classroom Capacity: 165
The Club Pavilion
Square Feet: 3,280 sq. ft.
Banquet Capacity: 250
Grand Ballroom Foyer
Square Feet: 2,480 sq. ft.
Grand Ballroom DE
Square Feet: 2,296 sq. ft.
Theater Capacity: 250
Classroom Capacity: 120
Grand Ballroom EF
Square Feet: 2,296 sq. ft.
Theater Capacity: 250
Classroom Capacity: 120
Grand Ballroom A
Square Feet: 2,255 sq. ft.
Theater Capacity: 250
Classroom Capacity: 120
Grand Ballroom B
Square Feet: 2,255 sq. ft.
Theater Capacity: 250
Classroom Capacity: 120
Harbor A
Square Feet: 1,680 sq. ft.
Theater Capacity: 180
Classroom Capacity: 75
Harbor B
Square Feet: 1,680 sq. ft.
Theater Capacity: 180
Classroom Capacity: 75
Champions Members' Dining Room
Square Feet: 1,400 sq. ft.
Banquet Capacity: 50
Grand Ballrooms D, E or F
Square Feet: 1,150 sq. ft.
Theater Capacity: 110
Classroom Capacity: 60
Harbor Foyer
Square Feet: 1,040 sq. ft.
Theater Capacity: 100
Riverscape
Square Feet: 832 sq. ft.
Banquet Capacity: 50
Theater Capacity: 60
Classroom Capacity: 45
Moorings Executive Boardroom
Square Feet: 598 sq. ft.
Banquet Capacity: 12
Classroom Capacity: 12
Club Boardroom
Square Feet: 598 sq. ft.
Theater Capacity: 48
Classroom Capacity: 33
Reviews
TripAdvisor® Reviews
TripAdvisor Traveler Rating
Special Offers
& Upcoming Events
Hostess with the Mostest - The Westin Savannah Harbor Golf Resort & Spa
The Westin Savannah Harbor Golf Resort & Spa
See Deal