---
List
10 Restaurants That Serve Vegan and Vegetarian Food in Savannah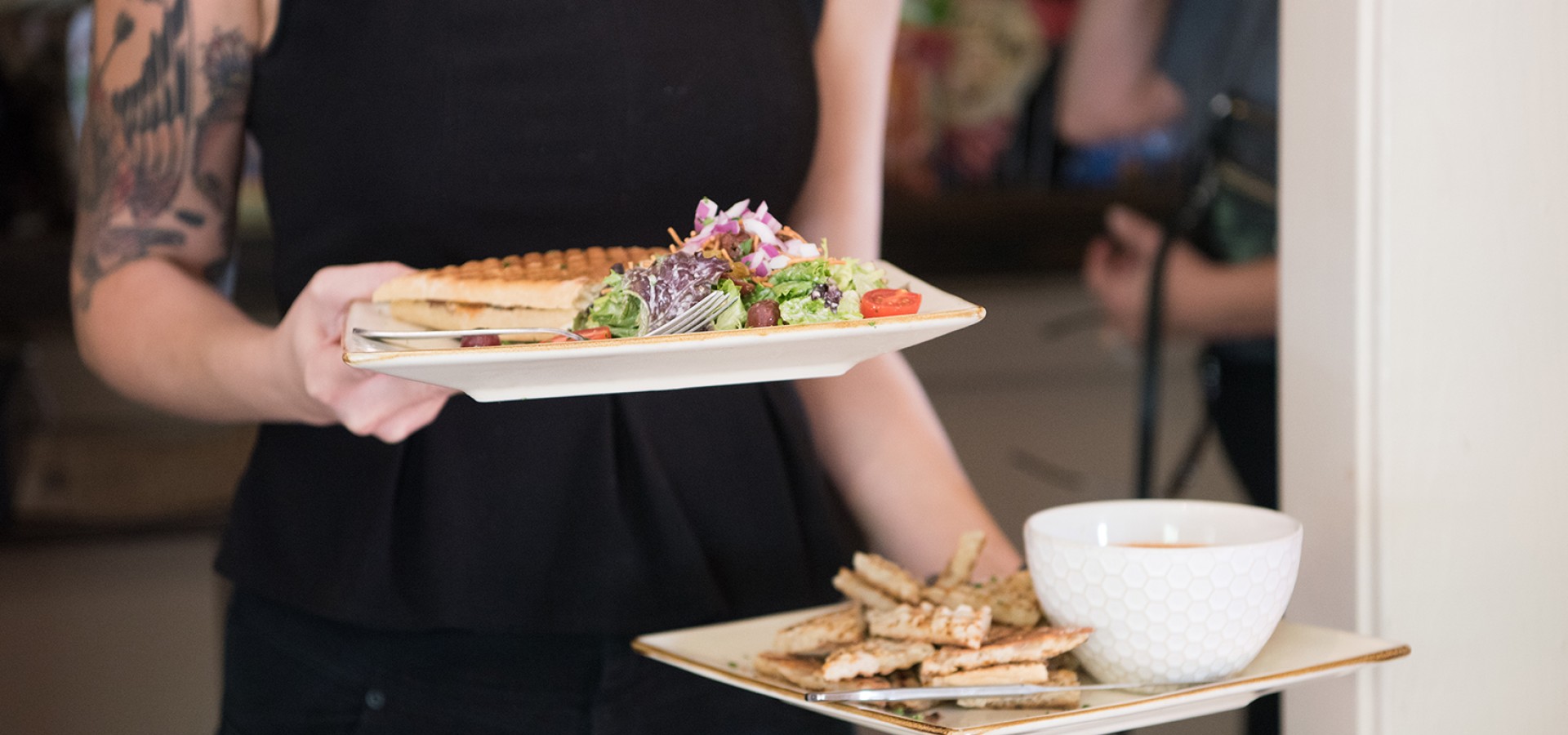 While many of Savannah's restaurants have vegetarian and vegan options, the restaurants on this list make it a point to have a large variety of plant-based dishes. Vegans and vegetarians can try something different each time they visit these cafés and restaurants in Savannah!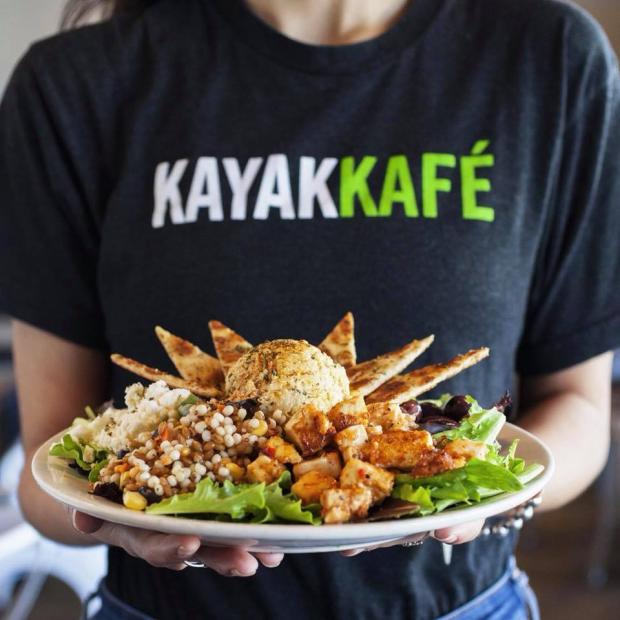 Photo courtesy of Kayak Cafe Facebook page
Kayak Kafé
Kayak Kafé is a casual spot with two locations around town. Vegans and vegetarians can get fresh, healthy meals packed with flavor. Whether it's a salad, sandwich or even tacos you're craving, Kayak Kafé has healthy, plant-based options that you can feel good about eating. Some highlights from their menu are their Vegan Taco Bowls, Tiger Tofu tacos, and their Veggie Quesadilla available with vegan cheese.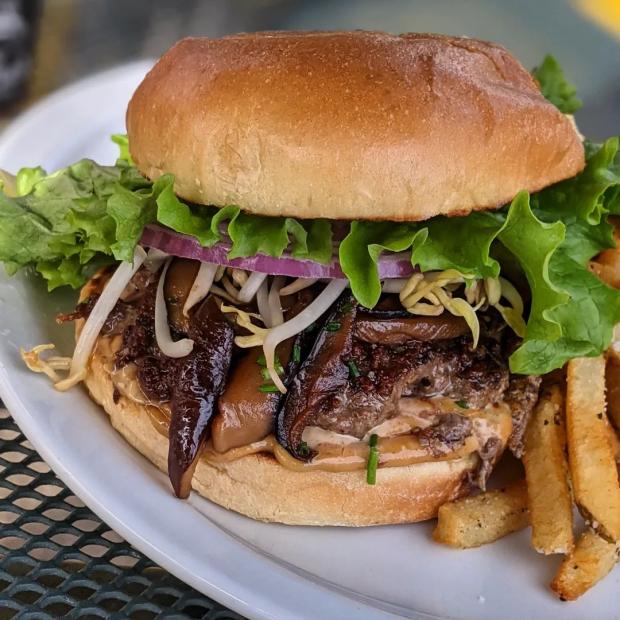 Photo courtesy of Green Truck Pub Facebook page
Green Truck Pub
If you're in the mood for a hearty burger and fries, go to the Starland District's Green Truck Pub. Enjoy any one of their burgers with a veggie patty - black bean and corn salsa, avocado and jalapenos, sauteed mushrooms, onions, provolone and more.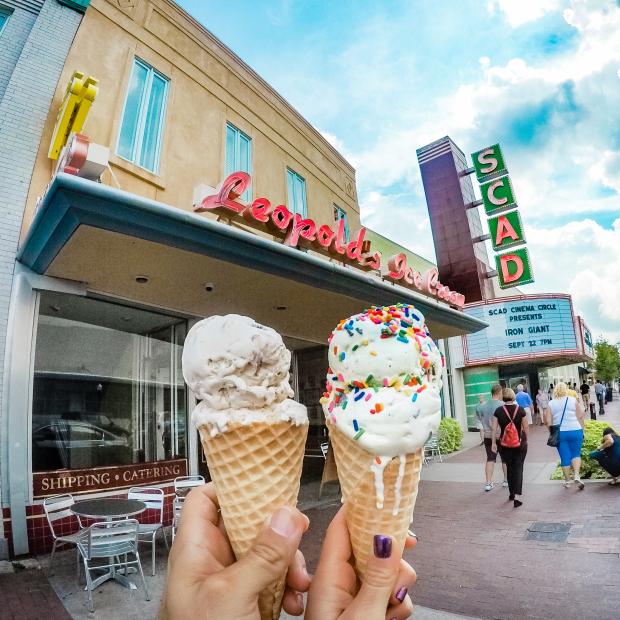 Leopold's Ice Cream
Stop in for a scoop of sweet comfort at Leopold's Ice Cream. Leopold's is a staple here in Savannah, but you might not know that they have a large variety of vegan options on their menu! You can find your sweet fix at Leopold's as a vegan, from sorbets to floats to classic ice creams. The limeade float with coconut sorbet is highly recommended for a sweet and handmade dessert to stay refreshed in the Savannah heat.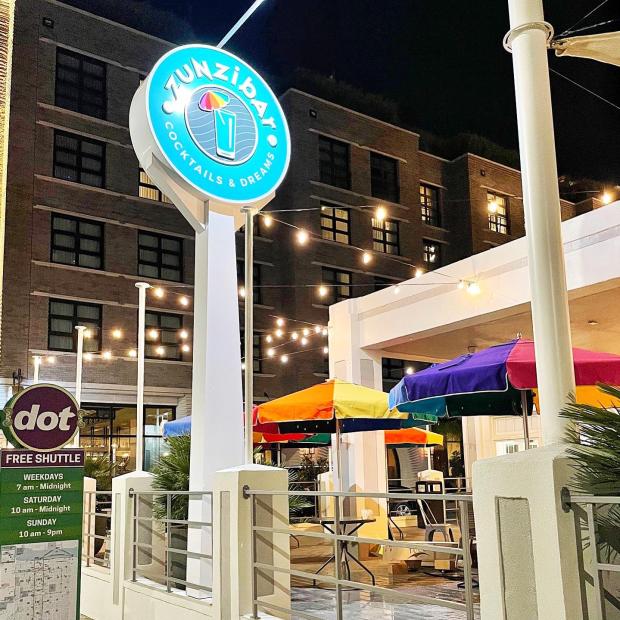 Zunzibar on Drayton Street in Savannah, Georgia, courtesy of Zunzibar Facebook.
Zunzi's Takeout & Catering
The cuisine at this express eatery is inspired by the owners' eclectic cultures: South African, Swiss, Italian and Dutch. Zunzi's has a delicious vegetarian section on its menu. It includes veggie favorites like Falafel on Pita, the portabella mushroom sandwich and the veggie medley on top of fresh mashed potatoes. You can also build your meal with Vegan Meatballs or grilled veggies for a family meal. Be sure to grab an ice-cold South African Tea with your dish – it's unlike any tea you've ever had.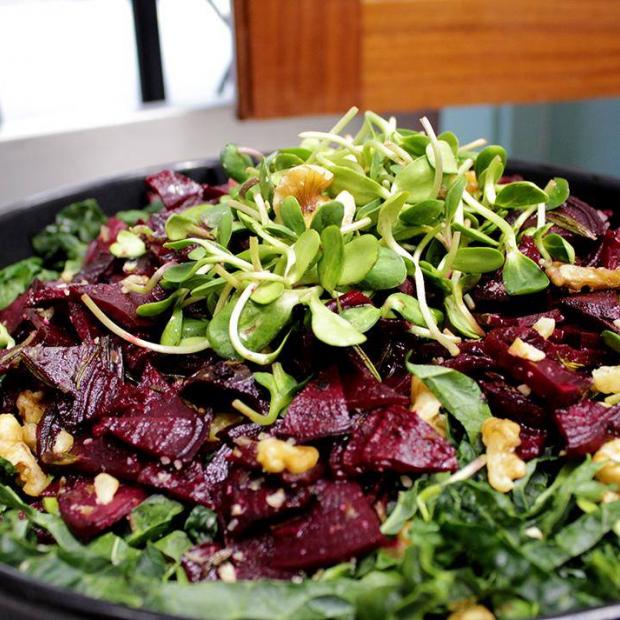 Beet Salad at Brighter Day Natural Foods.
Brighter Day Natural Foods
Brighter Day Natural Foods is a must-stop for vegan and vegetarian travelers. Stock up on plant-based snacks and essentials at this Victorian District spot for your Savannah vacation rental or hotel room. Brighter Day Natural Foods has a full deli stocked with vegan and vegetarian sandwiches, salads, fresh-pressed juices and side dishes. Our favorite? The Avocado and Baked Cheese Sandwich.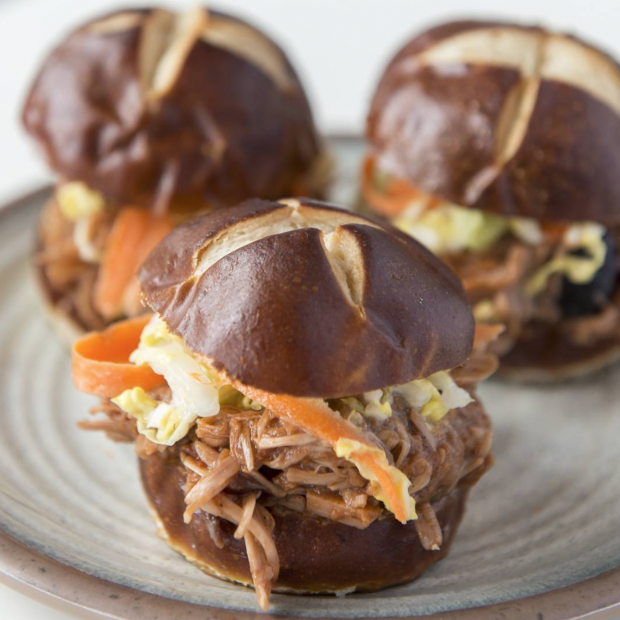 Black Cherry BBQ Pulled Jackfruit Sliders at Fox & Fig Cafe.
Fox & Fig Cafe'
Nestled in lovely Troup Square is an excellent addition to Savannah's vegan food scene. Fox & Fig Café serves 100% plant-based breakfast, lunch, dinner and coffee. Menu items include the Eggless Quiche, Raw Coconut Curry Noodle Salad and the Breakfast Hash with Cashew Hollandaise. Fox and Fig Café has a full espresso bar with plenty of non-dairy milk options, like homemade cashew hemp milk. I recommend having brunch here on their patio when the weather is nice.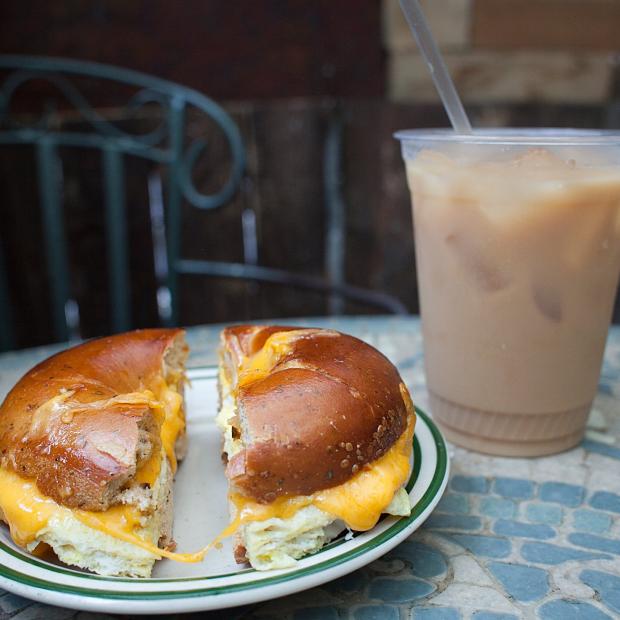 Photo courtesy of The Sentient Bean Facebook page
Sentient Bean
Rise and shine, vegans! The Sentient Bean on Forsyth Park has vegan and vegetarian breakfast classics like the Vegan Breakfast Burrito, made with tofu scramble, homemade vegan sausage, salsa, spinach and a secret spicy sauce. Pair your plant-based breakfast with a tasty non-dairy mocha or latte.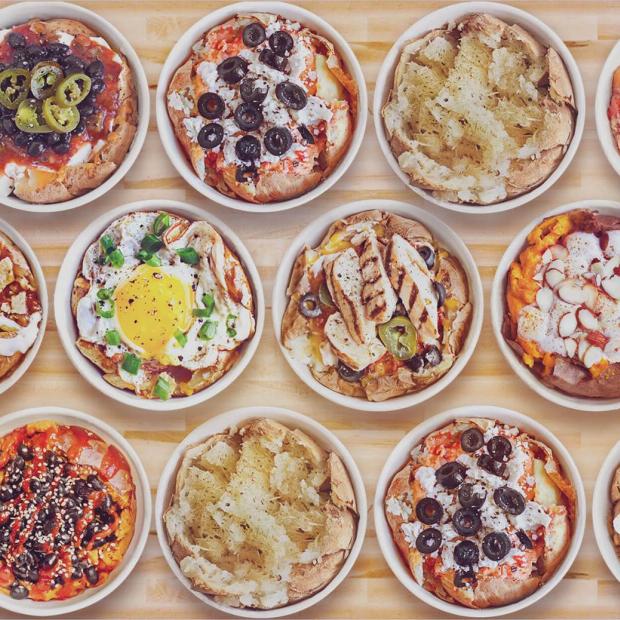 Spudnik
If you love potatoes, you need to go to Spudnik! It's the only twice-baked potato restaurant with amazingly delicious potato options. Spudnik is an excellent option if you're looking for a spot for lunch that is quick, easy and on the go while still filling you up. Who doesn't love a good baked potato? Check out all the herb blend options for vegan twice-baked potato options.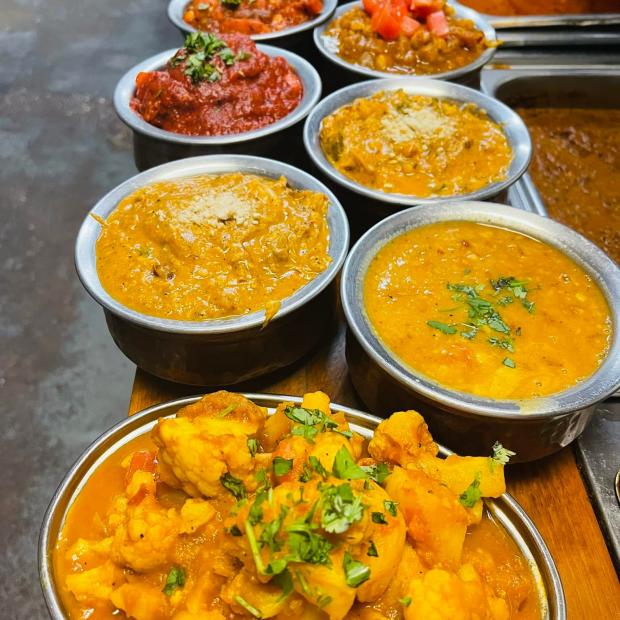 Photo courtesy of Namaste Savannah Facebook page
Namaste Savannah
Namaste Savannah will take you on a culinary journey to Nepal with Asian-based dishes infused with delicious spices. Savor delicious vegan options such as eggplant marsala, namaste okra, vegetable samosa, fantastic salad options and more. Their versatile menu has an option for everyone, both vegan and non-vegan.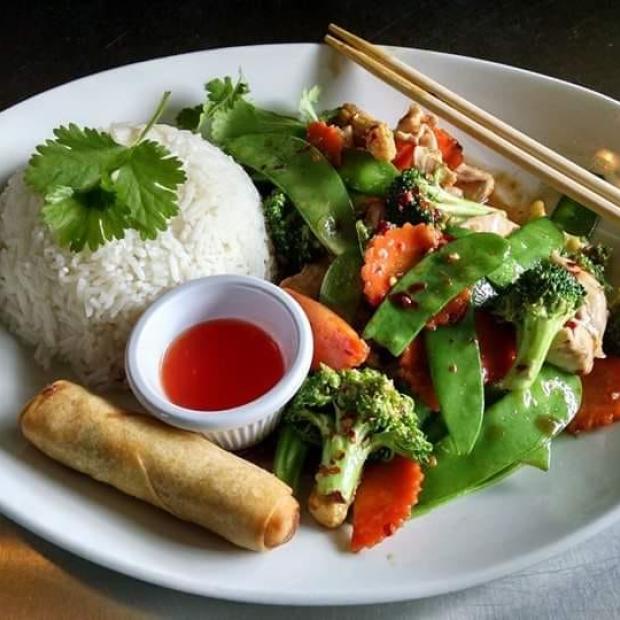 Photo courtesy of Boomys Facebook page
Boomy's
If you're looking for Asian cuisine, Boomy's offers a large variety of dishes served with Tofu or veggies. Order any one of their noodle or rice dishes for a delicious and quick meal. They've also got a late-night menu for when you're hanging out downtown and need a bite before you head home. Spicy food lovers will also enjoy this spot with its six levels of spice to choose from!
This article has been updated by Meghan Ramsey. Meghan is a travel writer and photographer based in Washington, DC, who helps people make their bucket lists happen while staying within their budget. She writes about destinations worldwide and is always chasing her next adventure. You can find more about Savannah and other destinations on her website, The Traveling Teacher.