How to Experience the Savannah College of Art and Design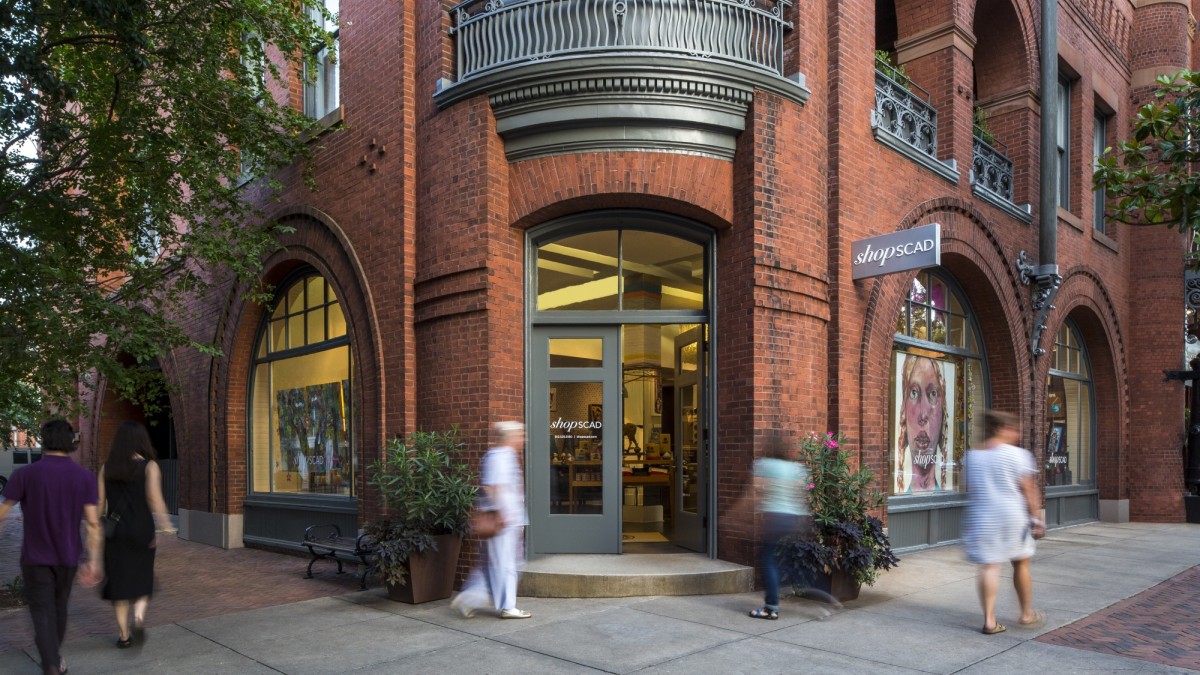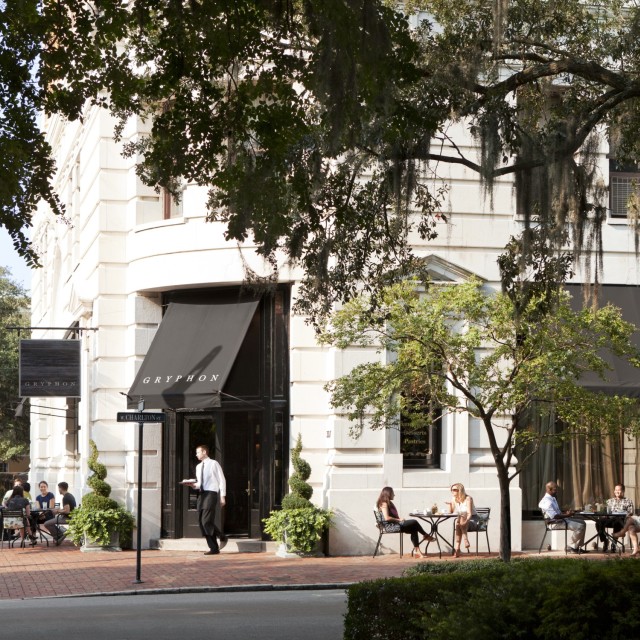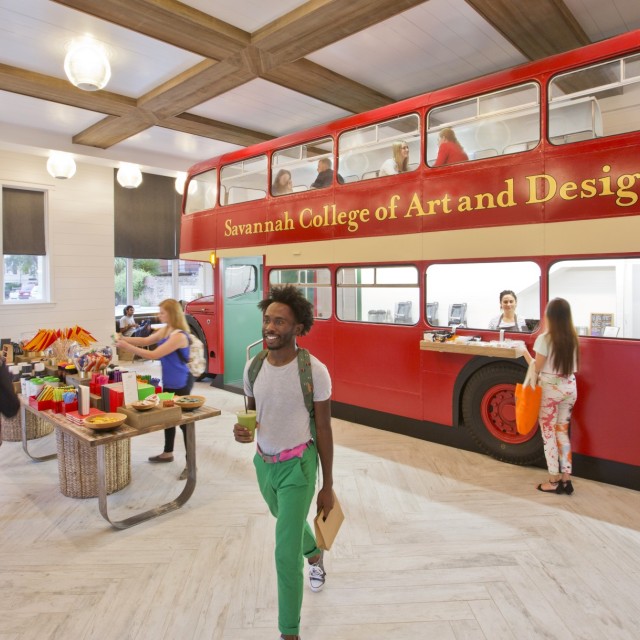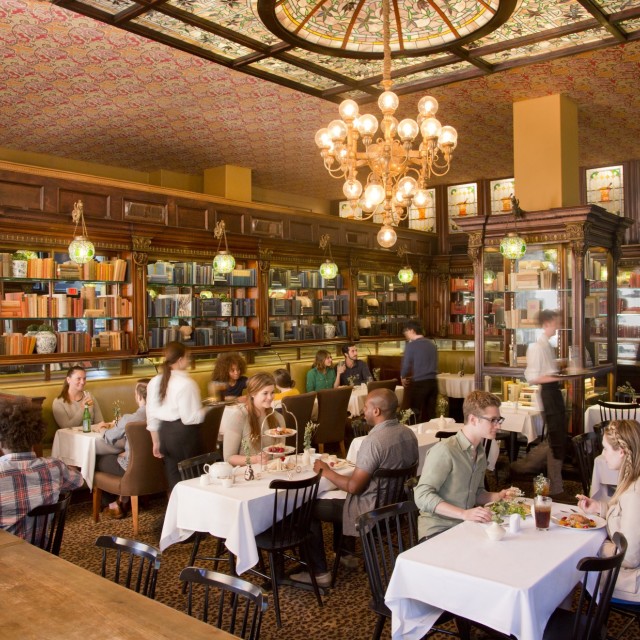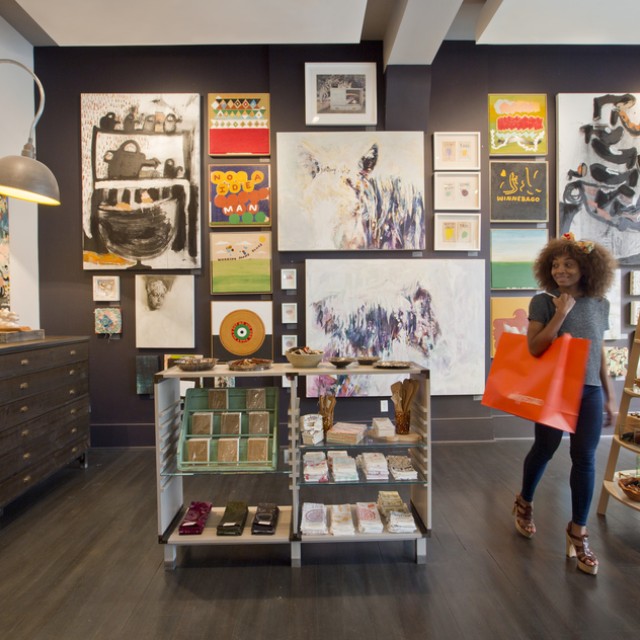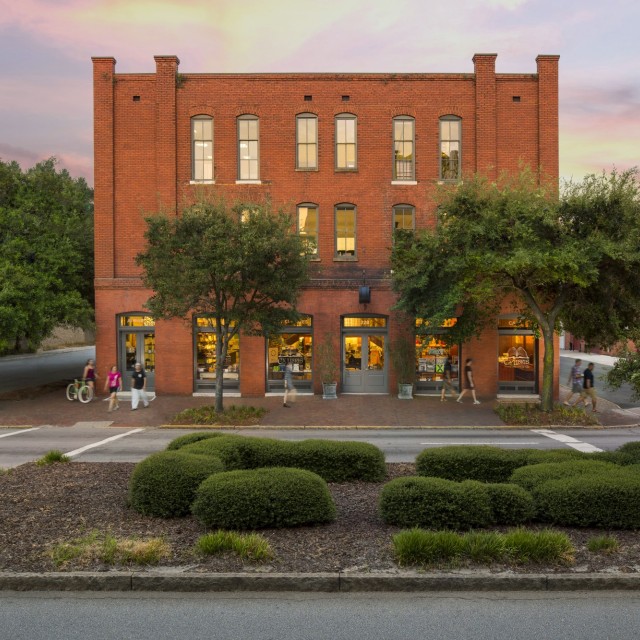 General Information
For those interested in learning more about SCAD, visit Poetter Hall, SCAD's flagship building and home to the admission office. Poetter Hall is open to the public Monday-Friday from 8:30 a.m. to 5:30 p.m., Saturday from 9 a.m. to 5 p.m. and Sunday from 12 to 4 p.m. To schedule a tour at SCAD Savannah, go online to scad.edu/visit, call (912) 525-5100, or simply stop by Poetter Hall, located at 342 Bull St., Savannah, GA 31401.
Restaurants
Gryphon Tea Room—Gryphon's 1926 Scottish Rite architectural profile and alluring café menu invites visitors from its coveted position on Savannah's Madison Square. The intimate, warm and gracious elegance of the interior includes white-clothed tables, carved-mahogany bookcases, original stained-glass panels and a front row seat to iconic Bull Street. The tea room serves signature favorites and fresh, seasonal offerings of local delicacies, with rich, organic ingredients from local purveyors. Gryphon is open Monday-Saturday from 11 a.m. to 6 p.m. and Sunday from 11 a.m. to 3 p.m., located at 337 Bull St., Savannah, GA 31401. For more information, visit scadgryphon.com or call (912) 525-5880.
Art's Café—Art's offers fast, fresh and healthy fare, including whole-fruit smoothies, wraps, coffee and espresso, an array of fresh-squeezed juices and an assortment of grab-and-go snacks and meal bars. Art's also offers a variety of fun and colorful SCAD-branded apparel, gifts and stationery goods. A classic double-decker bus, originally used in London and later operated by SCAD for student transportation in Savannah, anchors the space. The first level acts as the kitchen, while the top level offers cozy seating and brilliant views of Bull Street. Art's is located next to the Gryphon in the ornate 1926 Scottish Rite building on the enchanting Madison Square. Art's is open Monday-Saturday from 7:30 a.m. to 6 p.m. and Sunday from 11 a.m. to 3 p.m., located at 345 Bull St., Savannah, GA 31401. For more information, call (912) 525-4480.
*Note: Gryphon Tea Room, Art's Café, ShopSCAD and Poetter Hall are adjacent to Madison Square. See SCAD facilities map here for more information about building locations.
Retail
Ex-Libris—Typical of a turn-of-the-century mercantile design, this former Salvage and Sales building is characterized by large interior spaces, massive wood beams and an interior open stairwell. The three-story, red-brick, 24,060-square-foot building serves as the SCAD bookstore, offering textbooks, art supplies, framing, apparel, clothing, gifts and university memorabilia. Located inside the store, Café 78 offers a selection of sandwiches, soups and pastries, as well as coffee, tea and other beverages. Ex-Libris is open Monday-Friday from 9 a.m. to 6 p.m., and Saturday-Sunday from 10 a.m. to 4 p.m., located at 228 Martin Luther King Blvd., Savannah, GA 31401. For more information, call (912) 525-7550 or visit Ex Libris online.
ShopSCAD—Showcasing the art, jewelry, and home and fashion accessories of SCAD students, alumni and faculty, shopSCAD's unique retail gallery in Savannah has delighted window shoppers, tourists and collectors of fine art for more than a decade. It also offers SCAD Founder and President Paula Wallace's memoir, The Bee and The Acorn, as well as The Architecture of a University, a 360-age volume that celebrates the rich history and enduring legacy of SCAD through the university's most inspired and inspiring spaces and architectural treasures. The university also maintains a second shopSCAD location in Lacoste, France. ShopSCAD Savannah is open Monday-Sunday from 9 a.m. to 5:30 p.m., located at 340 Bull St., Savannah, GA 31401. For more information, call (912) 525-5180, or visit shopSCAD.com for online ordering.
SCAD Art Sales—Operated through SCAD's Gutstein Gallery, SCAD Art Sales is full-service art consultancy featuring work from the university's worldwide network of more than 45,000 emerging artists and designers. SCAD experts guide buyers through every creative juncture: consulting and development, selection and acquisition, framing and presentation, and delivery and installation. For more information, visit scadartsales.com or contact Christopher Constas at (912) 525-4743 or [email protected].
Gutstein Gallery is a contemporary retail gallery that features the work of nationally known artists alongside that of talented SCAD alumni. Gutstein Gallery is open to the public Monday-Friday from 10 a.m. to 6 p.m. and Saturday from noon to 5 p.m. It can be reached at (912) 525-4735 and is located at 201 E. Broughton St., Savannah, GA 31401.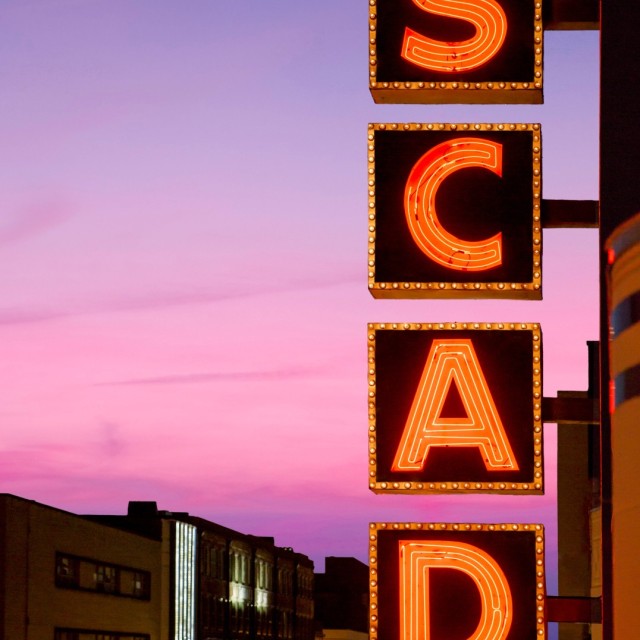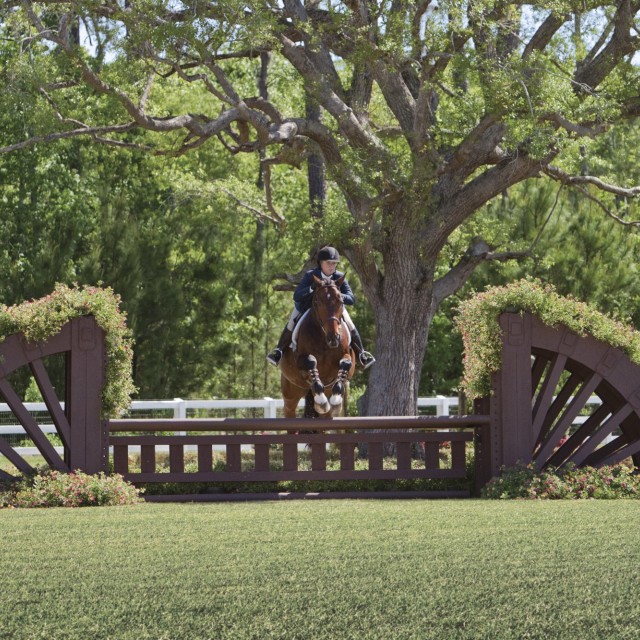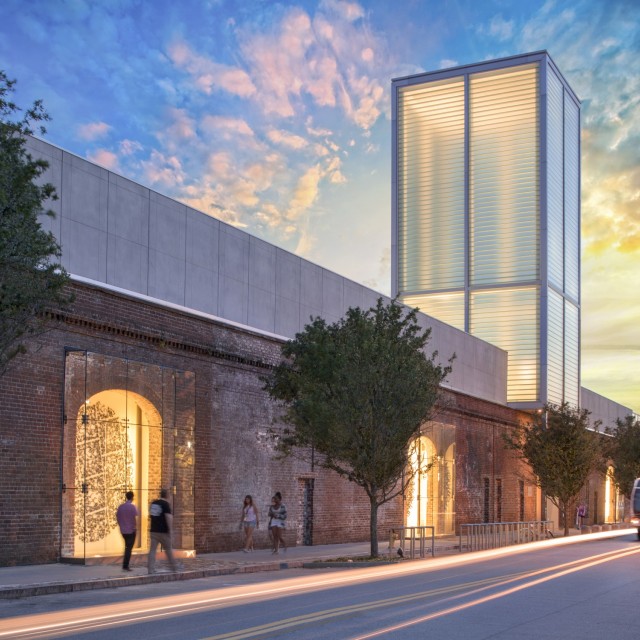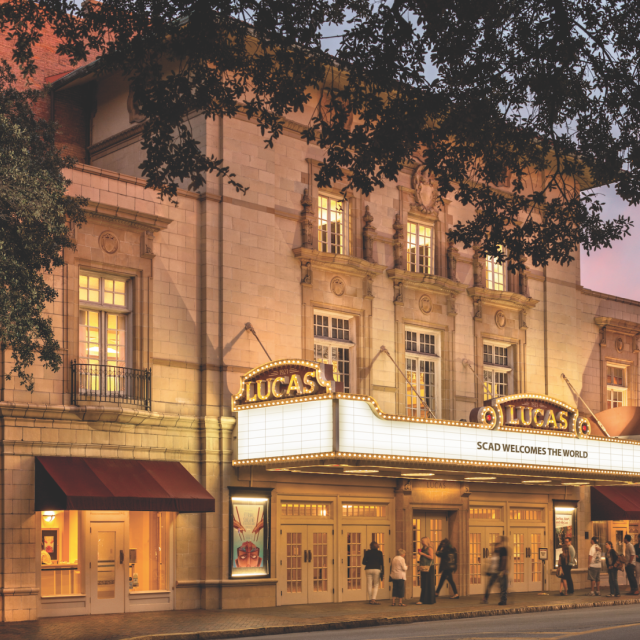 Museums
SCAD Museum of Art—The SCAD Museum of Art features rotating exhibitions from emerging and established voices in contemporary art and fashion including Oscar de la Renta, Vivienne Westwood, Dakota Jackson, Steven and William Ladd, Radcliffe Bailey, Subodh Gupta, Alfredo Jaar, Carrie Mae Weems and Fred Wilson. Additionally, artists such as Daniel Arsham, Kendall Buster, Jose Dávila, Michael Joo and Odili Donald Odita contribute ever-changing, site-specific installations. The museum's permanent collection includes the Walter O. Evans Collection of African American Art, the Modern and Contemporary Art Collection, the Earle W. Newton Collection of British and American Art, the 19th- and 20th-century Photography Collection and the SCAD Costume Collection.
The museum's architecture demonstrates the university's ongoing commitment to historic preservation and adaptive reuse. Originally constructed in 1853 and transformed in 2011 by architect and SCAD alumnus Christian Sottile, the museum building is the oldest surviving antebellum railroad depot in the country and a National Historic Landmark. The museum has been celebrated for its inspired architecture and design, world-class exhibitions, and visionary community outreach and education programs with awards from American Institute of Architects, Congress for the New Urbanism, Historic Savannah Foundation, National Trust for Historic Preservation, and American Alliance of Museums.
The SCAD Museum of Art is open Tuesday-Saturday from 10 a.m. to 5 p.m. and Sunday from noon to 5 p.m., located at 601 Turner Blvd., Savannah, GA 31401. For information about current exhibitions and admission, visit scadmoa.org or call (912) 525-7191.
Entertainment
Trustees Theater—On Valentine's Day 1946, the doors opened to the Weiss Theater, the South's first theatre to be built with adjustable air conditioning. SCAD acquired the space and after undergoing major renovations, it reopened in 1998 as Trustees Theater with a performance by Tony Bennett. In years following, the theater has played host to the Savannah Music Festival, Neko Case, Arturo Sandoval, India Arie and the B-52s, among other performers, and serves as the epicenter of SCAD's annual Savannah Film Festival. Today, there is a year-round schedule of events that includes concerts, plays, ballets, dance recitals, movies, festivals, lectures and musicals. Trustees Theater is located at 216 East Broughton St., Savannah, GA 31401. For more information about scheduled events, visit trusteestheater.com or call (912) 525-5051.
The Lucas Theatre for the Arts—The grand 86,000-square-foot Lucas Theatre for the Arts abounds with impressive architectural features, including a 40-foot-wide ceiling dome that tops the 1,237-seat theater, stage and projection screen. For nearly 15 years, SCAD has sustained and championed the Lucas Theatre as an important cultural asset in the Savannah community. The theater also hosts the Savannah Film Festival, Savannah Philharmonic and Savannah Music Festival, offering a multifaceted experience for locals and visitors alike. Some of the more notable names to perform on its stage include St. Paul and the Broken Bones, Travis Tritt, Savannah Children's Choir, Moscow Ballet, Savannah Philharmonic, Dr. John, JJ Grey, Jim Brickman, Ricky Skaggs and Lalah Hathaway. The Lucas Theatre is located at 32 Abercorn St., Savannah, GA 31401, and ticketing is available through the Savannah Box Office. For more information about upcoming events, visit lucastheatre.com or call (912) 525-5040.
Events
Year-round, SCAD hosts exhibitions, live performances, festivals and film screenings that are open to the public, many of which are free. For more information on upcoming events, visit scad.edu/calendar/events.
Athletics
SCAD offers the most diverse intercollegiate athletics program at any arts university in the world. All home games are free and open to the public. SCAD athletic teams include men's and women's bowling, cross country, cycling, equestrian, fishing, golf, lacrosse, soccer, tennis, and track and field. SCAD teams have garnered more than 100 national championships. Schedules and directions to facilities can be found at savannah.scadathletics.com.