---
List
12 Ways to Embrace Savannah's Irish Heritage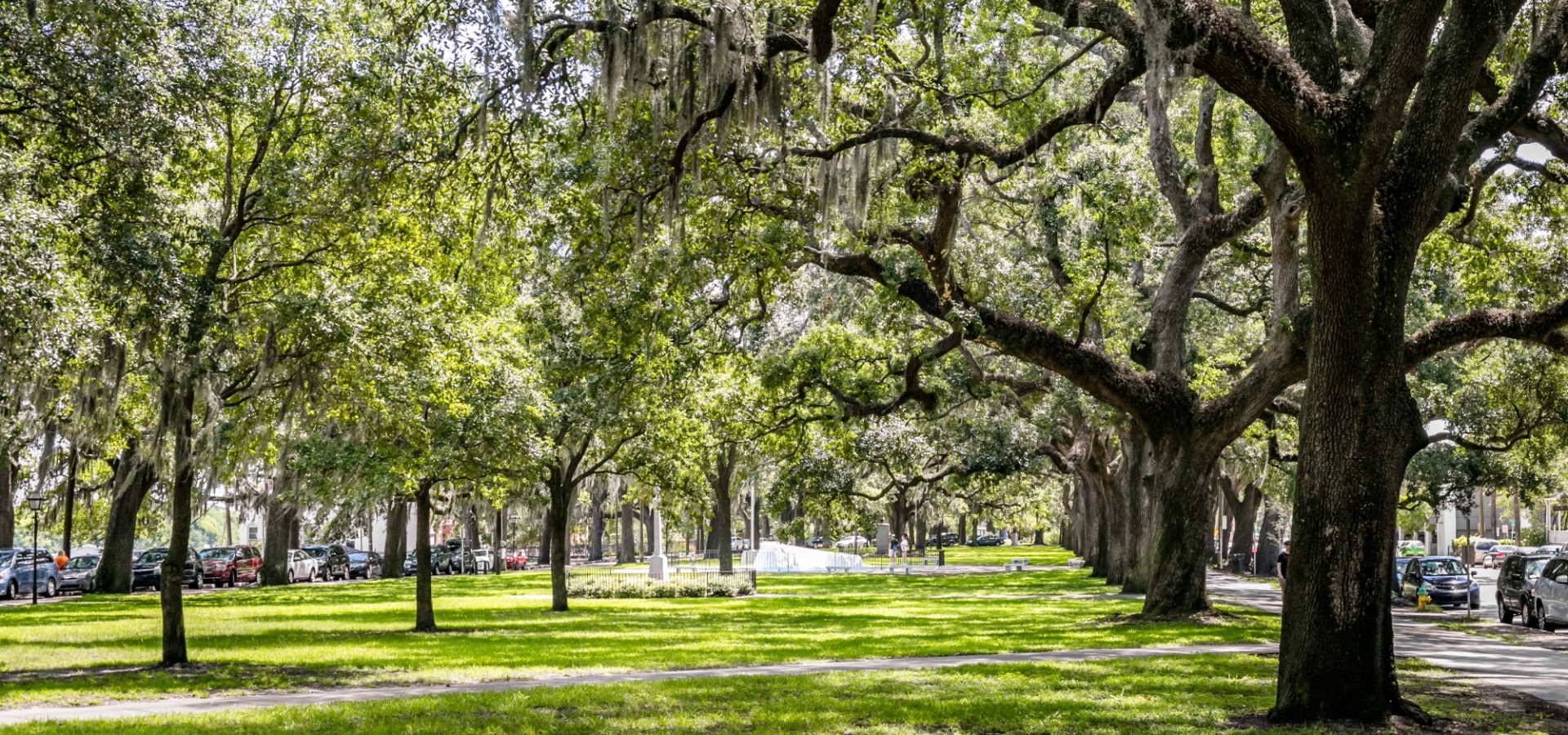 Savannah's Irish roots date back to the 1700s and are woven into the very fabric of what makes our southern city so special. No matter the time of year, visitors can experience Savannah's Irish heritage with these informative and (mostly) free activities.
From historic squares and parks to educational tours and impressive cathedrals, here are 12 ways to get in touch with Savannah's Irish side - any time of the year!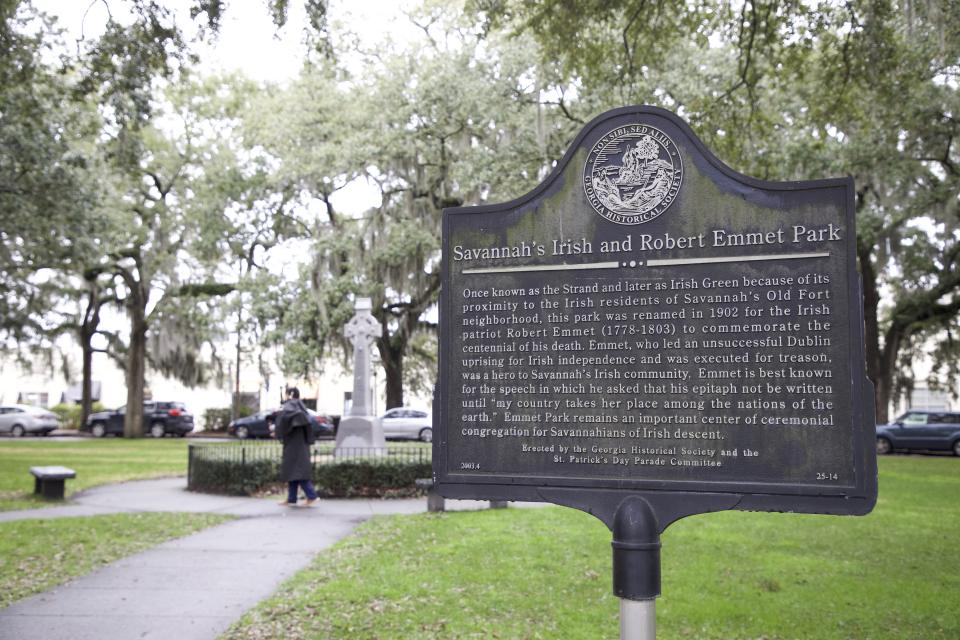 01. Emmet Park & The Celtic Cross
Emmet Park, located off Bay Street, was renamed to commemorate Robert Emmet, famous Irish patriot. Emmet is best known as the leader of the Irish Rebellion of 1803 and for his unsuccessful attempt at a Dublin uprising for Irish independence. Emmet Park remains an important center of ceremonial congregation for Savannahians of Irish descent, especially the Irish residents of Savannah's Old Fort neighborhood. In true Savannah fashion, the week of St. Patrick's Day is kicked off with a Sunday Mass at Emmet Park's Celtic Cross.
02. Savannah's Old Fort Neighborhood
Savannah's Old Fort Neighborhood is in the northeast corner of the Historic Landmark District. In the 1800s, this working-class neighborhood was filled with prominently Irish and African-American families.  This residential area is typically very quiet and keen-eyed visitors will notice quite a bit of original tabby stone throughout the neighborhood. Many are unaware that the Savannah Port Society, located in Washington Square, was incorporated when Irish immigrants flooded the city to build the railroad system for Savannah in 1943.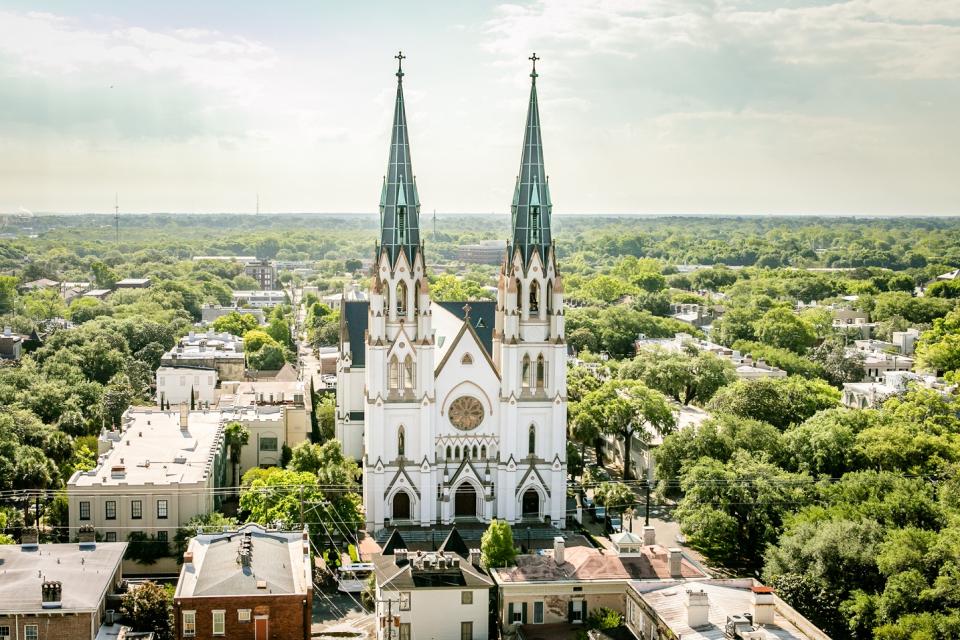 03. Cathedral Basilica of St. John the Baptist
You may recognize the Cathedral Basilica of St. John the Baptist as one of the most photographed places in Savannah - but did you also know about its ties to Savannah's Irish community?  This stunning structure is the starting point for Savannah's famous St. Patrick's Day Parade and also hosts the annual Mass of the Feast of St. Patrick. However, you don't need to visit in March to experience the Cathedral Basilica of St. John the Baptist's ties to Ireland. Cathedral guests can spot the Celtic symbol for eternity in the Baptismal font and a shamrock being held by Saint Patrick in an impressive window mural.
04. Savannah Blarney Stone 
You don't have to travel all the way to Ireland to kiss the Blarney Stone. That's right. Savannah has its very own Blarney Stone!  In 2009, Dr. Sidney and Colleen Smith purchased a stone from Blarney Castle in County Cork, Ireland, and transported it to Savannah to serve as a charitable tradition. Visitors are invited to visit the Savannah Blarney Stone year-round at Cohen's Retreat for a small donation. The proceeds benefit a roster of local charities that are doing exceptional work towards building a better community.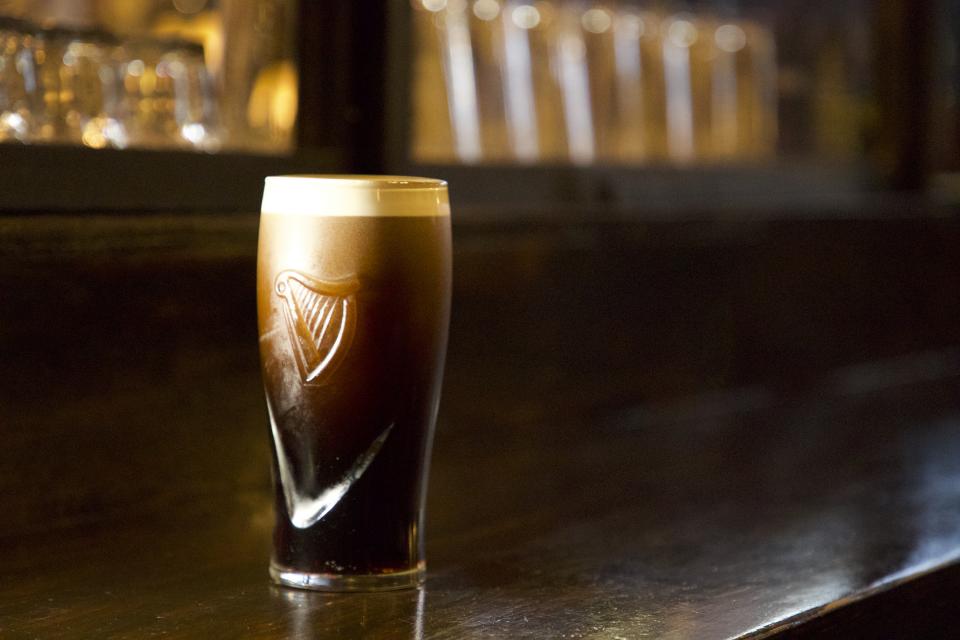 05. The Perfect Pint at O'Connell's Irish Pub
Ah, the elusive "perfect pint." You might've heard whispers about it at the local pub but chances are you haven't experienced one until you've visited O'Connell's Irish Pub in downtown Savannah. This unassuming storefront is one of the coziest pubs in the city with an impressive display of Irish sports memorabilia. Snag a corner seat or pull up a barstool to enjoy one of the finest pints of Guinness in Savannah.
06. Savannah GAA
The Savannah Gaelic Athletic Association (SGAA) strives to enhance the Savannah community through the Gaelic games of hurling and Irish football. For those unfamiliar with hurling, it's a mix of lacrosse, baseball and field hockey in an atmosphere of controlled chaos and Irish football is a blend of soccer and rugby. Watch as the local Savannah team takes on rival cities in an afternoon of exciting Irish athletics!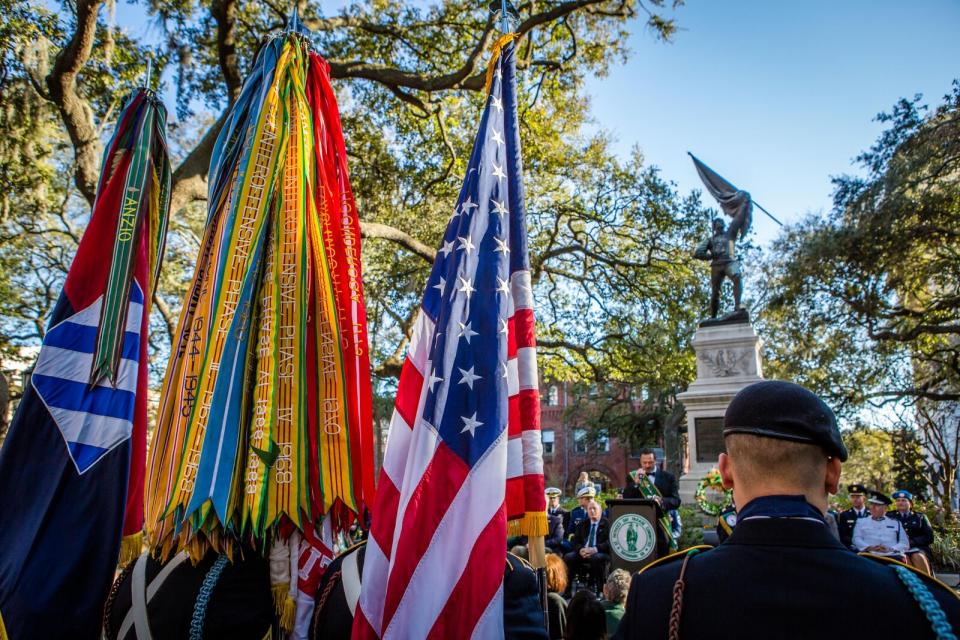 07. William Jasper Monument
Located in Madison Square, the William Jasper Monument was dedicated to the Irish-American soldier in 1888. The statue at the center of the monument depicts William Jasper in the final moments before his death during the siege of Savannah in the American Revolutionary War.
08. Irish Walking Tour
For a unique walking tour experience, Savannah Tours and Tales offers an Irish history tour year-round. From Emmet Park to the Old Fort Neighborhood, you'll gain an in-depth understanding of why the Irish immigrated to Savannah and what their experience was like.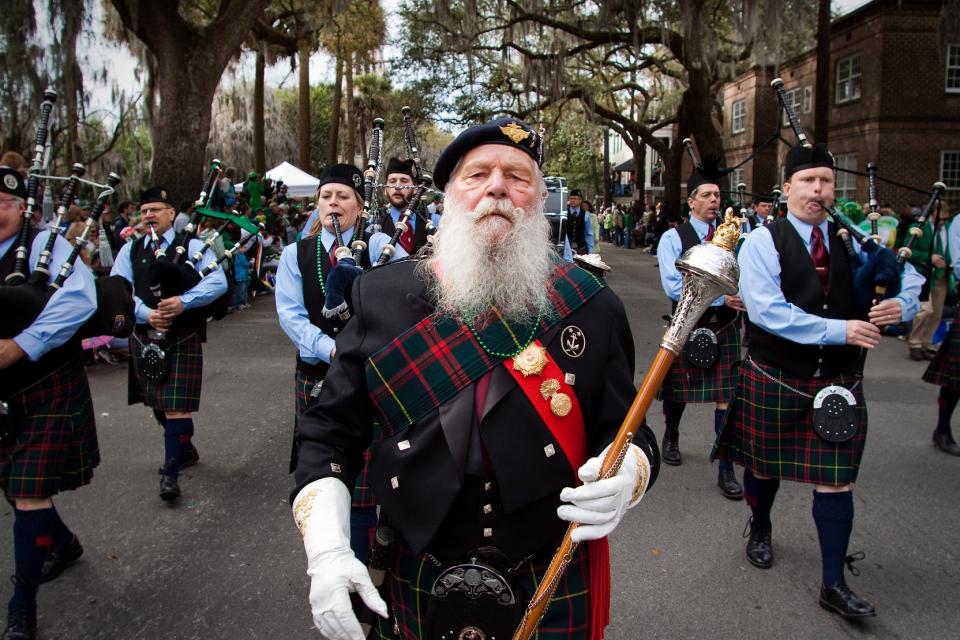 09. Savannah Pipes & Drums Corps
Established in 2007, Savannah Pipes & Drums is Savannah's only bagpipe band. Although Scottish in heritage, Savannah Pipes & Drums is one of the most iconic parts of the annual St. Patrick's Day Parade. In fact, it is often said that the sound of bagpipes is the unofficial soundtrack for St. Patrick's Day in Savannah! 
10. Shop Saints and Shamrocks
Looking for the perfect Irish item to take home as a Savannah souvenir? Then you absolutely must visit Saints and Shamrocks, located on Bull Street between Chippewa and Madison Square. This beloved shop has been serving up St. Patrick's Day spirit, religious gifts, Irish imports and much more for almost 30 years!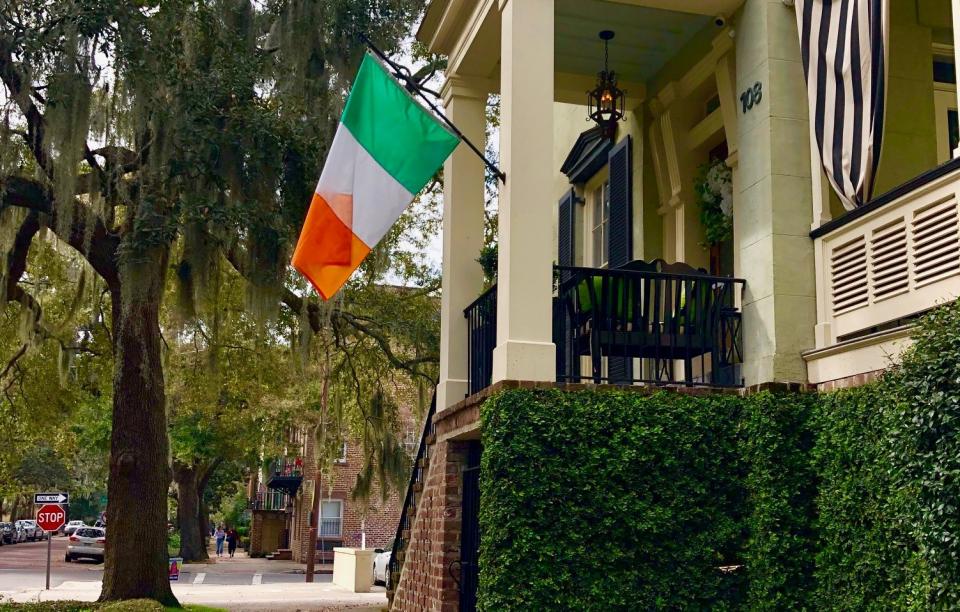 11. Savannah's Irish Flags
Irish Savannahians proudly wave their Irish flags - both literally AND figuratively! Stroll down any of Savannah's stunning streets and you're sure to find the Irish flag waving in the wind in front of many homes.
12. Father Whelan Gravesite
Known by survivors as the "Angel of Andersonville," Father Peter Whelan was the only minister willing to serve within this prison den that witnessed the death of 13,000 Union prisoners-of-war. An Irish-born Catholic priest who served in the Diocese of Charleston and Savannah from 1837 until 1871, Father Whelan's funeral in 1871 was the largest that the city of Savannah had seen up to that time. He is buried at Savannah's Catholic Cemetery on Wheaton Street.
Even if you can't make it to Savannah's much-anticipated St. Patrick's Day Parade, you can experience these Irish activities any time of the year! Whether you're shopping or walking, you'll become an honorary Irish Savannahian after crossing these off your bucket list.