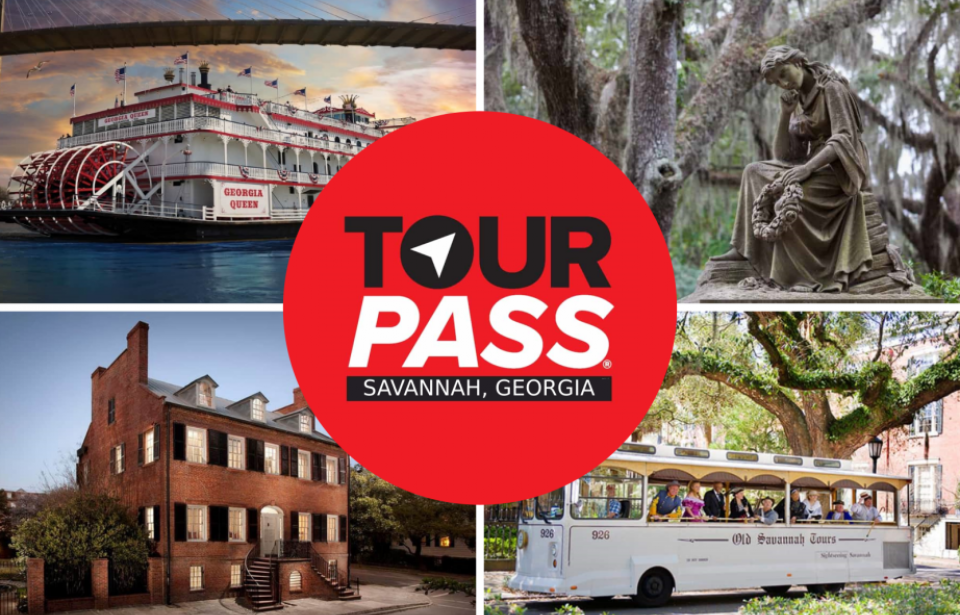 Discount Guides / Museums / History Tour / Specialty Tour
Info & Amenities
TourPass Savannah allows you to save up to 40 percent or more, tour stress-free and includes full admission to over 30 of the top tours, attractions and historical sites in Savannah on one easy-to-use pass. TourPass only includes the top attractions, so you don't have to research what to do. After purchase, you'll receive the Mobile Pass where you research attractions, make automated reservations in advance of arriving and use the interactive maps.
How It Works:
Step #1) Visit https://tourpass.com/savannah
Step #2) Choose from three-day duration options:
1-Day, 2-Day or a 3-Day TourPass. (Add as many people as you wish to one pass.)
Step #) Check-out and you'll instantly receive your TourPass via text and email.
Attractions Are Split Into TWO Categories:
Featured Attractions: More expensive than Standard Attractions, and most require advance reservations which are easily made within the pass. The number allowed is determined by the pass duration purchased.
1-Day Pass: Choose 2 Featured + unlimited Standard.
2-Day Pass: Choose 3 Featured + unlimited Standard.
3-Day Pass: Choose 4 Featured + unlimited Standard.
Standard Attractions: Require no reservations. Simply arrive during the attraction's operating hours and show your pass upon entry and full admission is paid.
No limits. Visit as many as you wish 1x per person.
Included Featured Attractions/Tours:
(Number allowed determined bypass duration)
1-Day Pass: Choose 2
2-Day Pass: Choose 3
3-Day Pass: Choose 4
- Hop On Hop Off Trolley Tour
- Savannah Riverboat Cruise
- A Walk Through Midnight Walking Tour
- America's Most Haunted Walking Tour
- Bicycle Guided Historical Tour
- Bicycle Rental - All Day
- Bonaventure Cemetery Tour
- Boo Y'all Comedy Ghost Trolley Tour
- Carriage Tour
- Civil War Walking Tour
- Haunted Paranormal Ghost Walking Tour
- Haunted Pubs Tour
- Historic Homes Walking Tour
- Historic Overview Trolley Tour
- Pounce Cat Cafe
- Savannah Experience Trolley Tour
- Savannah Stroll Historic Walking Tour
- Savannah Theatre Show Admission
Included Standard Attractions:
(Visit as many as you wish 1x per person)
- Andrew Low House Museum
- Owens Thomas House & Slave Quarters
- Juliette Gordon Low Birthplace House
- Telfair Academy House Tour
- Ships of the Sea Maritime Museum
- Savannah History Museum
- Pinpoint Heritage Museum
- Old Fort Jackson
- Mighty Eighth Air Force Museum
- Jepson Center for the Arts
- Harper Fowlkes House Tour
- Green Meldrim House Tour
- Georgia State Railroad
- Davenport House Museum
- Savannah Square Pops
- Webb Military Museum
Here's a video demonstrating the Mobile Pass you'll receive after purchase:
https://youtu.be/DELbgt2WVR0
Special Offers
& Upcoming Events
Save 5% Off 1, 2 or 3-Day With Tour Pass
Savannah Tour Pass
See Deal