---
List
Savannah's Hottest Rooftop Bars & Restaurants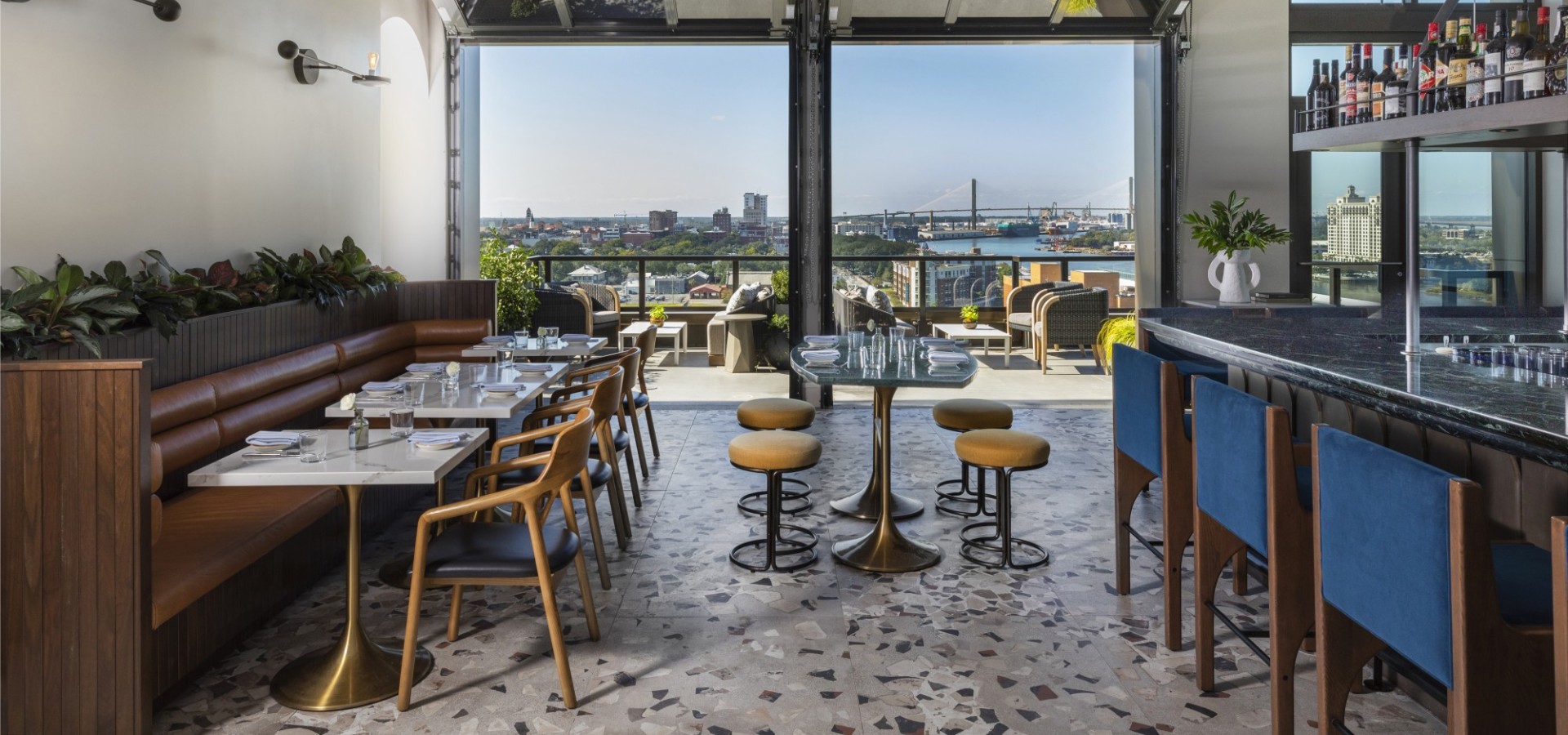 Sometimes you need a new perspective… and a drink! A beautiful view, a light breeze and a fantastic cocktail are the perfect recipe for relaxation. Savannah is full of great places to gaze, sip and snack while looking over the city. Whether you want a view of the river, cobblestones or historic homes, you'll find beauty at these rooftop bars and restaurants.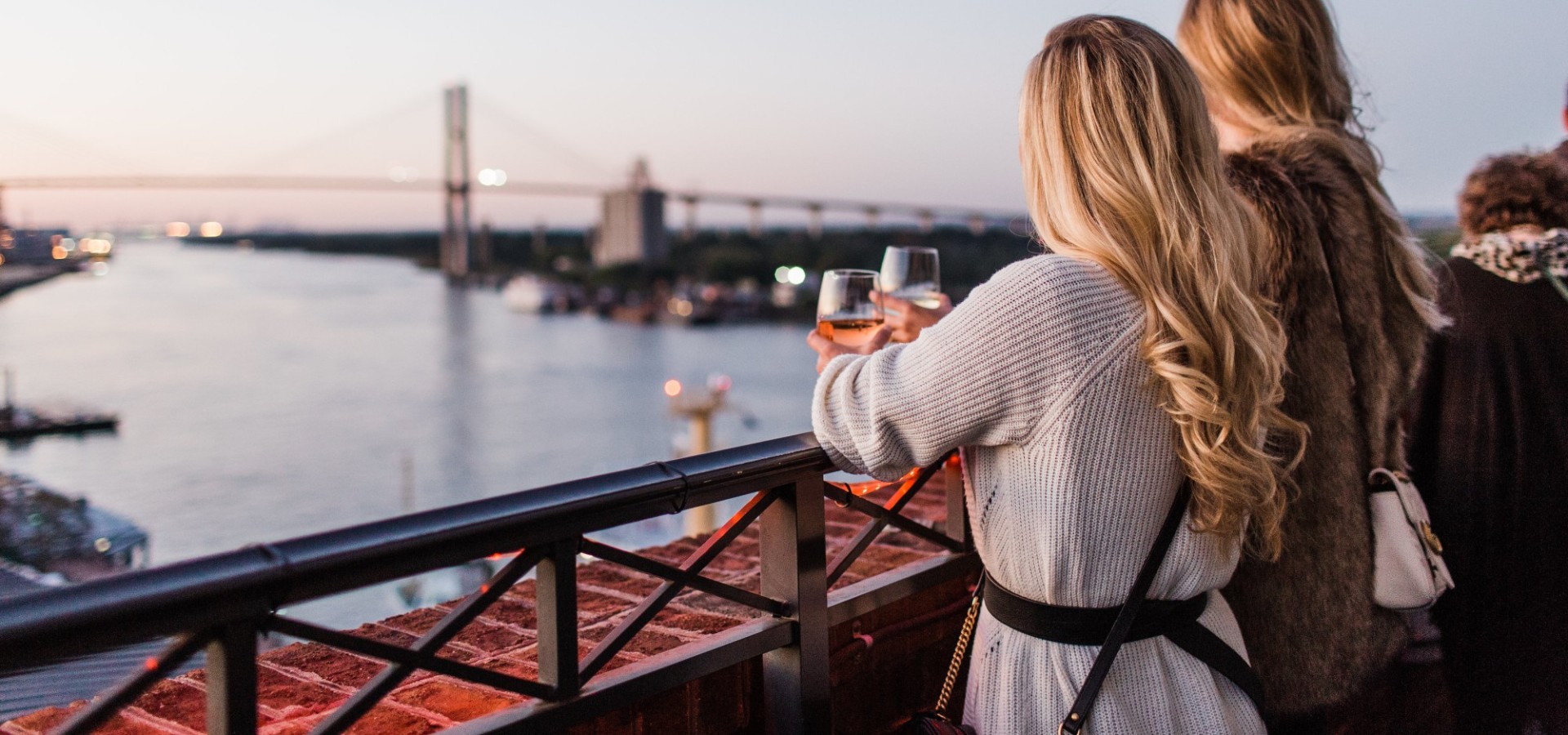 This bustling rooftop spot has a marvelous view of the Savannah River. With large, comfy couches and plenty of outdoor seating, Top Deck is the perfect place to gather the group for rooftop cocktails.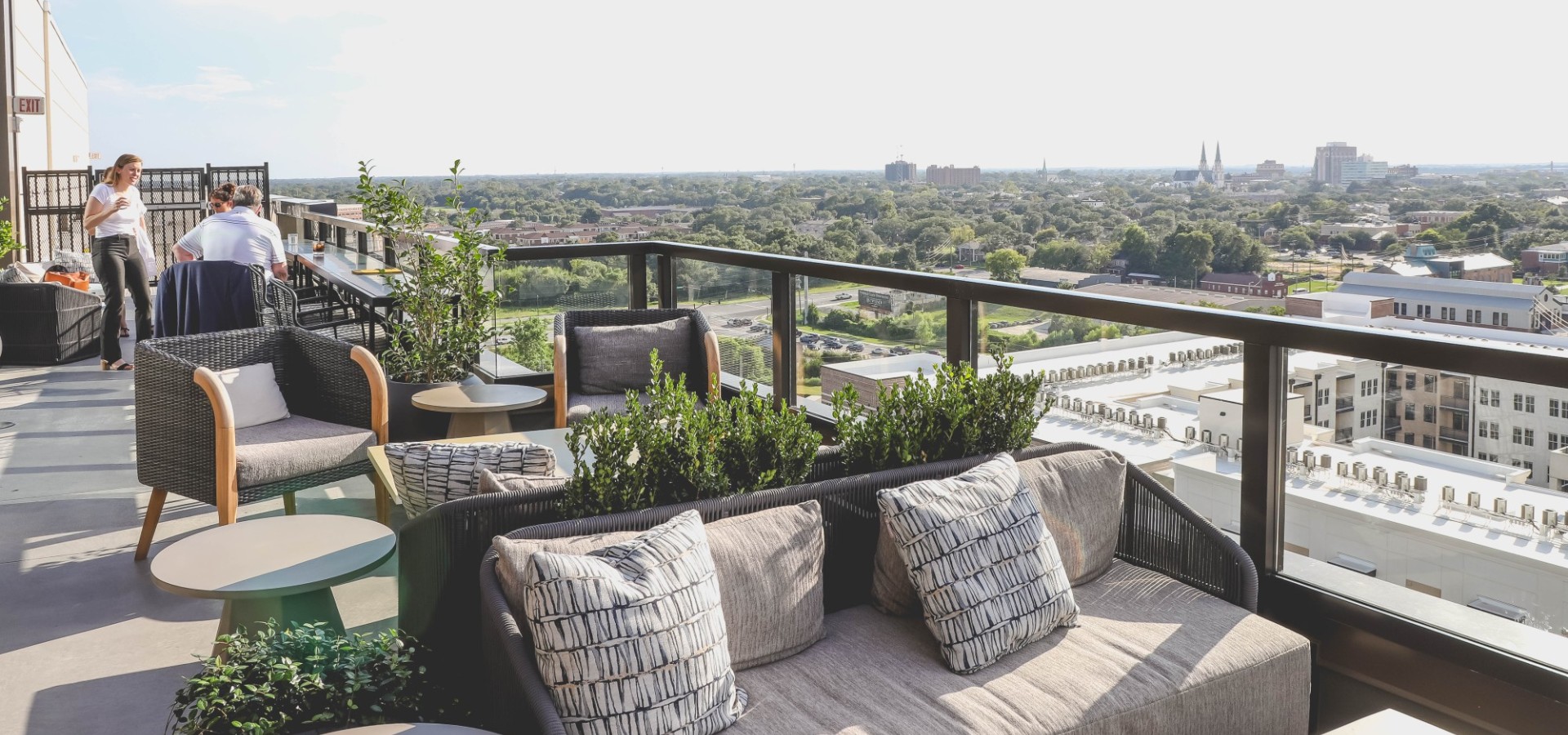 Contemporary décor and a casual atmosphere depicts this rooftop gem. Bar Julian sits atop the Thompson Savannah offering breathtaking views of the Savannah River on one side and the city skyline on the other. It's the perfect choice for a leisurely or business gathering while sipping cocktails and dining on perfectly paired appetizers and small plates.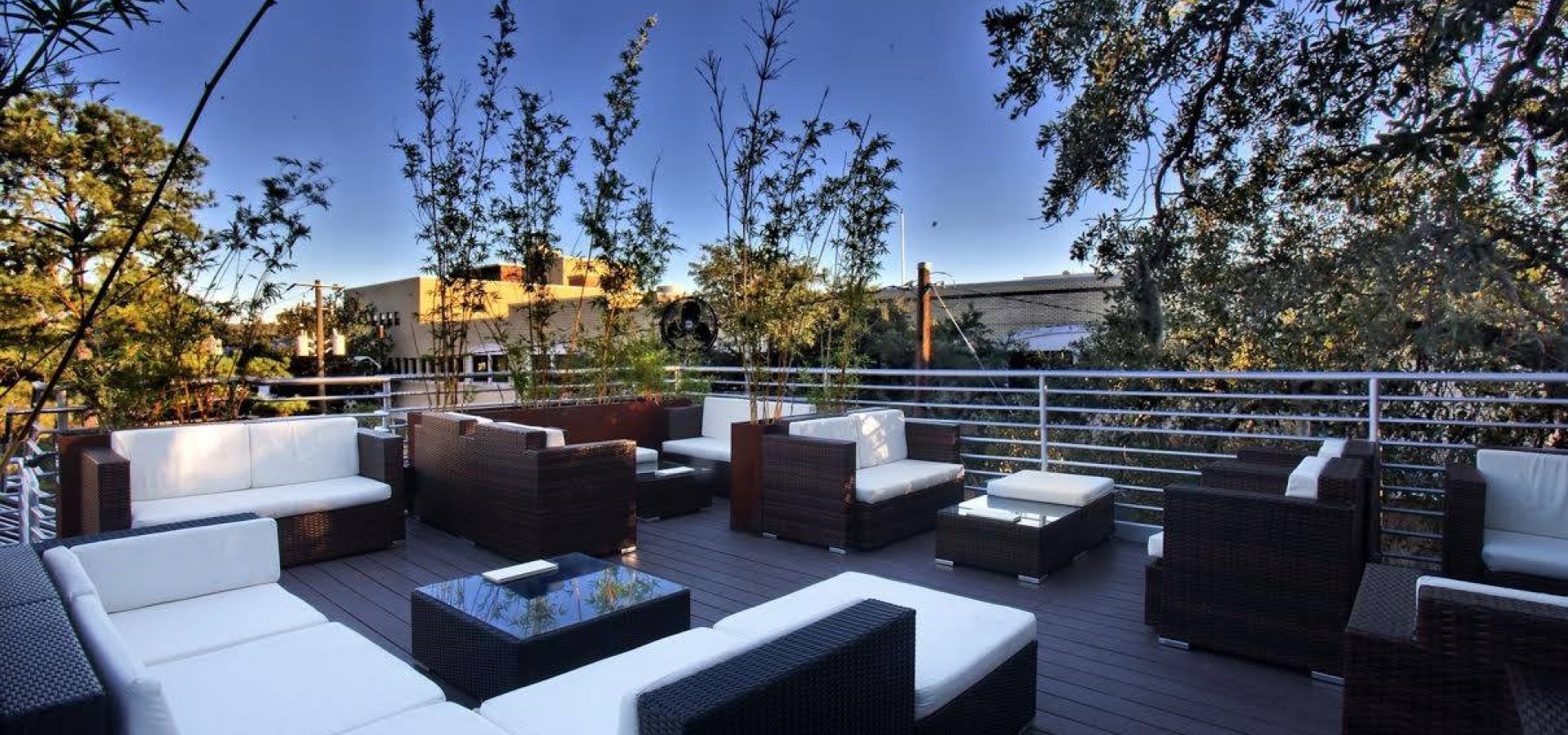 If you're looking for a quiet place for moonlit coziness, head to Perch, located at the south end of Forsyth Park. Their menu is full of craft cocktails, small plates and charcuterie boards. Perch is the rooftop bar of Local11ten, a fine dining restaurant perfect for an intimate dinner.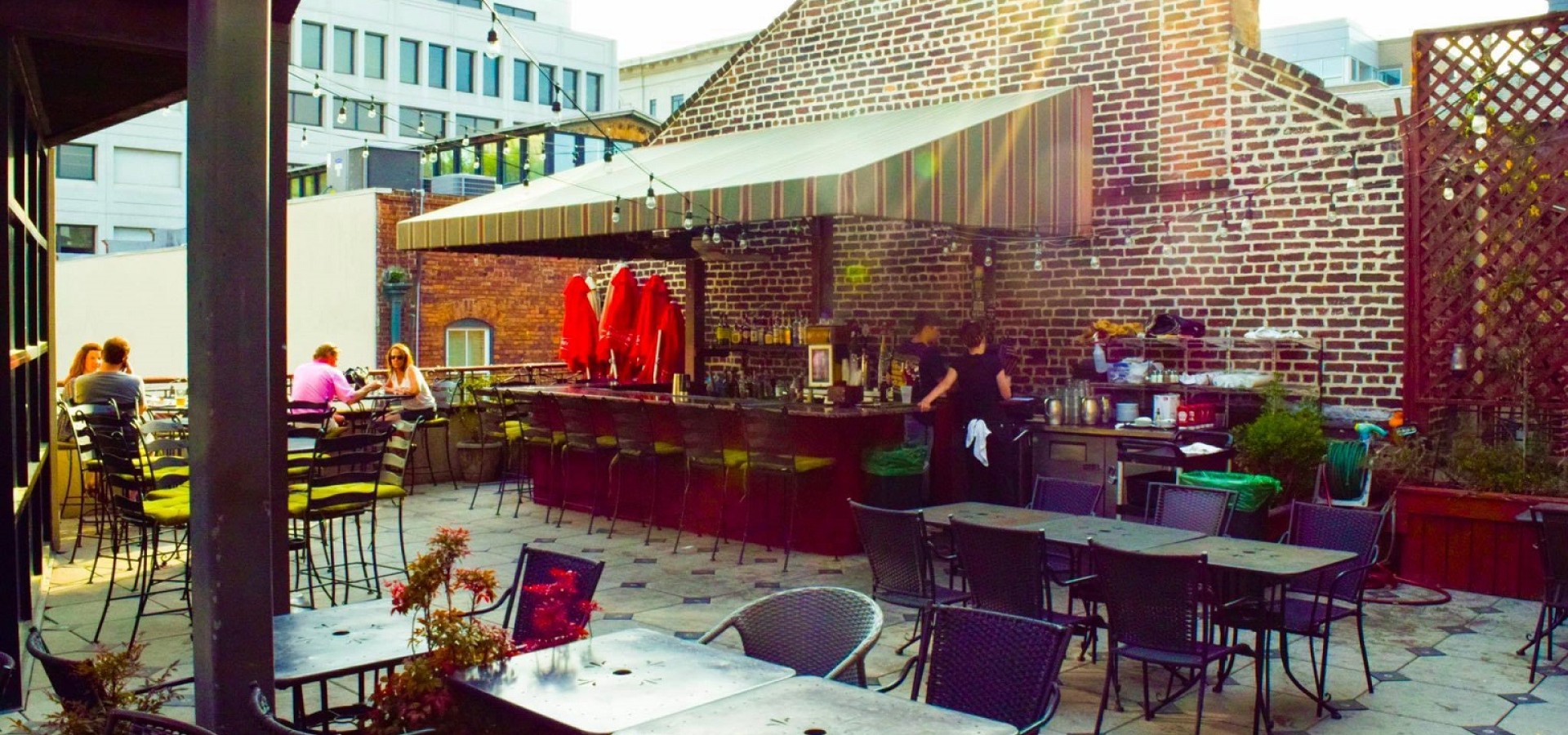 This historic pub is the "it" spot for visitors and locals alike. Churchill's rooftop terrace brings the true essence of Savannah – it's surrounded by historic buildings on Bay and Broughton streets!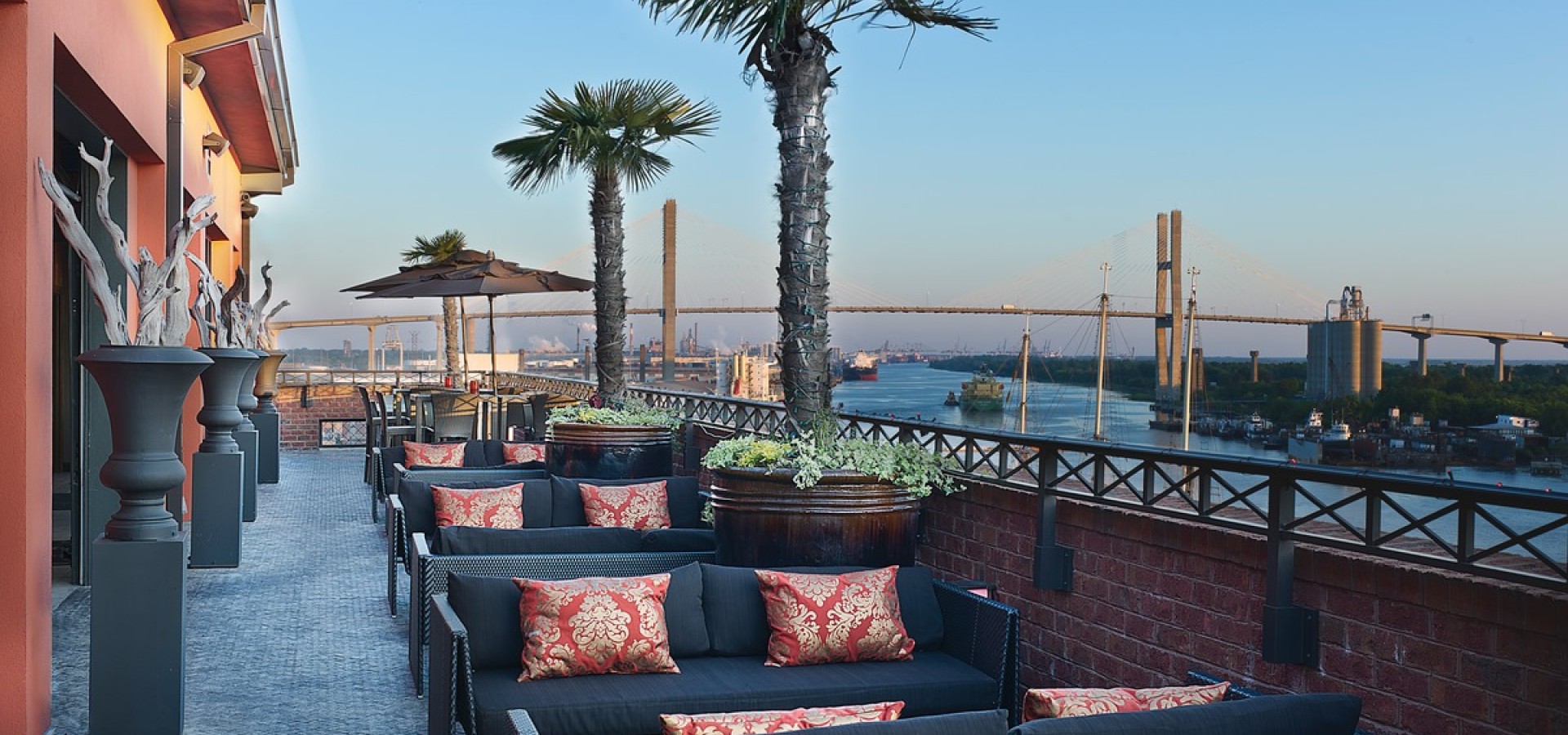 Rocks on the Roof is the place to be if you want to feel fancy while overlooking the Savannah River. This hotel bar is known for their specialty cocktails and creative tapas dishes, like boiled peanut hummus and duck wings.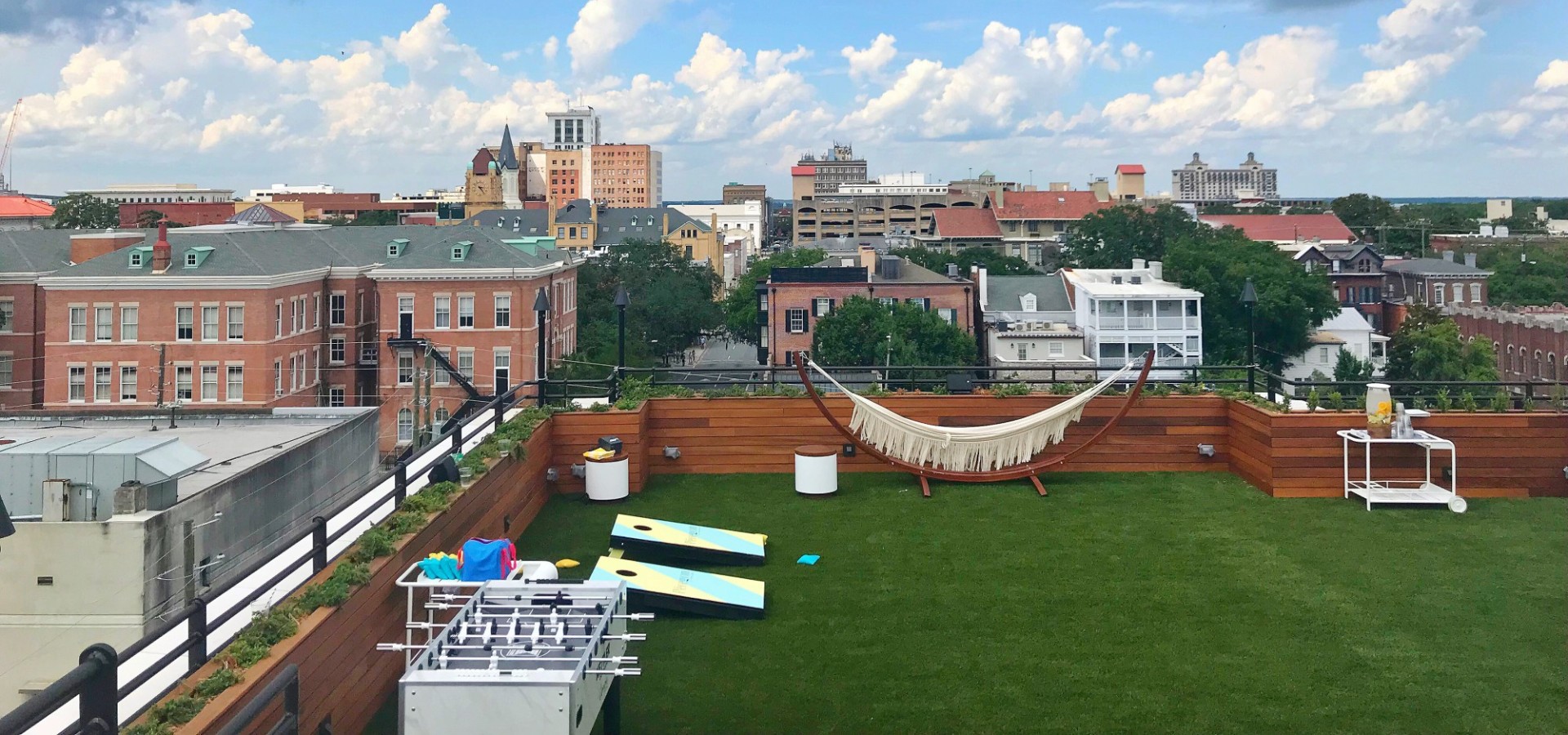 Peregrin, the Perry Lane Hotel's rooftop lounge, is an all-weather, open-air lounge with exquisite views of the cityscape from the rooftop deck. At this sophisticated spot, you can enjoy casual lawn games, hand-crafted premium cocktails and a carefully curated wine list.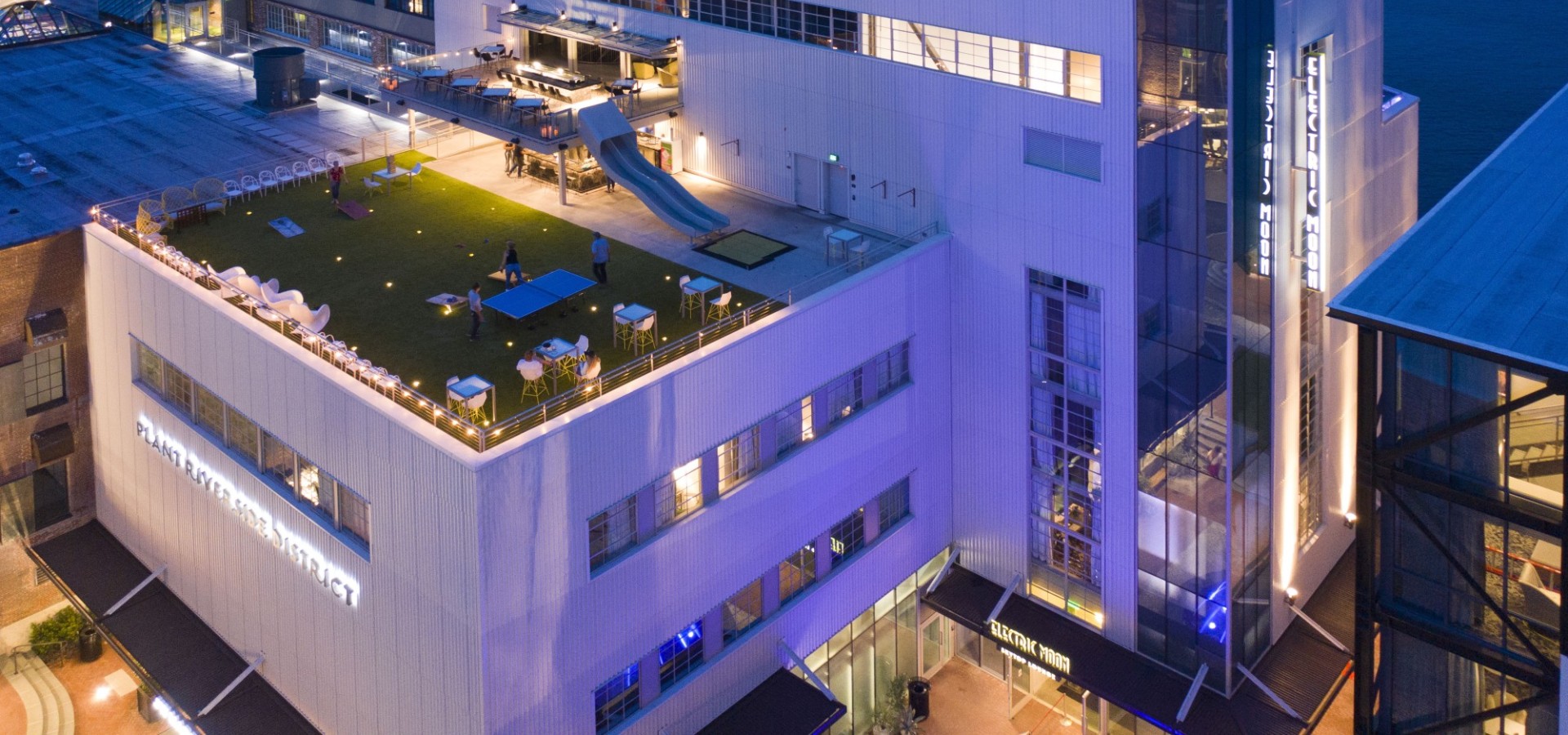 Electric Moon Rooftop Bar
07
Electric Moon Skytop Lounge + Moon Deck
Situated above the newly built Plant Riverside District, the Electric Moon Skytop Lounge features stunning river views, illuminated smoke stacks, signature cocktails and live music. This playful adult oasis is THE place to dance under neon lights, snap photos on LED swing sets and relax with your closest buds.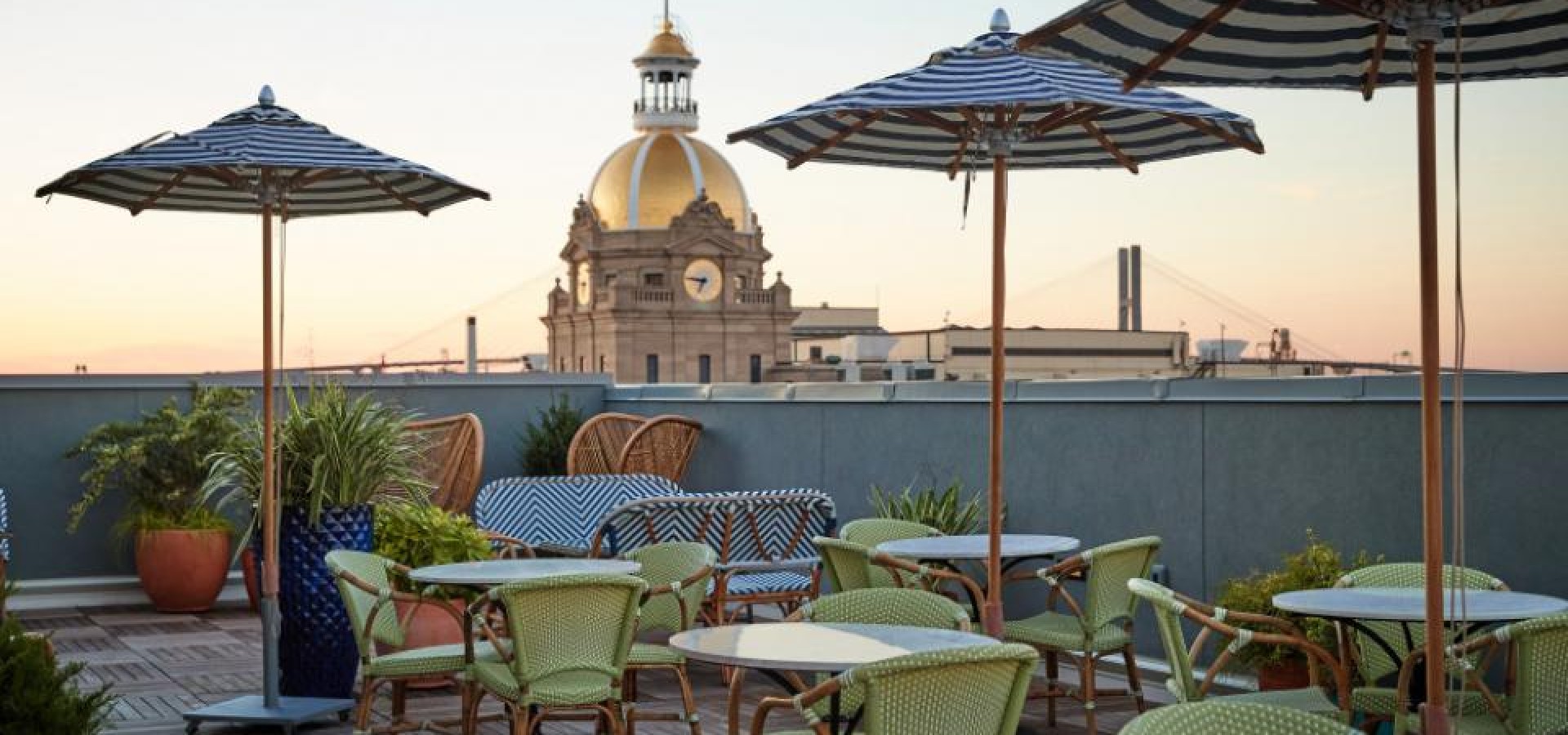 Nestled atop one of the city's newest hotels, the Drayton Hotel rooftop offers unobstructed panoramic views of City Hall and Savannah River. Grab you pals and toast with an afternoon cocktail or a scenic evening drink while admiring the stunning city sunset.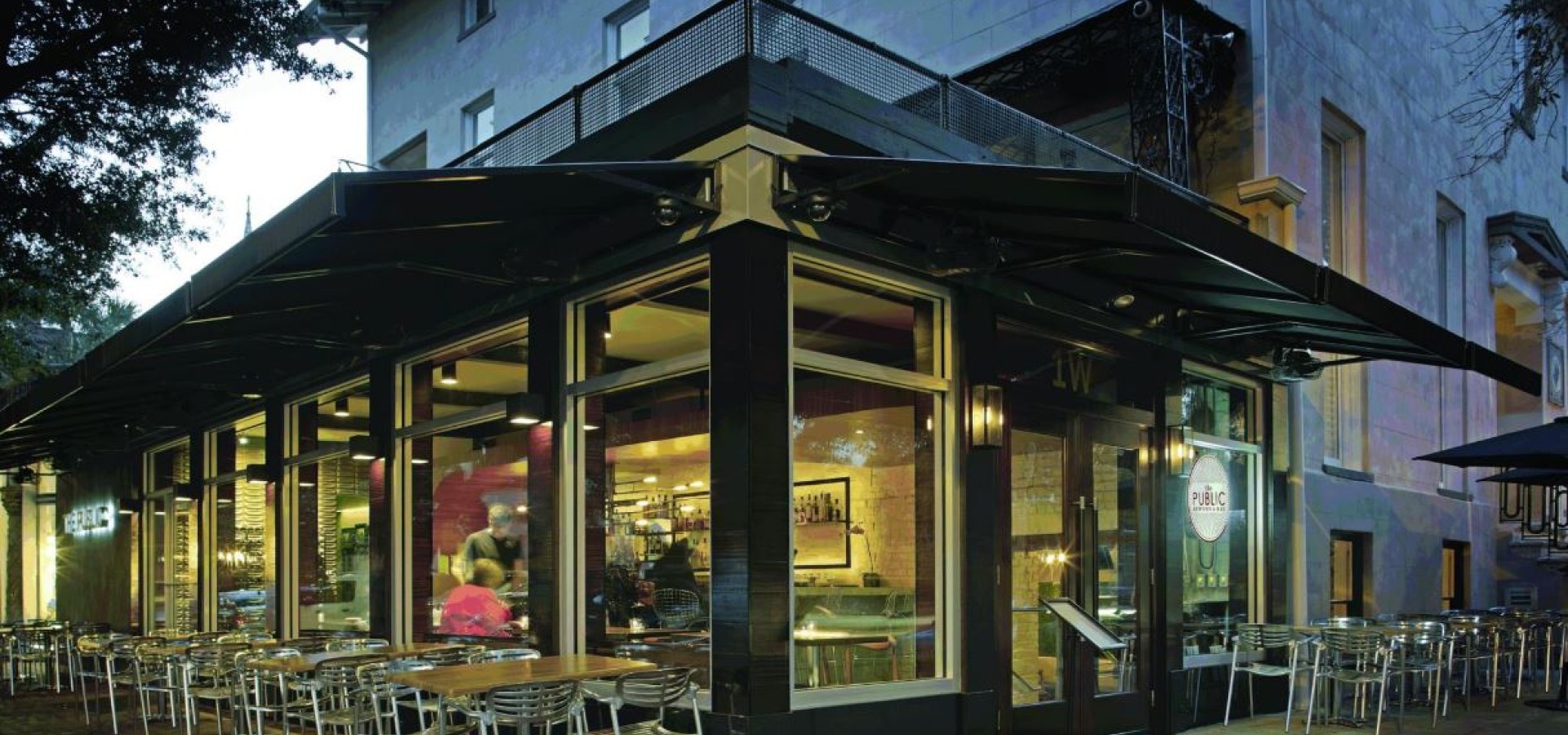 09
The Public Kitchen & Bar
Located on the corner of Liberty and Bull Streets, The Public has a rooftop dining area that overlooks one of downtown Savannah's most bustling areas. Midcentury-modern decor sets the stage for trendy cocktails and an eclectic selection of American menu items.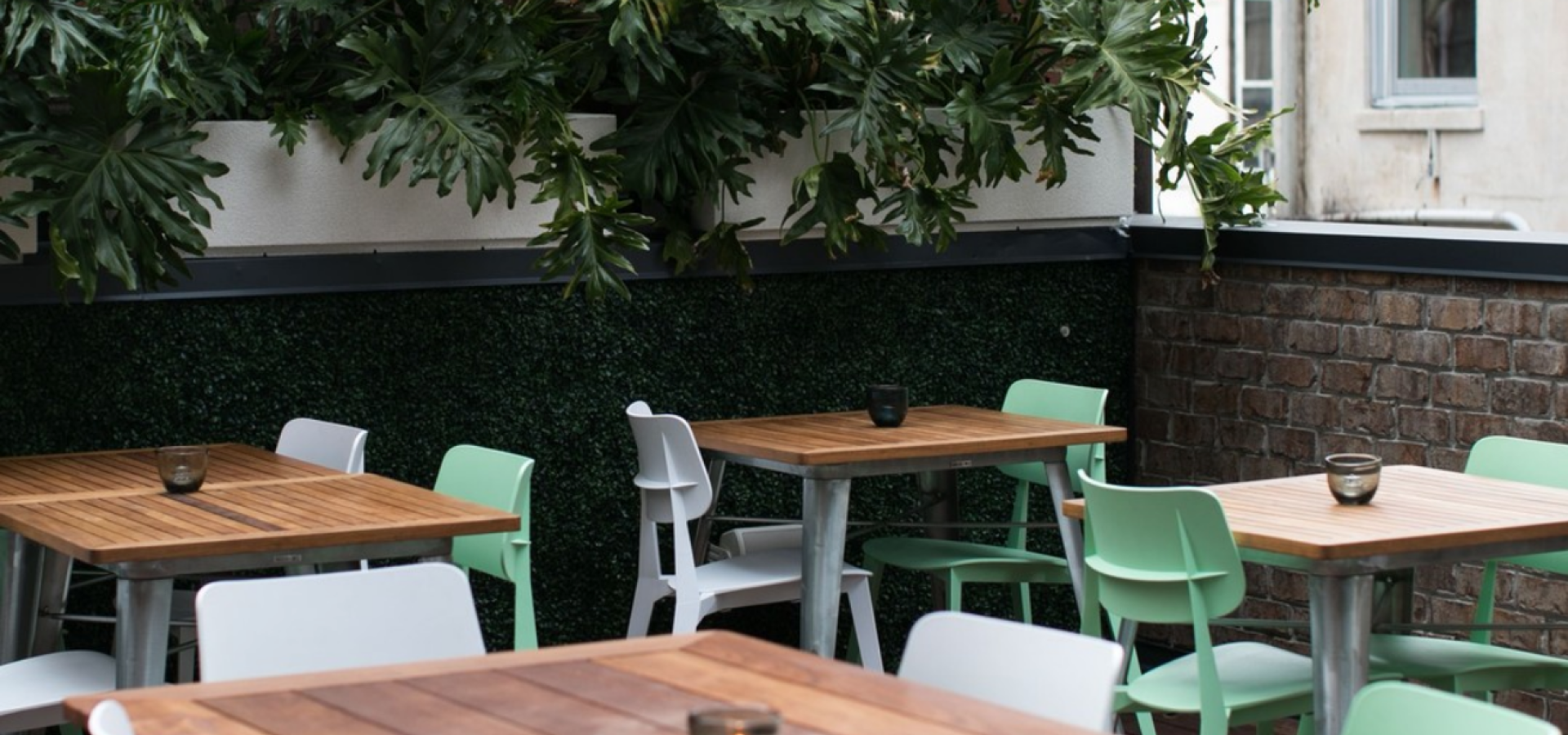 Styled after many popular pubs in Melbourne, Australia, The Fitzroy offers a diverse Gastropub menu featuring items like the chicken schnitzel and the Aussie sausage roll. This new restaurant has an adorable and quiet rooftop patio that overlooks Savannah's gorgeous Historic District.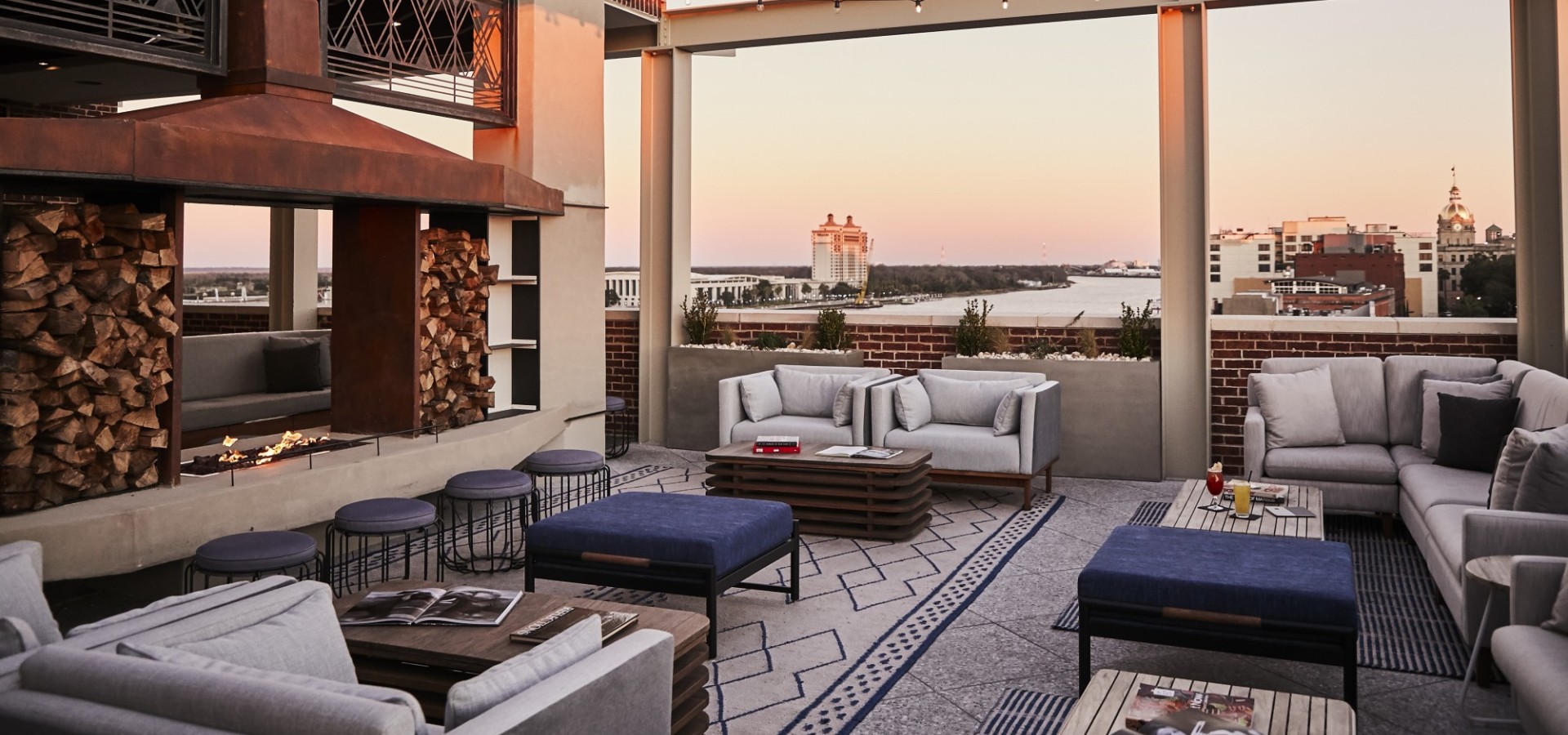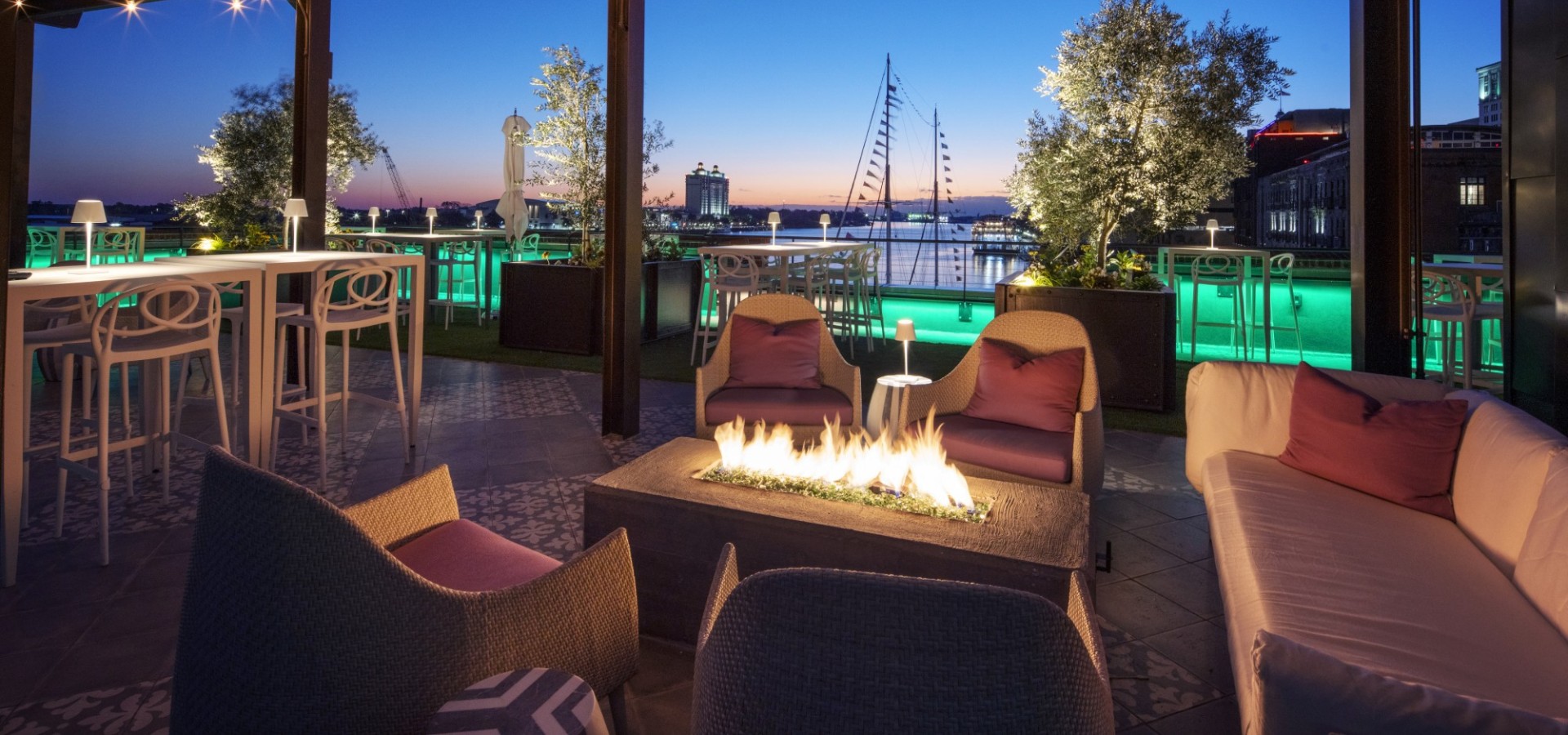 12
Myrtle & Rose Rooftop Garden