Walk in George Washington's Footsteps at These Savannah Locations
By Summer Bozeman
While you're enjoying a long weekend in Savannah during one of the city's most beautiful seasons, have you ever wondered how Presidents' Day got started? In 1885, the day was created to honor America's first president George Washington. In 1971, the date was moved and changed to Presidents' Day to honor all the presidents, and to give working Americans an extra three-day weekend as a break from long work weeks. The Presidents' Day weekend presents the perfect opportunity to enjoy fresh green leaves appearing on Historic District trees and pink and white azaleas beginning to burst into bloom. 
Presidents' Day weekend is also the perfect time to follow in the first president's footsteps and take a tour of the places Washington saw on his first and only visit to Georgia. In 1791, George Washington embarked on a tour of the newly united colonies to familiarize himself with each state's people and culture. America's first president had never been to Georgia before, given that there were more than 500 miles between the capital city of Savannah and his home at Mount Vernon in northern Virginia. 
Johnson Square
On his way into town, Washington stopped at nearby Mulberry Grove Plantation to visit his longtime friend Catharine Littlefield Greene, widow of Major General Nathanael Greene. A Rhode Island native, the Major General had passed away only on his plantation only five years before from heat stroke, not used to the Georgia sun and humidity. Although originally buried in downtown Savannah's Colonial Park Cemetery, General Greene now rests in Johnson Square beneath a 50-foot marble obelisk dedicated to his service in the Continental Army.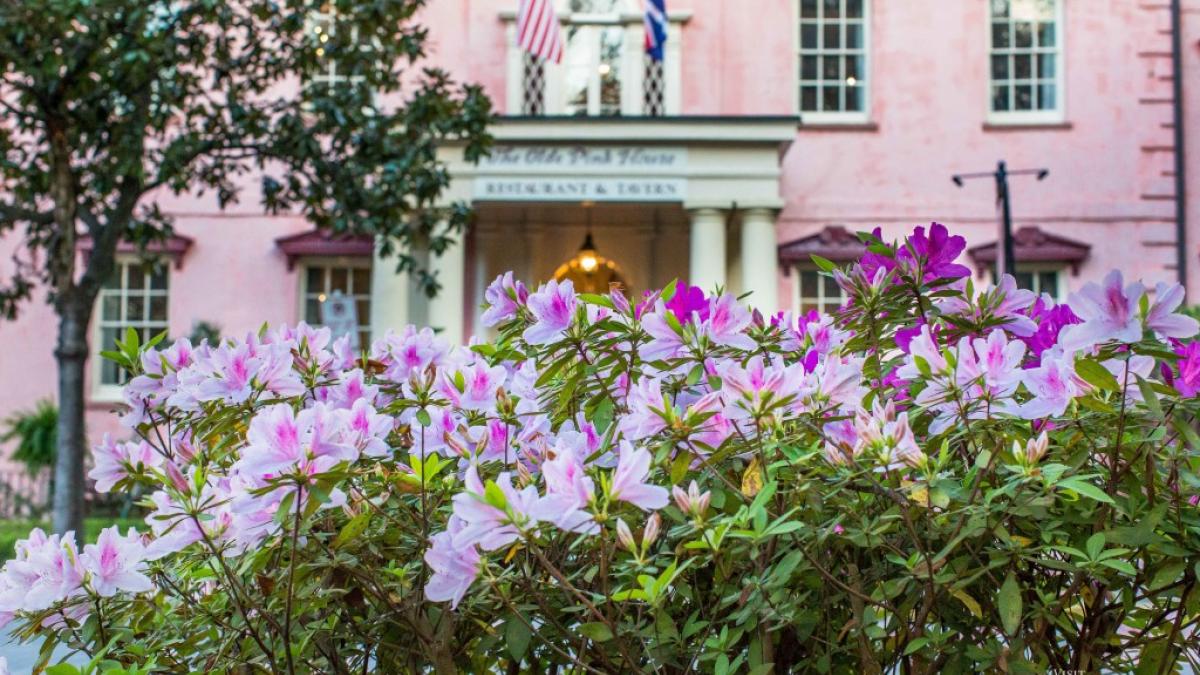 When President Washington arrived in Savannah, he received a salute of 26 discharges by the field pieces of the Chatham Artillery, the pre-Revolutionary regiment charged with Savannah's defense, and was greeted by many noted Savannahians including delegate to the Continental Congress Noble W. Jones, prominent businessman Joseph Habersham (whose home is now called The Olde Pink House), lawyer and former Georgia governor John Houstoun, and signer of the Declaration of Independence Brigadier General Lachlan McIntosh, who had a fine home on Oglethorpe Street where the president would lodge. General McIntosh served as Washington's tour guide, escorting him around Savannah and showing off his adopted hometown. With McIntosh, Washington toured the remnants of the earthworks built around the city during the 1779 Siege of Savannah when the British held the town against an unsuccessful attempt by the American army to capture the valuable port, and also took the president to visit the home of Declaration-signer George Walton on Telfair Square.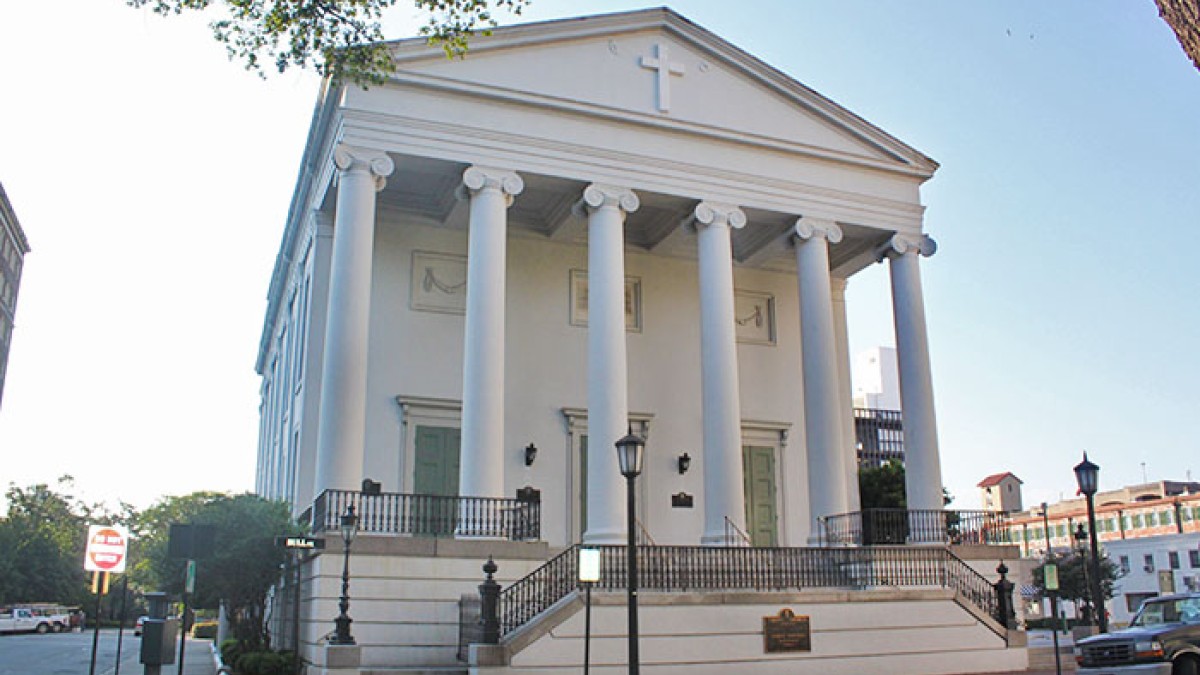 On his first night in Savannah, Washington took his dinner at Brown's Coffee House on Bay Street, and he attended services at Johnson Square's Christ Church. Local legend says that the president was treated to so many balls and galas in his honor during his stay that he was made perfectly intoxicated on Savannah's famous Chatham Artillery Punch (historically called "the killer of time," "vanquisher of men," and the "mortal enemy of despair") and became so hungover that he swore never to return to Savannah (and never did). Today, you can sample Savannah's signature cocktail at an array of restaurants, almost all of which claim to have the original and "most authentic" recipe for the drink.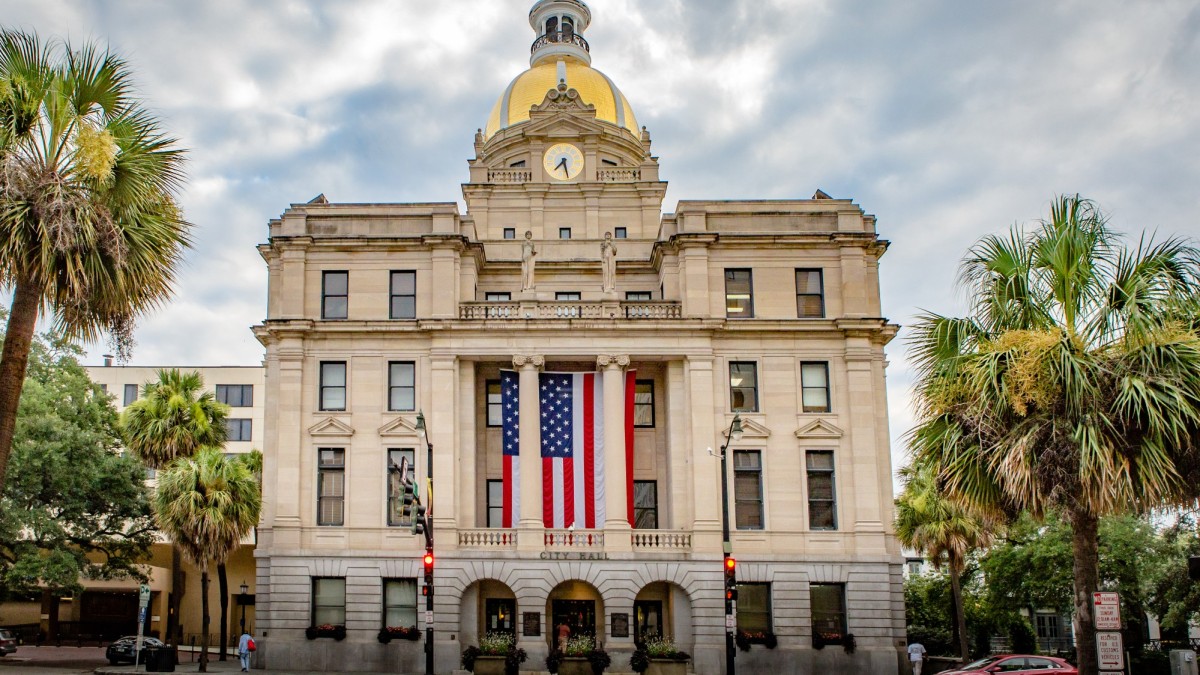 As thanks for the hospitality of Savannah's people, President Washington gifted the city with two six-pound cannons captured at the Battle of Yorktown, which now have a permanent place of honor on Bay Street next to City Hall. 
If you want to stay in the home where George Washington slept while visiting Savannah, gather a group of friends and inquire with Lucky Savannah Vacation Rentals about the Lachlan McIntosh House, located near attractions, shopping, restaurants and nightlife in Savannah's National Landmark Historic District. Click here to learn about six more spots in Savannah with presidential ties.