---
List
9 Ways to Have the Perfect Girls' Getaway in Savannah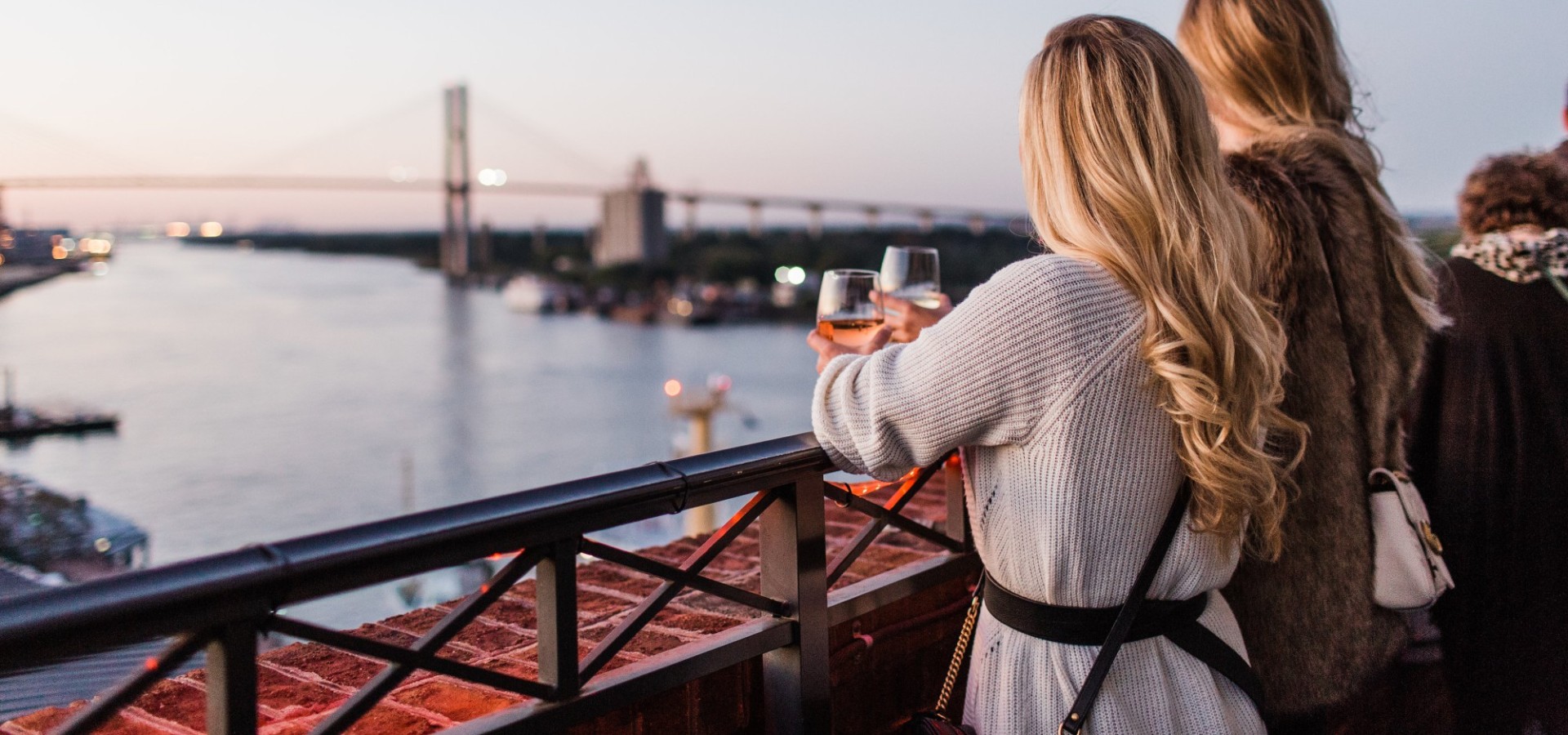 Between milestone birthdays, bachelorette parties, sisterhood reunions and much needed vacations, there are plenty of reasons to gather your gal pals and get out of town! Here are eight ways to have the best girls' getaway ever in Savannah!
1. Have an Instagrammable photo shoot in Savannah
Location is everything, which is why having the perfect spot to slay for the camera is essential. Accommodating a large group? No problem! Pick from one of our 22 beautiful squares, enchanting Forsyth Park, a private bachelorette tour with Savannah On Wheels, dreamy Wormsloe Historic Site, the historic Cathedral Basilica of St. John the Baptist, picturesque River Street - the options are endless.  There are more than enough picturesque locations to make sure that everyone has a moment in the spotlight.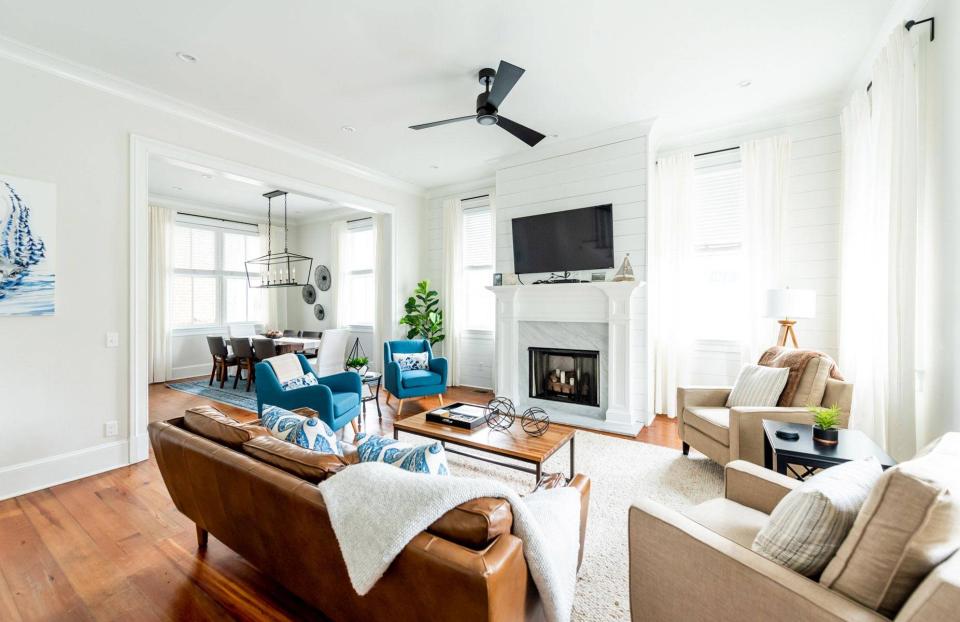 2. Luck is a lady 
Lucky Savannah Vacation Rentals is the ultimate girls getaway accommodation choice. Running the world means much needed beauty rest is a necessity. This premier vacation rental company offers luxurious homes such as the newly built Blue Manor, the bright and airy Broughton West Too loft and the grand 3-story Lady Liberty Main and Carriage house can effortlessly accommodate any gal pal group size. Each ideal retreat is located near Savannah's most popular shops, restaurants and historic sites. Nothing but the best for your girls.
3. Pedal and sip through town on a Savannah Slow Ride
Get a cardio workout while you bar hop in this totally unique contraption! Savannah Slow Ride offers a traveling tabletop powered by a 15-person bicycle! A professional tour guide acts as your personal conductor and DJ. Sing, drink, tour and pedal your way through Savannah.
4. Dine on an incredible brunch in Savannah
Brunching with your gal pals is an absolute must while in Savannah! Bloody marys and mimosas, shrimp and grits, waffles with fresh berries, smashed avocado on toast – need we say more? Check out these great brunch options.
5. Allow the guys to get in on the fun.
During this getaway, you shouldn't have to lift a finger. That's what the Cocktail Boys are for! These guys know everything about hosting a fabulous party and accommodating your every need is priority numero uno. Your drink filler, foot rubber, brunch server and more are here to serve.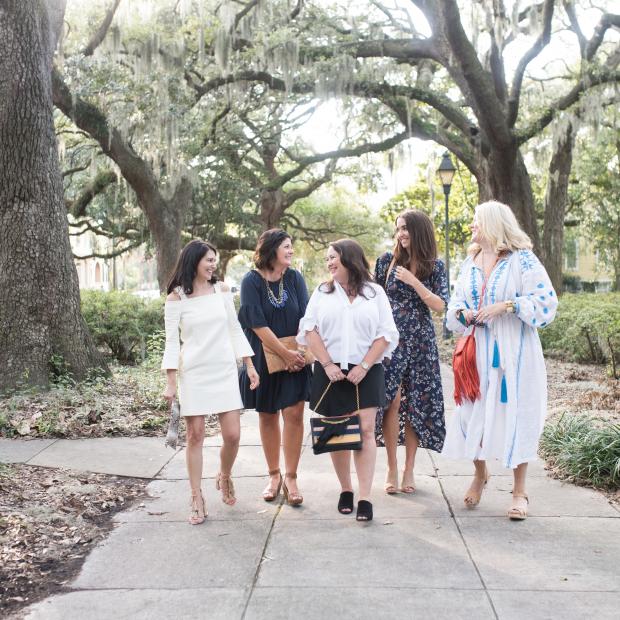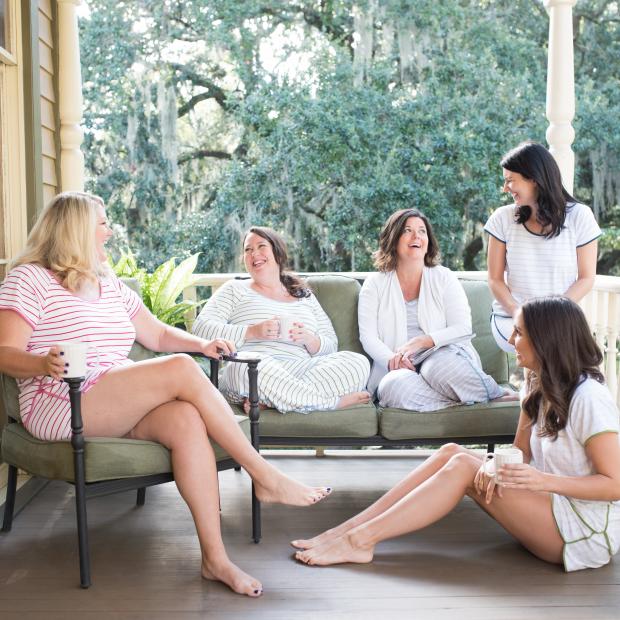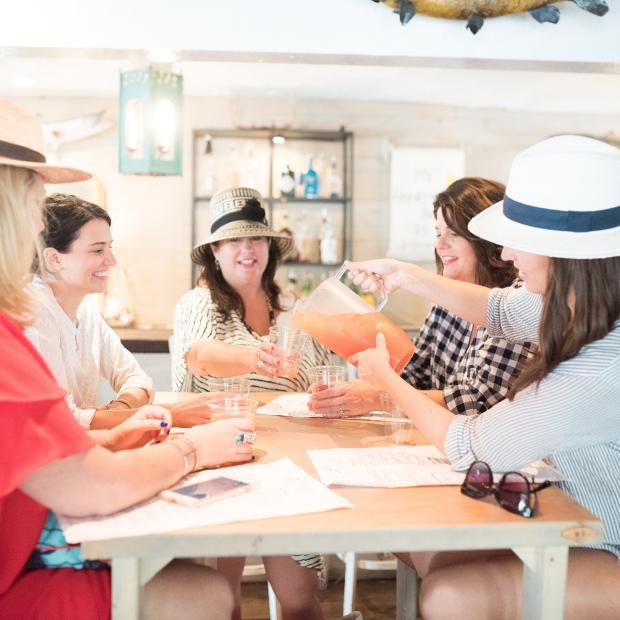 6. Sip the day away
Savannah is becoming quite the brew spot! Tour brewing facilities like Service Brewing Co. while sipping and sampling craft beer. Local breweries often host events like live bands and outdoor games. Moon River Brewing Co. has a wonderful beer garden, so you can sit, sip, sample and relax in the sun. Starland Yard hosts outdoor yoga where you and your girlfriends can have a little stretch with your beer!
If beer isn't your drink of choice, take a mimosa or "Togosa" with you at
The Ordinary Pub
. Their incredible bar menu includes cocktails, wines, mules and ice cold beer at this ideal gathering hole located just below ground in historic downtown. Oh, and did we mention that weekend mimosas are bottomless?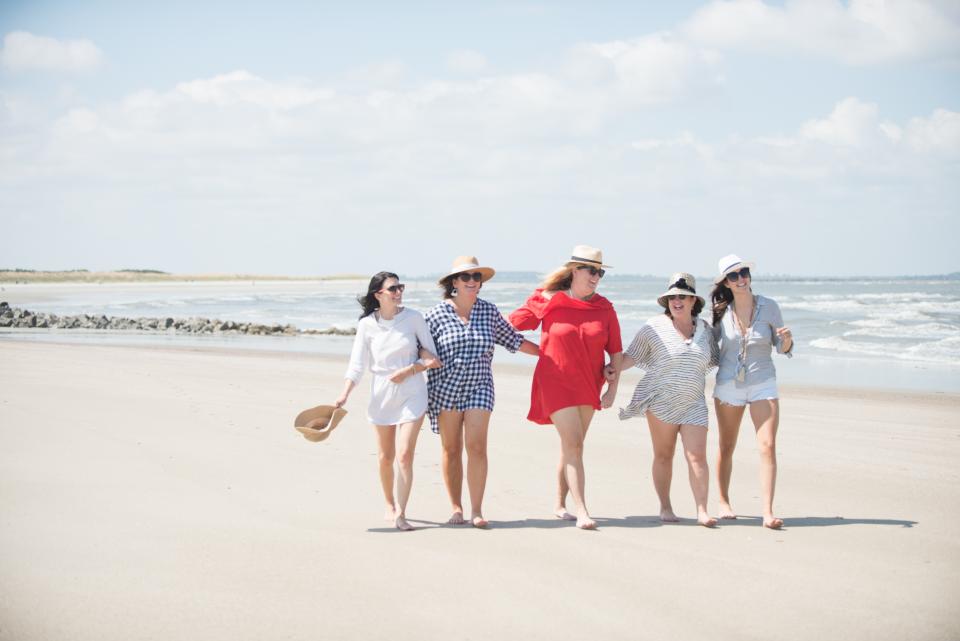 7. Plan a beach day at Tybee Island
Savannah's beach, Tybee Island, is only 20 minutes away from the Historic District! Grab your bikinis, hats and beach blankets and spend a day soaking up the sun. Grab frozen daiquiris, chow down on fresh seafood and dig your toes into the sand!
8. Shop 'til you drop
Boutiques, vintage shops, art galleries, famous designers – no matter what you're looking for, you'll find it in Savannah! Shop at Satchel for a Savannah-made leather bag. Wander through The Paris Market for French themed knick-knacks. Check out one-of-a-kind glass jewelry at Liquid Sands Glass Gallery. Or grab a glass of wine and shop your way through Savannah with Sip n' Shop Savannah Tours. You'll have your friends back home asking, "Where did you get that!?"
9. Create something luxurious 
At Salacia Salts, you and your gal pals can design and hand mix your own body scrub. Salacia Salts carries only natural ingredients -- something that every bodycare maven can get behind! The hands-on course takes attendees through every part of production from raw ingredients to types of scents to packaging. Walk away with a handmade jar of body scrub, the perfect reminder of your stay in Savannah.
 It's unanimous right? There is no better choice than Savannah. So take the leap! Call your girls, pick a date, book your flight and accommodations and prepare yourself for the ultimate Southern escape. Savannah will be patiently waiting with open arms. Sounds perfect.