Info & Amenities
Spanning more than 30 acres, Forsyth Park is Savannah's largest and oldest public park. The land for the park was donated by William Brown Hodgson in the 1840s, and named for illustrious statesman and thirty-third Georgia governor John Forsyth, who also represented Georgia in both the House of Representatives and the Senate, as well as serving as Secretary of State under Presidents Andrew Jackson and Martin Van Buren. The park's iconic fountain was installed in 1858 and is today one of the most-photographed places in Savannah. Although the fountain has become a symbol of Savannah, it isn't unique: similar fountains can be found in Paris and Cusco, Pero (it was actually ordered from a catalog!).
One of the park's first uses was serving as a parade ground for Confederate troops drilling before mustering out to battle, which is why this spot was selected for Savannah's memorial to Confederate soldiers. Other monuments in the park include the Georgia Volunteer for the Spanish American War, installed in 1931, busts of local generals Francis S. Bartow and Lafayette McLaws, and a monument to 24 Chatham County marines who lost their lives in World War II.
Forsyth Park is also home to a fragrant garden for the blind, repurposed from a mock fort constructed for training purposes before World War I. Visitors and locals love to take advantage of the park's expansive green, where festivals, concerts and the weekly Forsyth Park Farmers' Market are held. There is abundant shade and space for sitting to take in the towering live oaks and pink- and white-dotted azalea bushes, and people can always be find walking, jogging and leading dogs on the park's paths.
When you visit Forsyth Park, you may want to stop at The Sentient Bean for a cup of coffee, Brighter Day Natural Foods for a fresh, organic lunch, the research library at the Georgia Historical Society, or Local 11ten for dinner in the vault of a former bank and a unique rooftop bar among the trees.
Special Offers
& Upcoming Events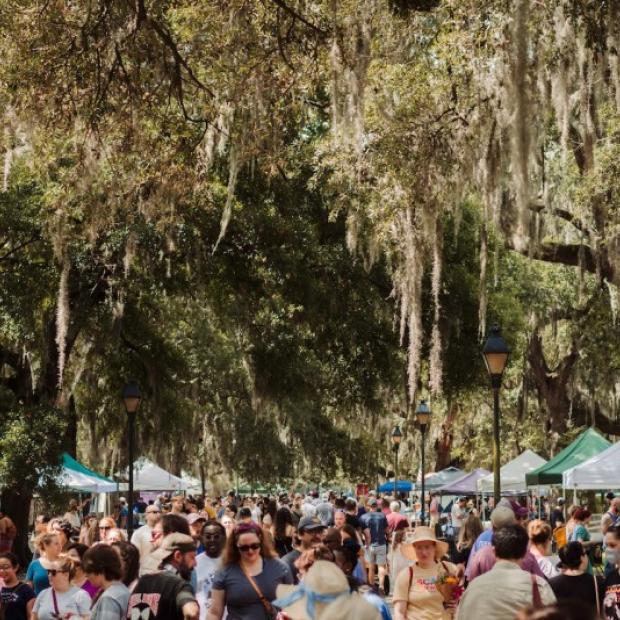 Forsyth Farmers' Market
Sep 23, 2023 – Dec 30, 2023
See Event