How to Spend 24 Hours in Savannah
By Brittany Howard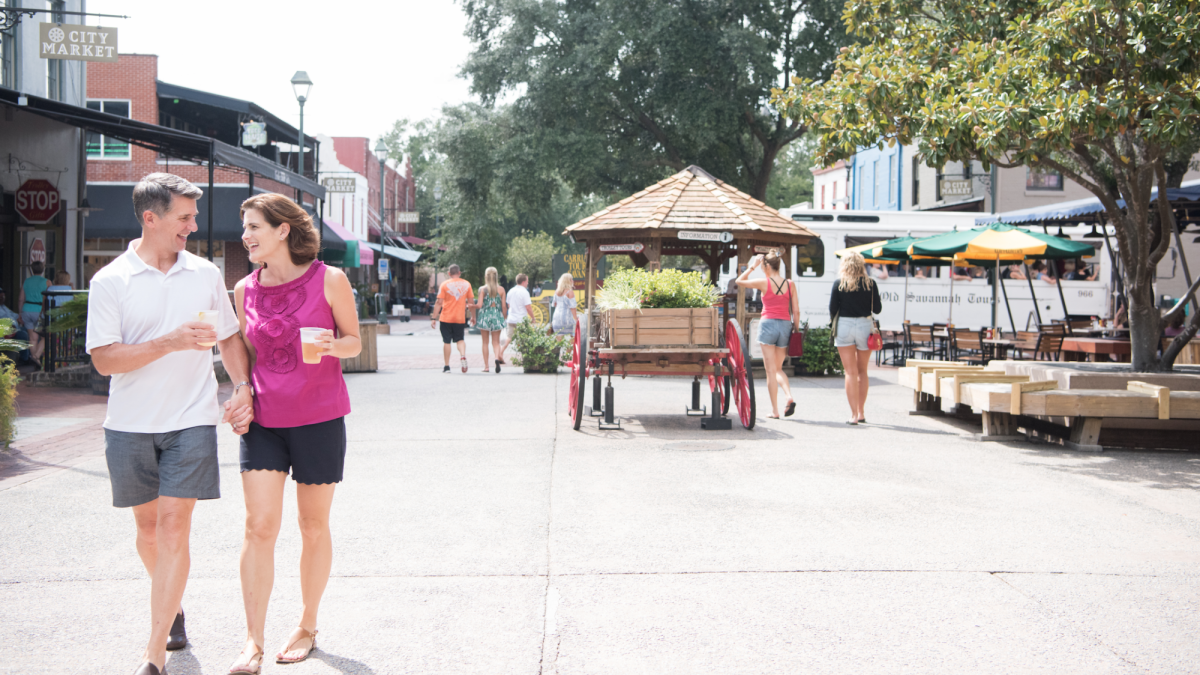 You say you've only got 24 hours to spend in Savannah. Well, this should be easy, right?
The number of sights, activities and dining available in Savannah is a behemoth we're willing to tackle just for you to make your 24 hours in Savannah unforgettable. Get your walking shoes. No time to dawdle; let's do this!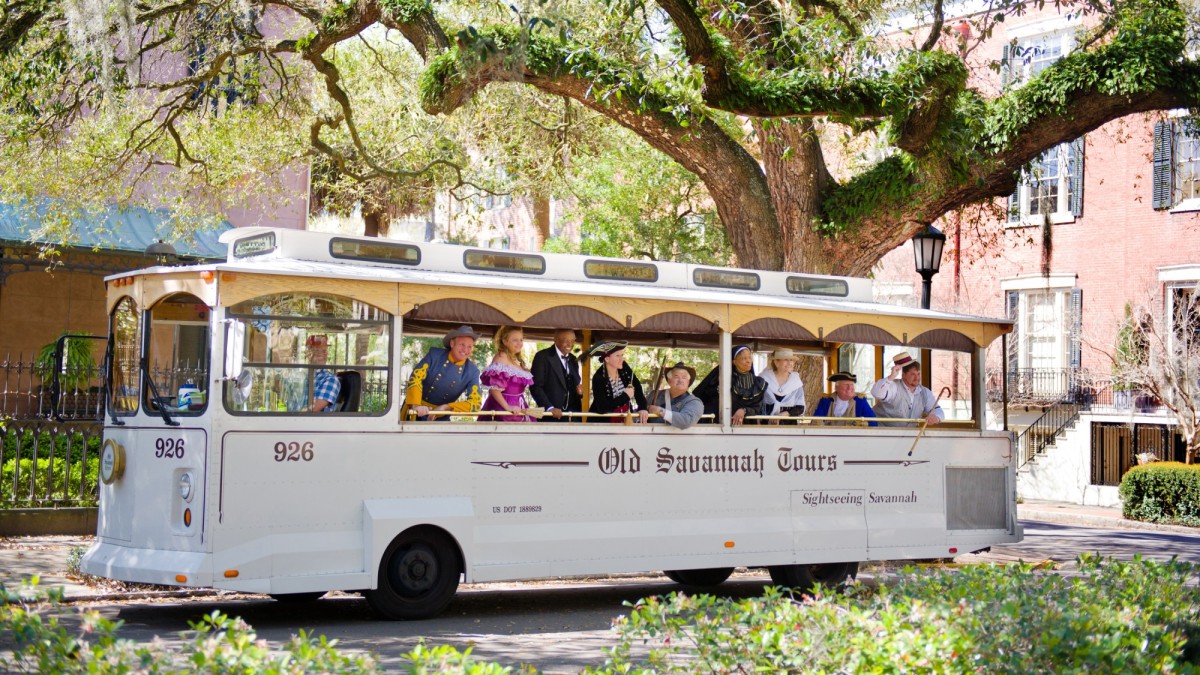 Troll Our City By Trolley
Spend 24 Hours in Savannah Trolley-Hopping
If you're planning on spending 24 hours in Savannah, you won't want to miss the opportunity to hop aboard one of Old Town Trolley Tours. This is an excellent way to take in all the sights of downtown, including the enchanting Forsyth Park, historic architecture, and breathtaking foliage while enjoying the open-air breeze. 
You can choose to hop on and off as you please, or you can opt for a more mysterious experience with the Ghosts and Gravestones Night Tour. 
Old Savannah Tours is another great option for those interested in learning more about the city's rich history. With knowledgeable guides and colorful characters, you're sure to have a memorable experience.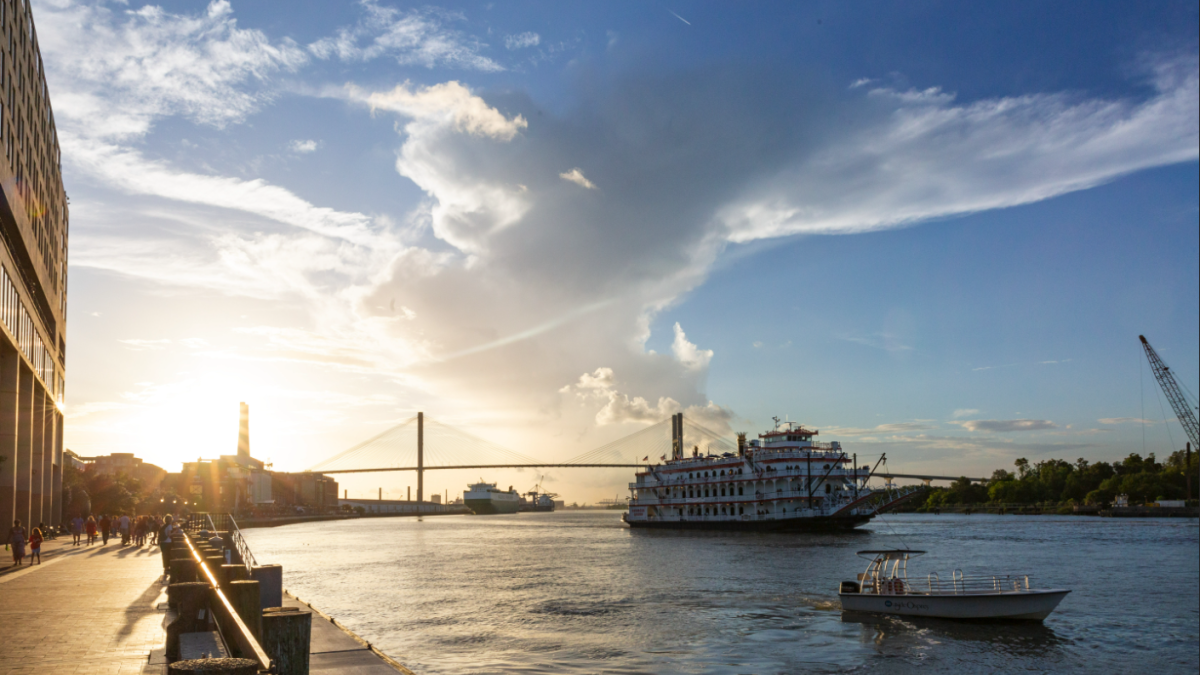 "Rolling on the River"
Spend 24 Hours in Savannah on the Waterfront
River Street is one of Savannah's most beautiful and energetic attractions. Shops, restaurants and our beloved Plant Riverside District entertainment hub are enough to satiate you, but the people genuinely bring this landmark to life. Locals will welcome you as old friends, point you in the right direction, and suggest what to see and do first. You'll be in awe of the massive container ships that awaken the Savannah River daily, leaving behind beautiful ripples in its path.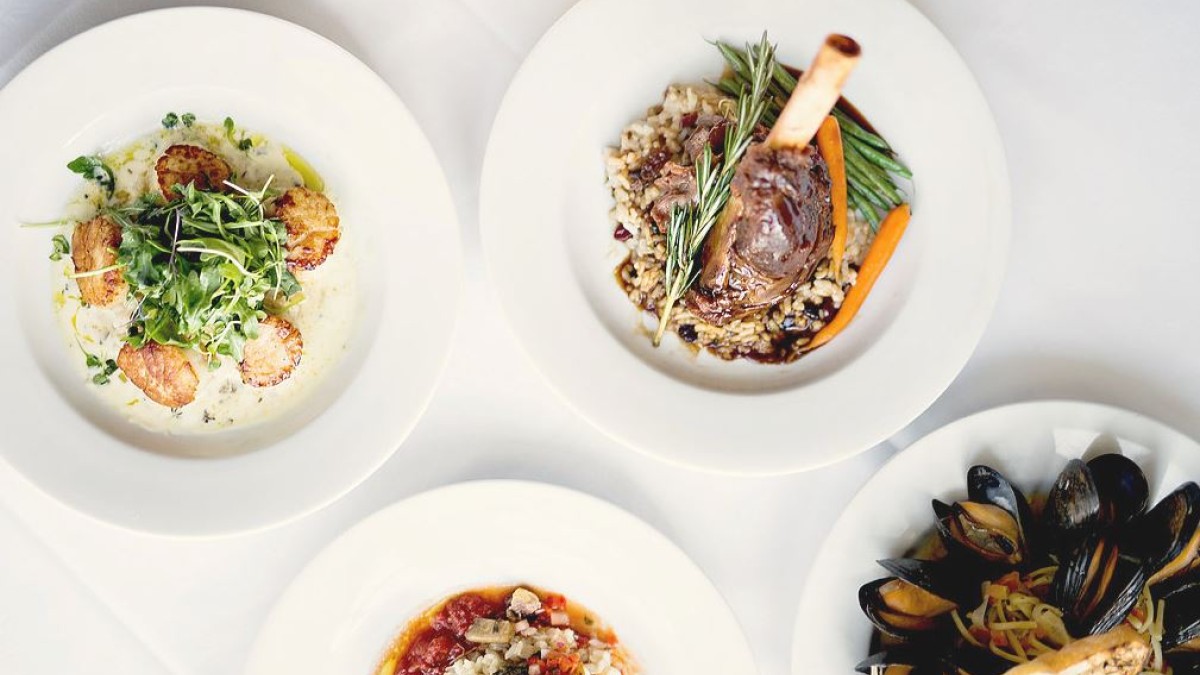 Dine and Dash
Spend 24 Hours in Savannah Cleaning Your Plate
Savannah has outstanding dining options to curb your appetites, no matter when you arrive or when your hangry pains begin. For breakfast, "waddle" down to Little Duck Diner for a 50's dining experience with traditional morning faves like biscuits and gravy or Asian-fusion-inspired delicacies such as the Asian pork bowl. B. Matthews offers a taste of home with the Fried Green Tomatoes & Crab Cake Benny, omelettes, biscuits and gravy and freshly brewed coffee. 
Did someone say 24 hours in Savannah drinking bottomless mimosas? Try our sibling eateries, The Ordinary Pub or Common Restaurant, for brunch. From Pork Belly Doughnut Sliders and shrimp and grits to Smoked Salmon Benedict and southern fried chicken and waffles - you'll long for more time to sample everything.
You'll have a swashbuckling good time at The Pirates House for lunch or dinner. Try their piping-hot lunch buffet with homemade Southern favorites such as collard greens, fried chicken, mac and cheese and sweet potatoes. Dinner is just as impressive with our all-time favorite she crab soup, Parmesan Tilapia and baby back ribs. Or, dine by the riverside at Vic's On The River, where the coastline meets the South with dishes like Crawfish Beignets, shrimp and grits and Atlantic Shellfish Mélange.
Browse on Broughton Street
How to Pamper Yourself With Only 24 Hours in Savannah
Beautiful, iconic and lively Broughton Street is where you can shop and dine afterward. Local shops such as The Spice and Tea Exchange, Paris Market, Locally Made Savannah, Nourish, The Savannah Bee Company and more have the perfect keepsakes that barely take up space in your suitcase (you brought extra luggage, right?). Several familiar retailers are also friendly neighbors. Be sure to grab a gourmet coffee from The Coffee Fox or Blends for a quick pick-me-up in case 24 hours in Savannah isn't a long enough "therapy session."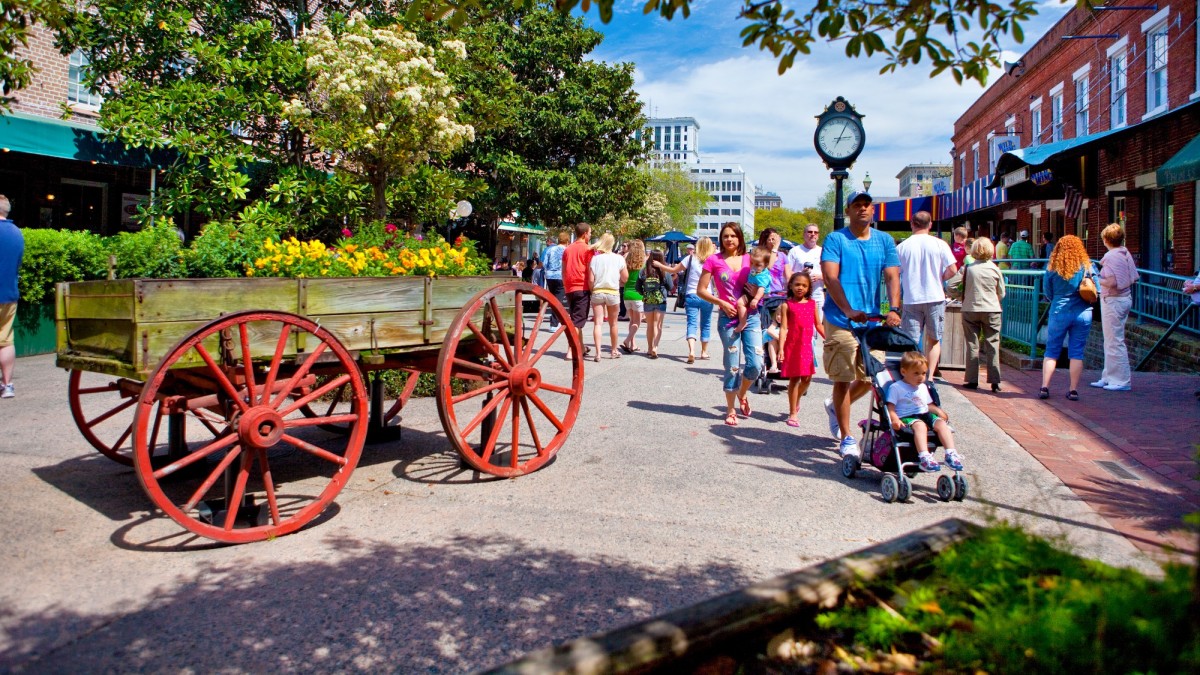 Shop Art by Day and Boogie by Night at City Market
Spend 24 Hours in Savannah in the Open-Air
Shop, dine and play amongst four blocks of beautifully restored 18th-century warehouses at City Market. Here you'll find dining, local artwork and learn the colorful history of Savannah's prohibition period at the American Prohibition Museum. By night, this open-air space is the perfect place to grab a drink, socialize and dance the night away.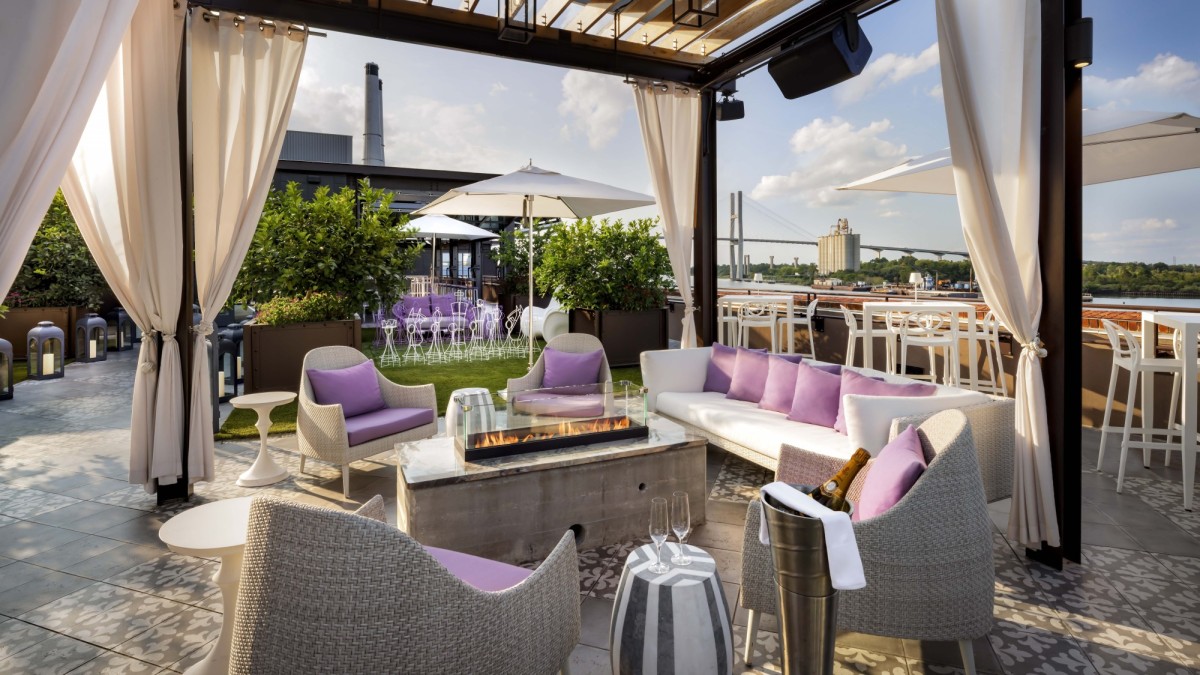 Cocktails and Mocktails and Wine - Oh YES
Wet Your Whistle for 24 Hours in Savannah, GA
What's more refreshing than knowing that after hopping off the plane or out of the car, you can grab a refreshing cocktail in less than 24 hours in Savannah? We've got it all; rooftop bars, basement bars, wine tastings and mocktails. Kick back in a comfy booth, couch, chaise or take your drink to-go. Whatever your fancy, you'll find it in Savannah just in the nick of time.
Whew! Talk about great timing. Who knew 24 hours in Savannah would go by so quickly? (we did!) Although this visit was short and sweet, Savannah is going nowhere. We'll be right here when you return for your next adventure, with plenty of activities to keep you coming back.