Outdoor Dining in Savannah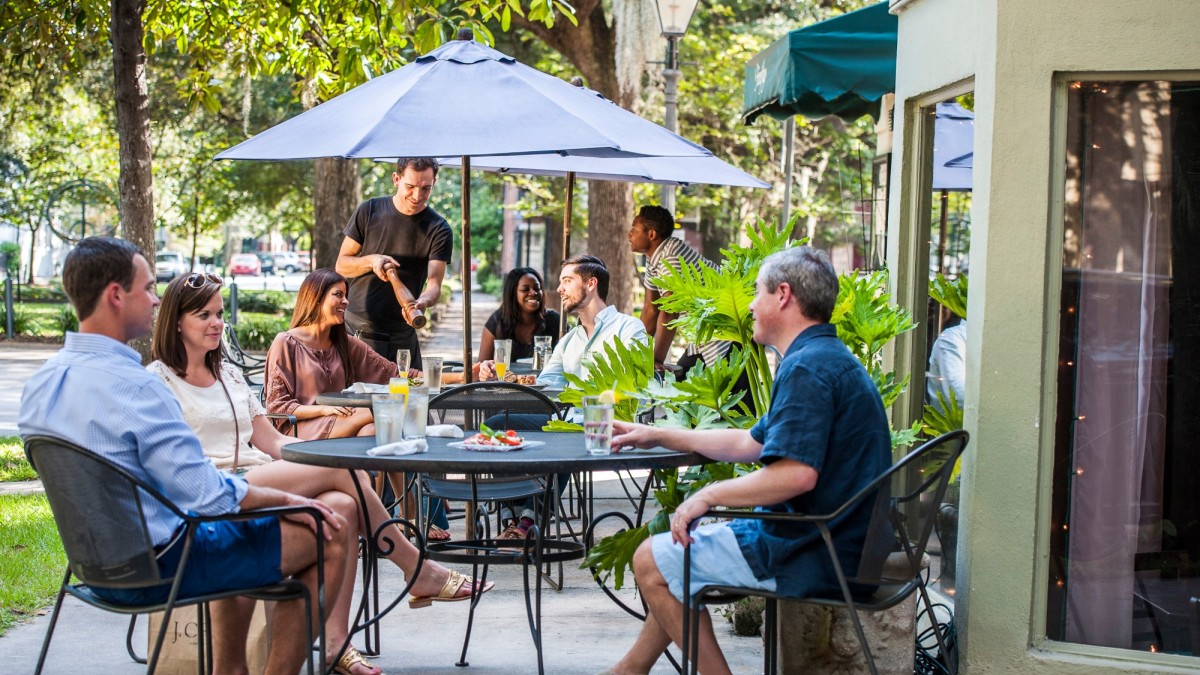 Outdoor dining and drinking in Savannah are big reasons why so many visitors continue to come back! When the day is far too beautiful to be spent indoors, opt for any one of these restaurants for outdoor drinking and dining in Savannah!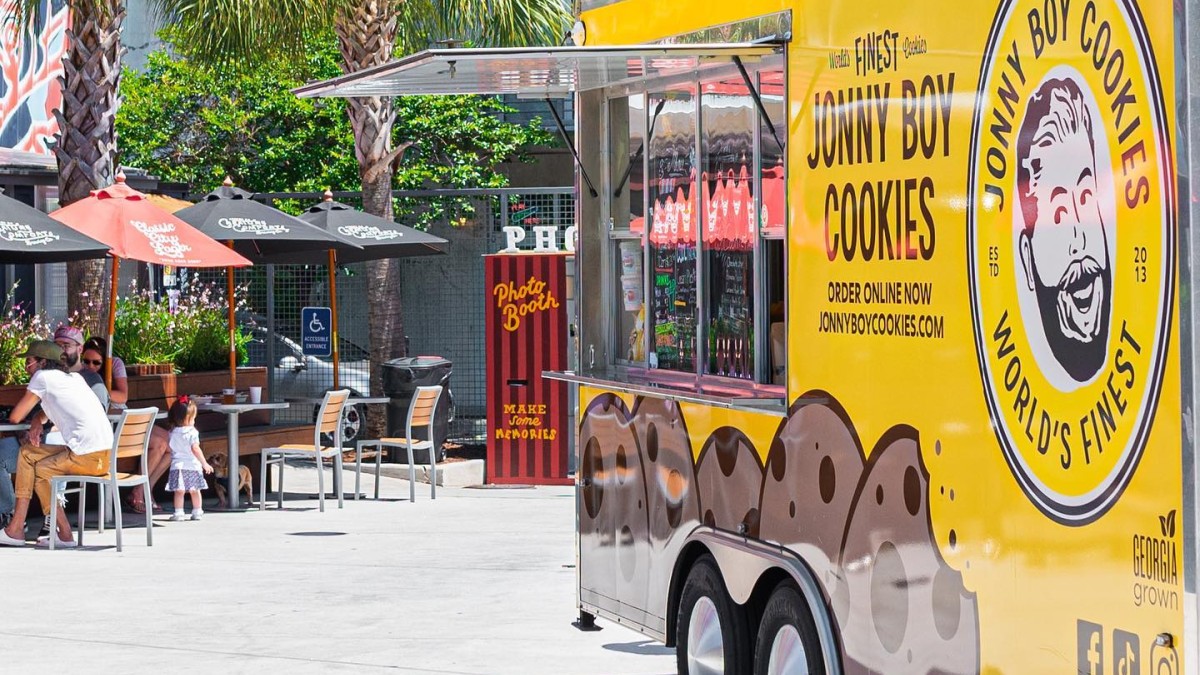 Starland Yard
Idle the hours away at this urban hangout in Savannah's eclectic Starland District. Starland Yard was conceptualized as a food truck park and is constructed of repurposed shipping containers. With indoor, outdoor and covered seating, a full bar, a permanent pizza eatery and rotating food trucks, it's an outdoor eating and drinking mecca. Bring your dog and enjoy live music acts while playing a round of cornhole or horseshoes.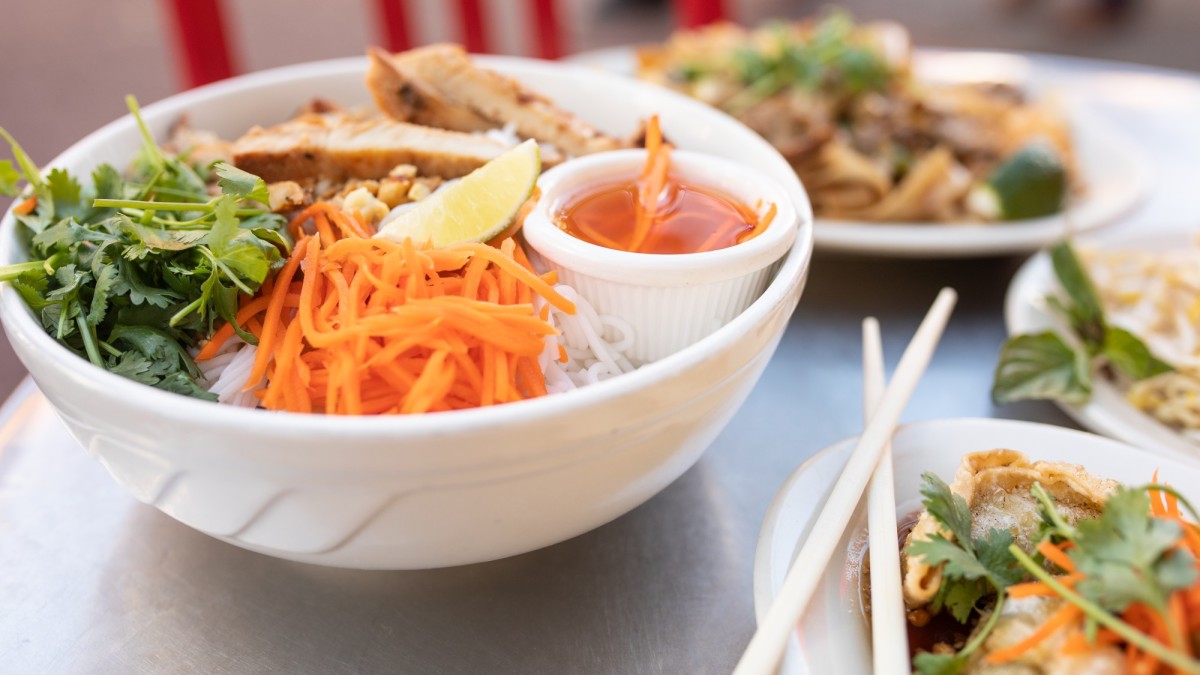 Flying Monk Noodle Bar
Oh, the Pho you'll have at Flying Monk Noodle Bar. This Asian-style eatery offers one of the best seats in town with a full view of downtown Broughton Street, not to mention the fantastic menu options such as edamame dumplings with chili lime sauce (So. Good!).
The Collins Quarter at Forsyth Park
Forsyth Park provides the perfect setting for outdoor seating at this Collins Quarter location. A new addition to a group of locally-owned restaurants including the Fitzroy and The Deck Beachbar and Kitchen on Tybee Island, diners can eat or drink indoors or outdoors at the Collins Quarter at Forsyth Park. Grab a coffee from their to-go window or join them on the lawn for live music on Sunday afternoons.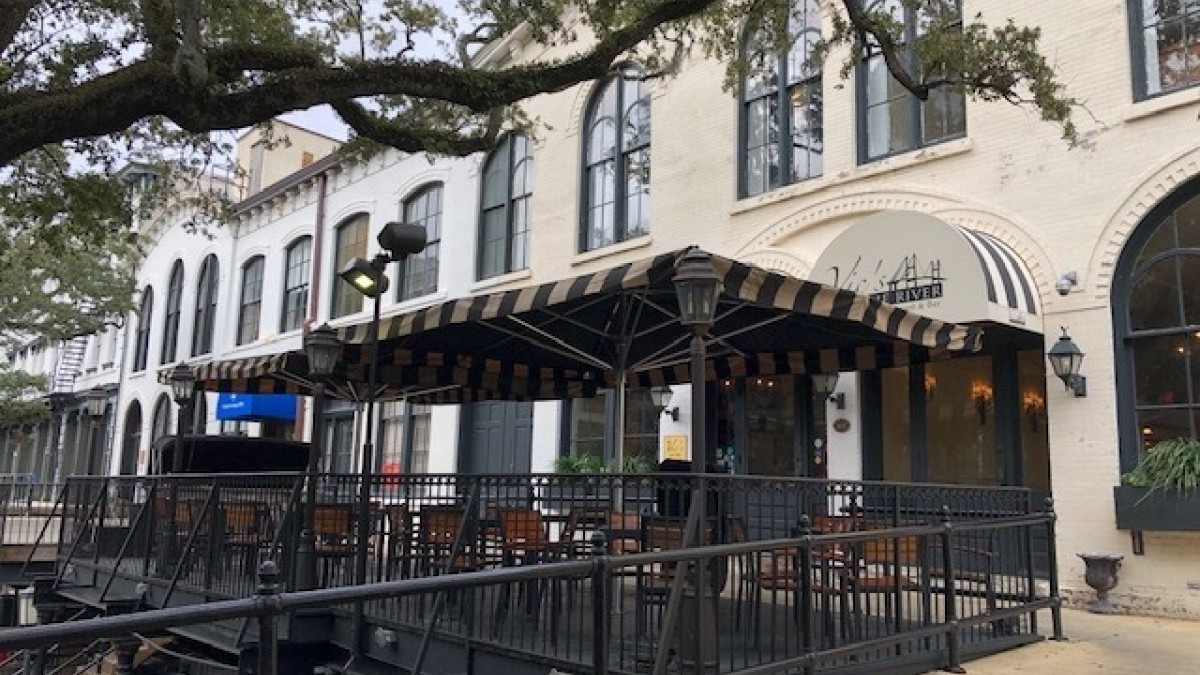 Vic's on the River
Vic's on the River has been a Savannah favorite since opening its doors in 2006. This popular River Street restaurant offers classic Southern cuisine, beautiful views, live music, and an outdoor dining area for guests to wine and dine. Their coffee bar features a variety of options as well as the opportunity to "booze it up," and their menu is a mix of classic dishes and fresh seafood.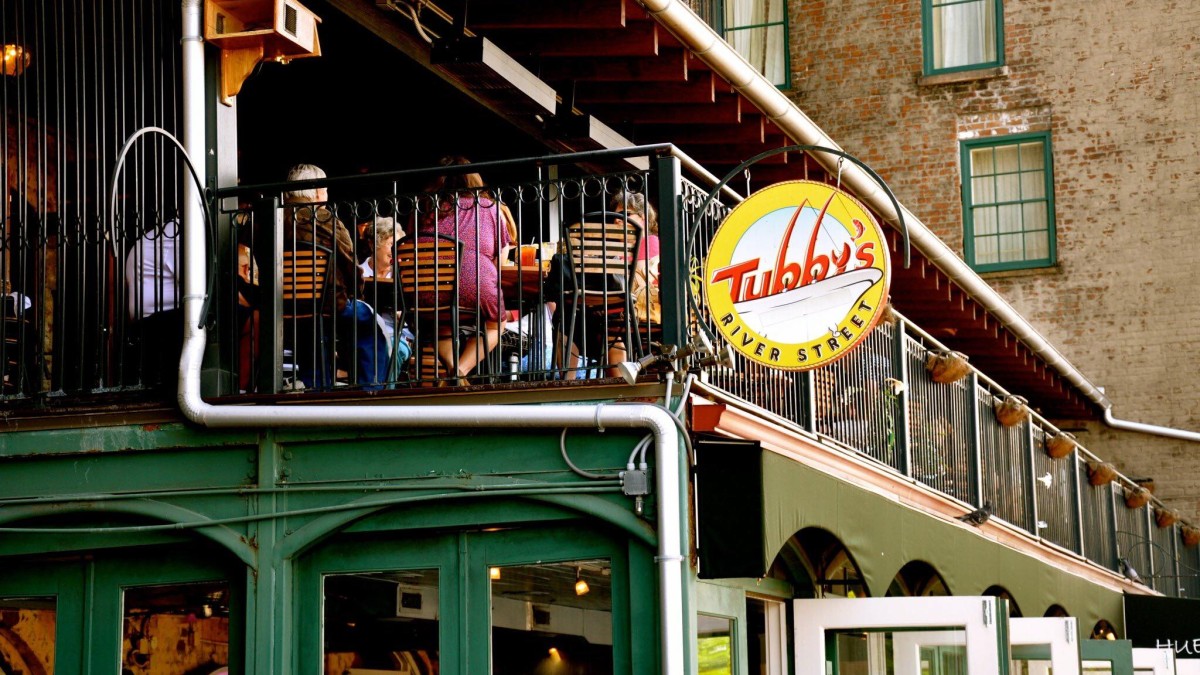 Tubby's Seafood River Street 
If you came to Savannah in search of seafood straight from the ocean, then you need to try Tubby's Seafood on River Street. Every kind of fish dish possible seems to be on their menu. Plus they have an open-air bar where diners can take in views of River Street while sipping cocktails and sampling succulent seafood.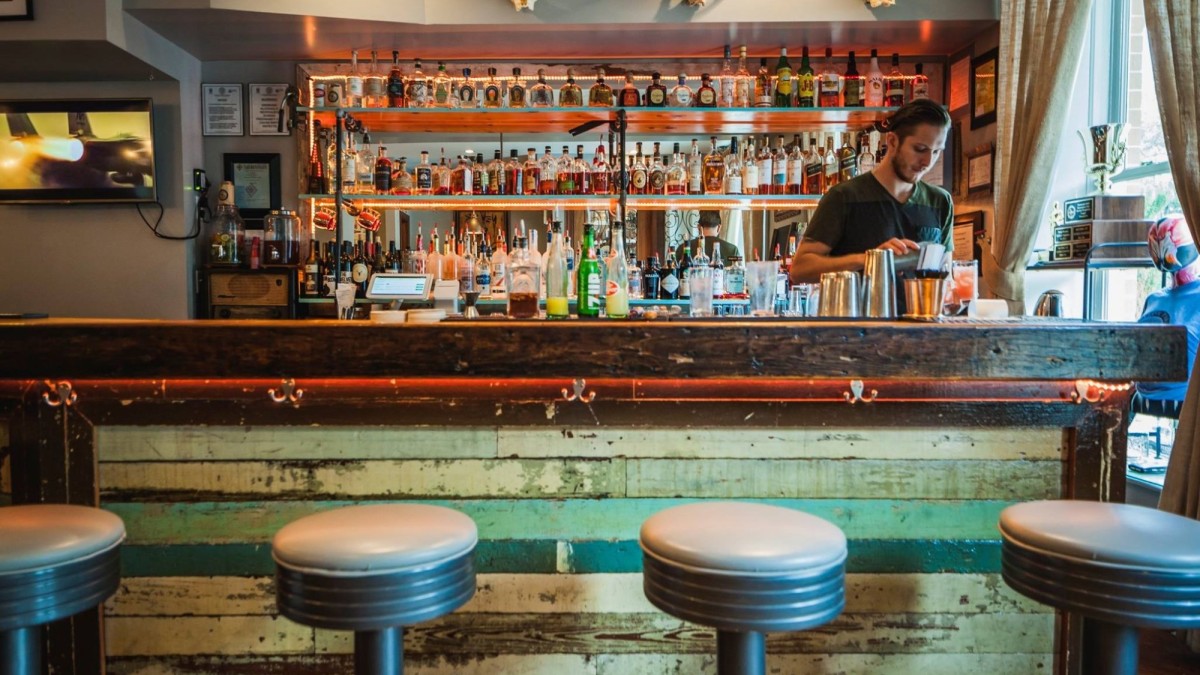 Treylor Park
Although guests can opt for the standard indoor seating, it's worth the wait if you can snag a seat outdoors in Treylor Park's beer garden. This funky restaurant's motto is "quality over quantity", which stretches to include their specialty cocktails, beers, and creative menu items.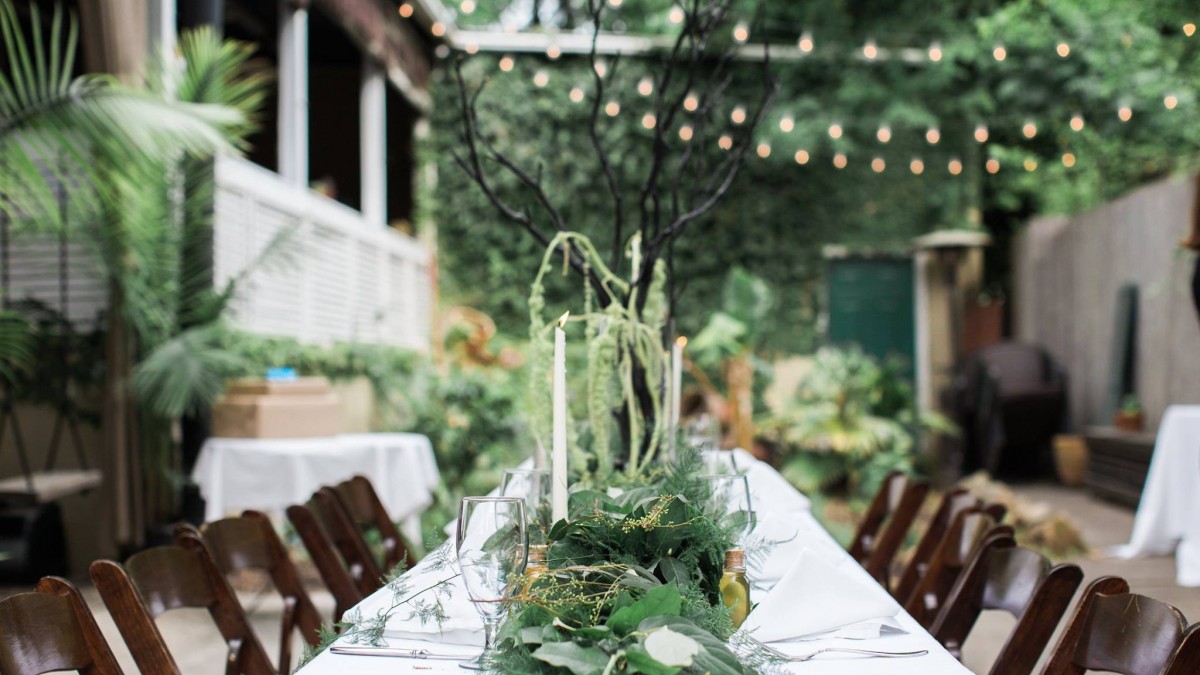 Cha Bella Grill
Cha Bella Grill is the epitome of the farm-to-table concept. Their menu focuses on the seasonal and organic, so the options change quite often (which means if you're a repeat customer, you'll probably end up with enough options to never eat the same thing twice!). Their outdoor seating features playful swings and elegant drapery for a show-stopping outdoor dining experience.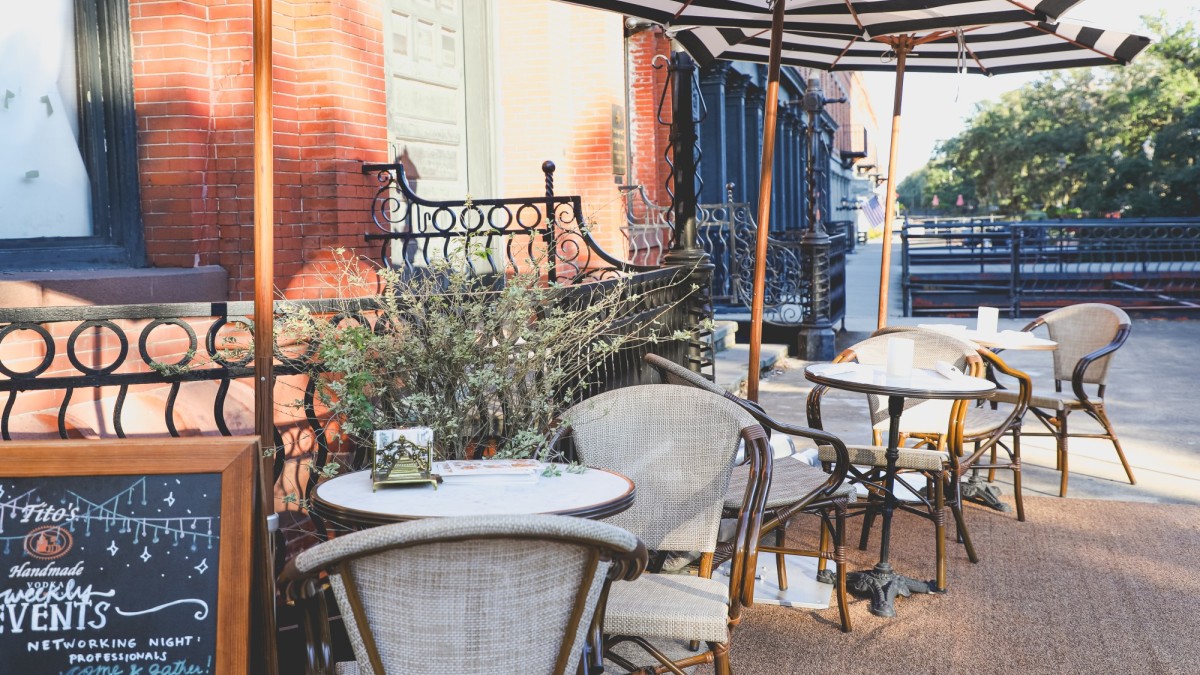 ARCO - Cocktail Lounge + Coastal Fare
Bring the sophisticated ambiance of ARCO outdoors for the ideal pre-dinner visit. This beautiful cocktail lounge is located in one of Savannah's most popular areas, facing Bay Street on one side and River Street on the other. This elegant space is a must for indulgent appetizers, sushi, charcuterie and cocktails al fresco.
Belford's Savannah Seafood and Steaks
If you're looking for an upscale seafood experience, check out Belford's Savannah Seafood & Steaks. Their menu is the ultimate combination of surf and turf, and their outdoor seating area overlooks Savannah's famous City Market.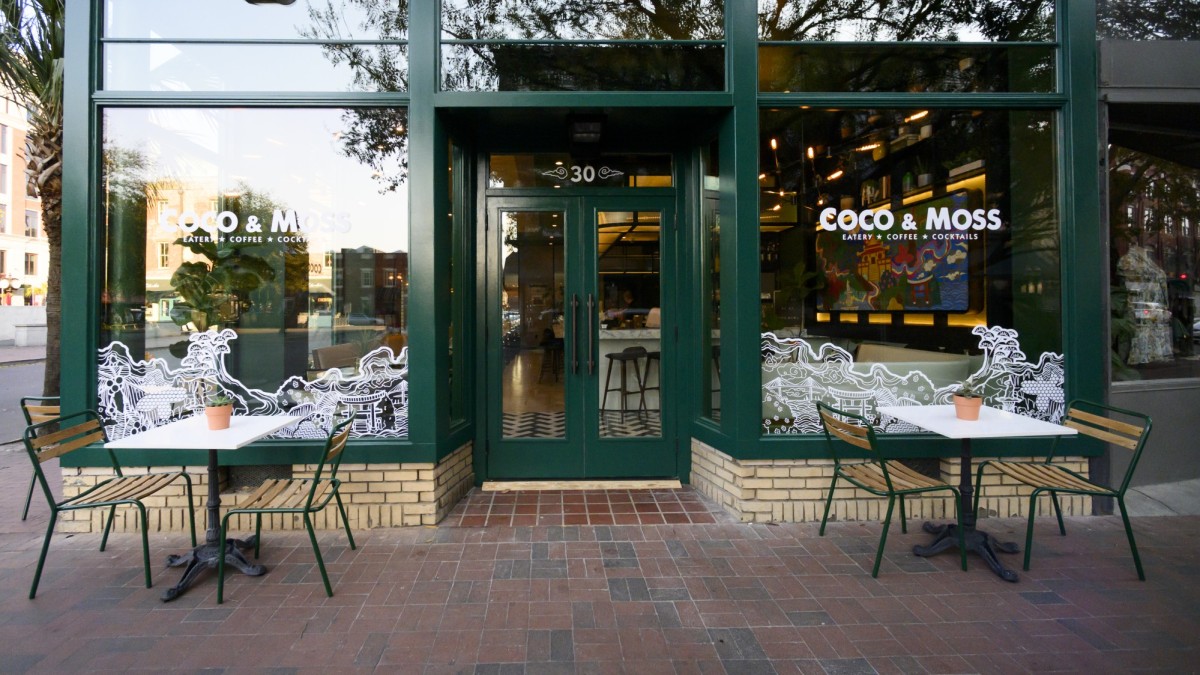 Coco & Moss
There is no wrong choice for sushi, poke bowls, sashimi, cocktails and more at Coco & Moss. This beautiful Japanese-inspired hang-out is a great way to spend lunch or dinner hours indulging in amazing food with a scenic view of Ellis Square's enchanting walk-through fountain.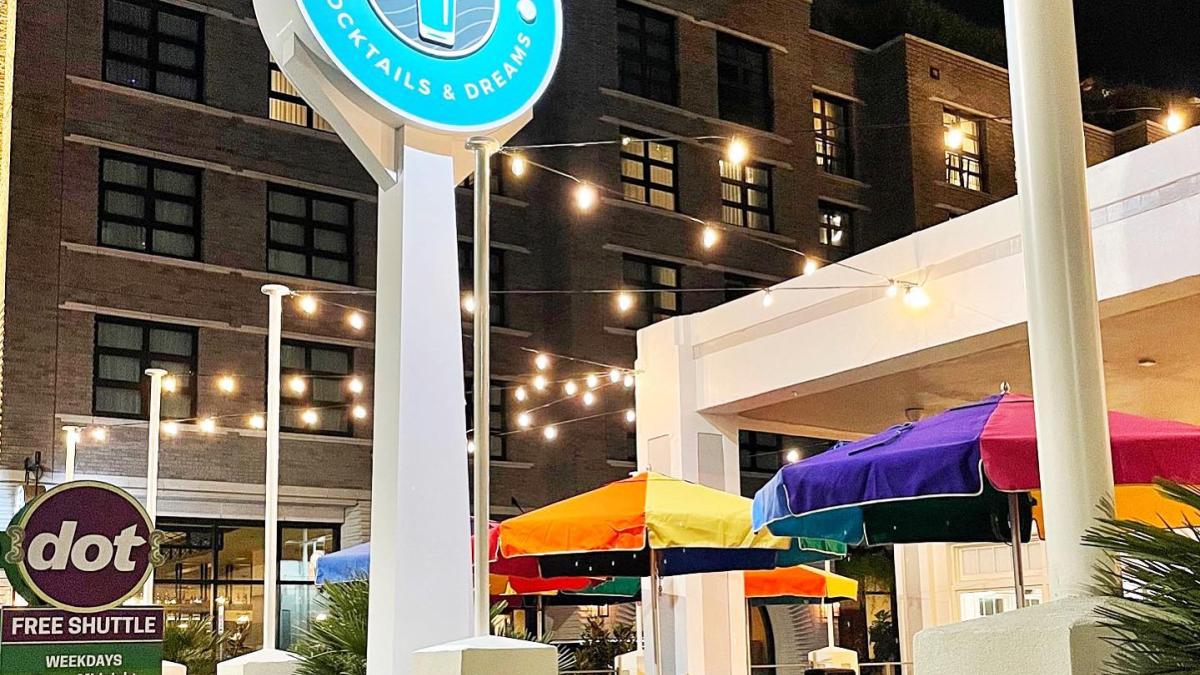 Zunzibar
When two of Savannah's award-winning restaurants put their heads together, a beautiful combination known as Zunzibar was born. Owner Chris Smith of Zunzi's and owners Trey Wilder and Rick Kunzi of the Treylor Park trio created the ultimate dining concept. The delicious menu consists of the South African inspired cuisine of Zunzi's and the ultimate beach party-themed bar of Treylor Park. You won't want to miss this laid back outdoor party space. Froze' anyone?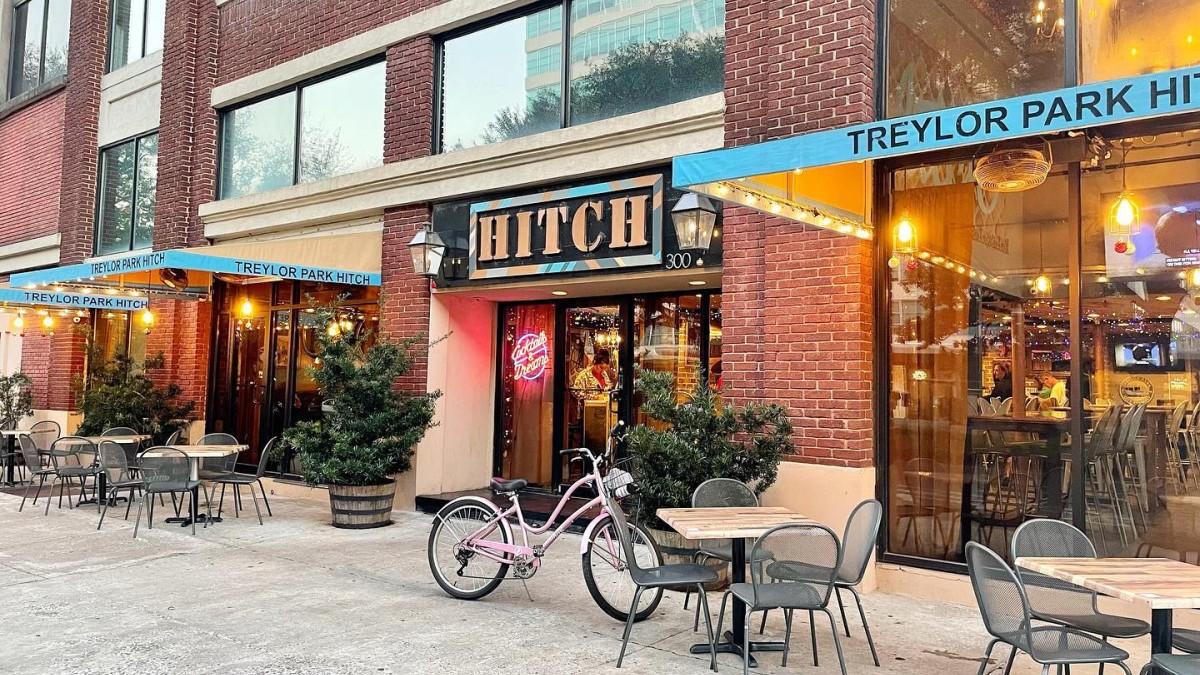 Hitch
A tasty spin on American classics paired with inspired cocktails and craft beer is what you'll love about Hitch. This energetic space is apart of the Treylor Park franchise with a unique indoor and outdoor dining space, perfect for any day of the week. Dine on the infamous Treylor Park Nachos Grande with a cold beer as you people watch from your outdoor table, conveniently located in the heart of downtown. The vibe is just different here.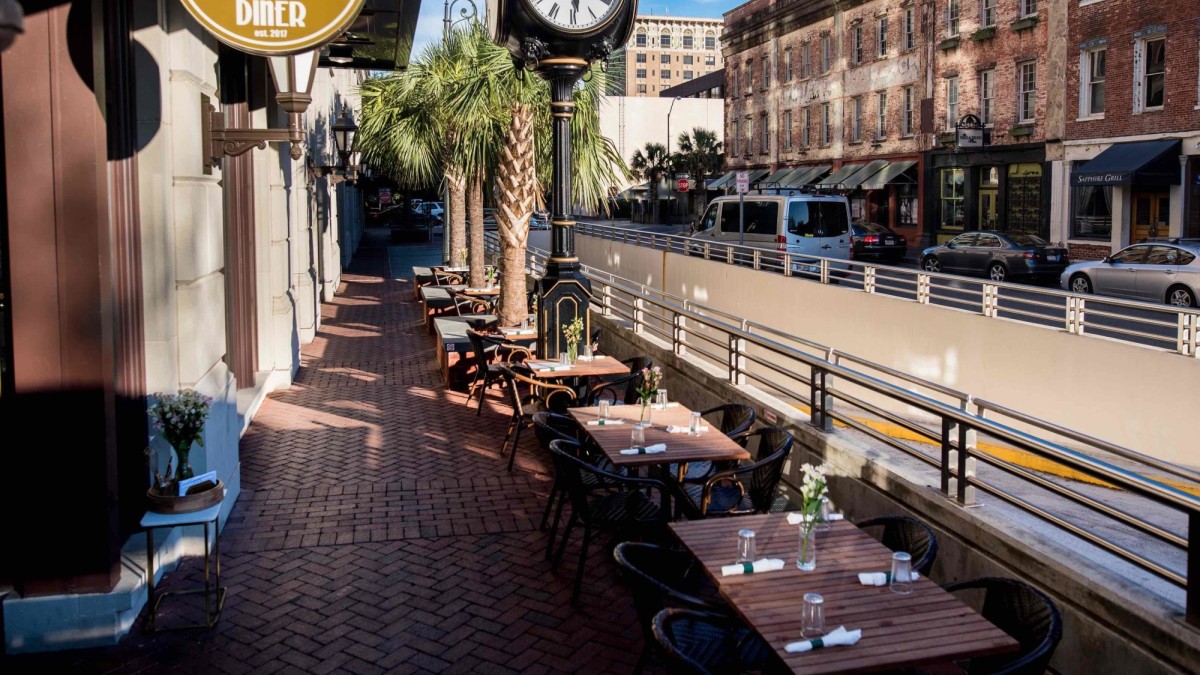 Little Duck Diner
This classic diner-inspired restaurant has all its ducks in a row at Little Duck Diner. A tasty twist on traditional American brunch and lunch options are served all day long. Toast with bellini's mid-morning and perfectly seasoned black Angus New York strip for dinner in their outdoor seating area.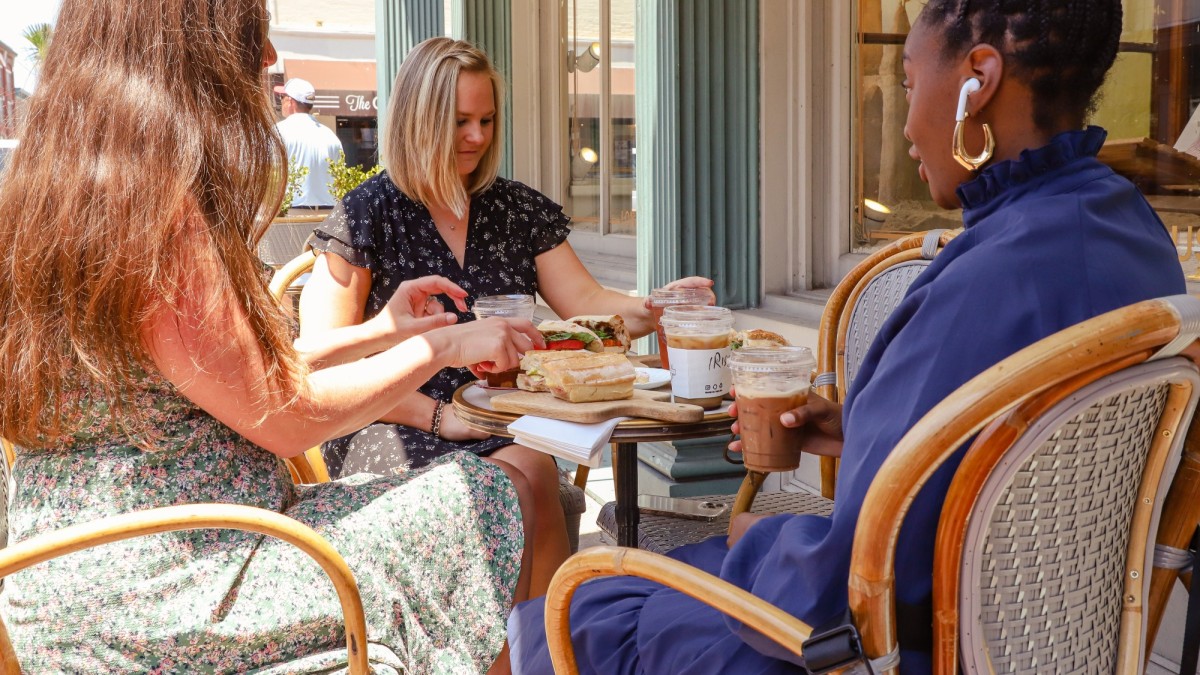 Paris Market
Who knew that Savannah was un expert on cuisine française? The Paris Market is a delightful Parisian inspired boutique on buzzing Broughton Street with a unique collection of home décor, art prints, perfumes, jewelry, candles, and more. They also offer fantastic menu items at their Paris Market Café. Espressos, seasonal drinks, tea, pastries, quiches, wine and champagne are utterly enjoyable at one of their outdoor tables. This beautiful store-front will make you swear you're dining in outdoor Paris.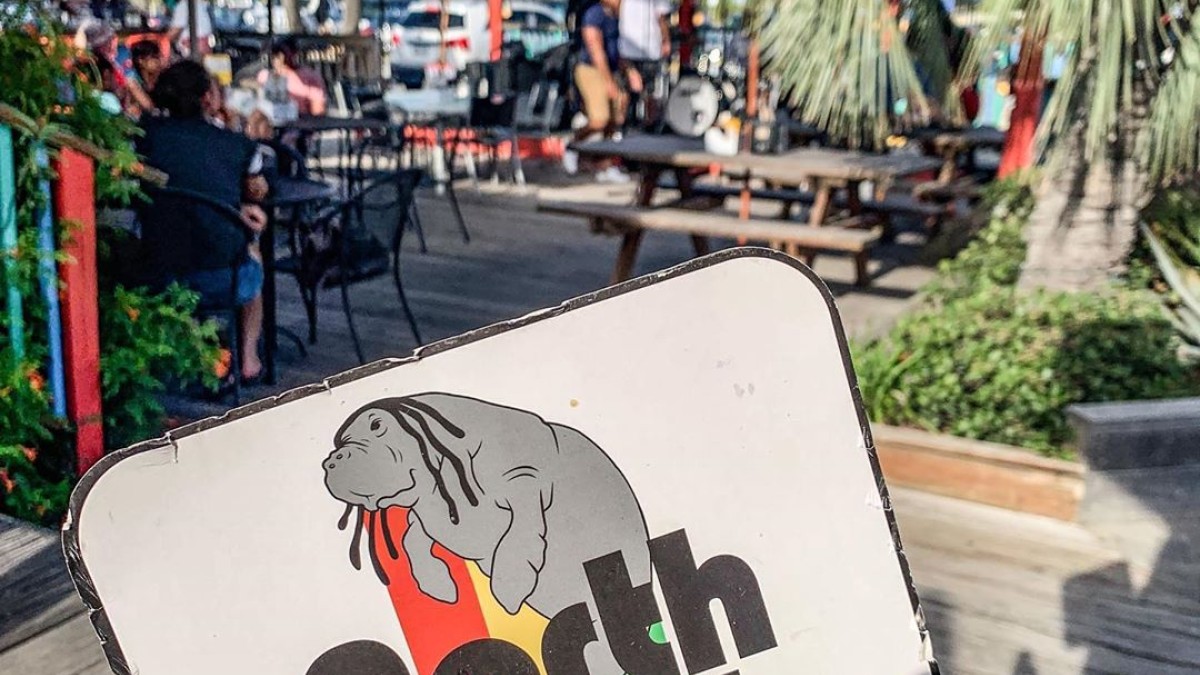 North Beach Bar and Grill
The unbeatable peace and quiet of North Beach pairs effortlessly with North Beach Bar and Grill, a Caribbean twist on gourmet lunch and dinner seafood dishes. Classic favorites such as hot dogs, fish tacos and wings are also appetizing choices that can be enjoyed indoors or outdoors. A fantastic meal and cold beer at the open-air bar is a great way to end a beach day.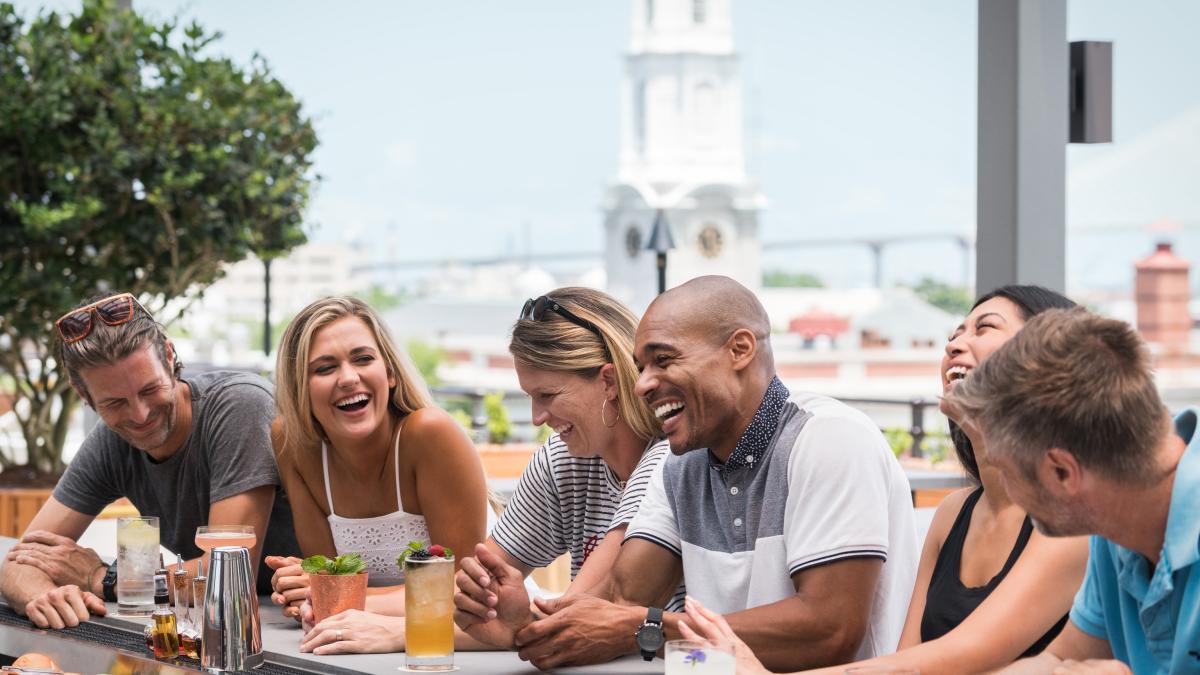 Peregrin
You'll feel on top of the world with a drink in hand at Peregrin. A lively, gorgeous and modern open-air rooftop bar atop the distinguished Perry Lane Hotel. Take in breathtaking cityscape views of Savannah and savor a creative balance of craft cocktails, wine, brews, flavorful dishes and dessert.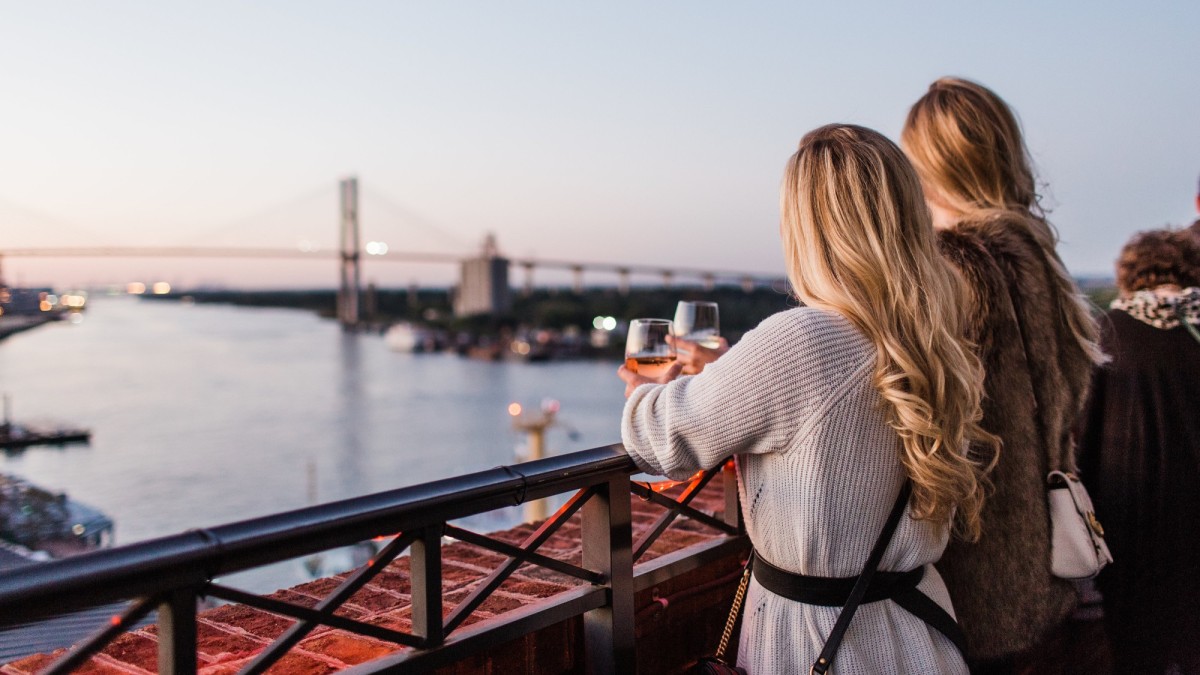 Top Deck
The epitome of relaxation and drinks with a view is the ever popular Top Deck rooftop bar. Located above Cotton Sail Hotel, this laid back space is perfect for unwinding and catching up with friends. Dine on tasty charcuterie and small plate menus as you relish incredible views of the Savannah River, the Talmadge Memorial Bridge and bustling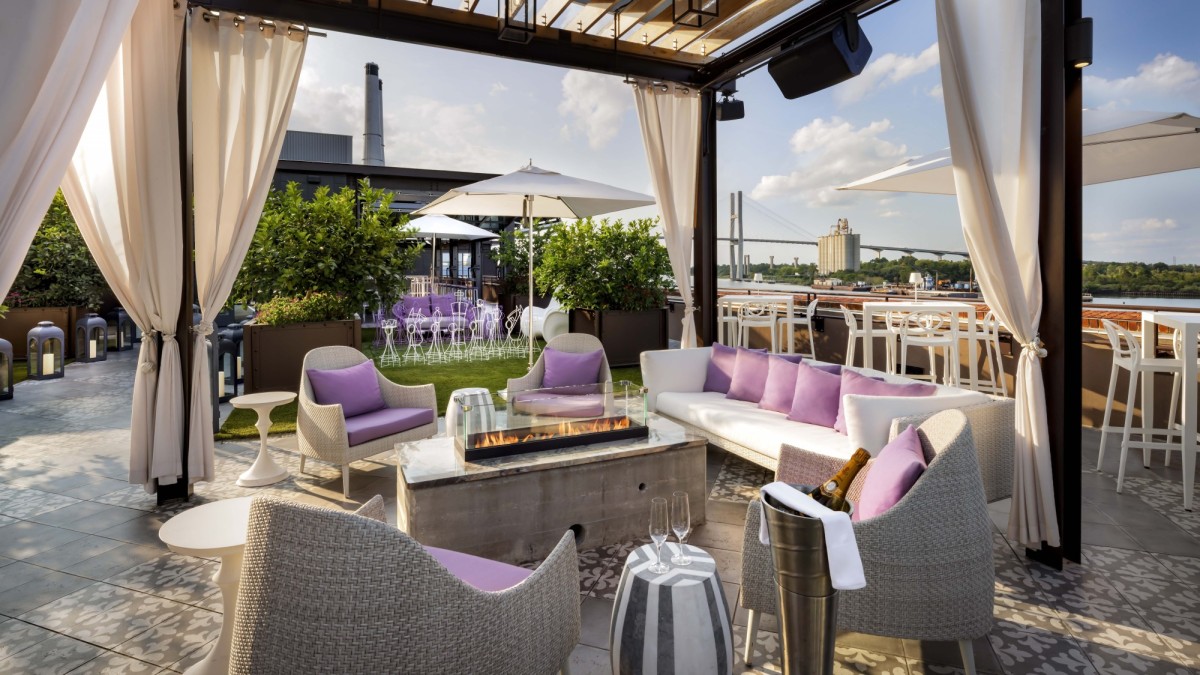 Myrtle & Rose 
Grab your flower crown and spend a mythological day or evening in an exotic rooftop garden where love, romance and femininity is elevated. Myrtle & Rose Rooftop Garden is one of Plant Riverside District's most admired cocktail lounge. It's unique features include handcrafted shareable bites and botanically infused cocktails, complete with exceptional views of the historic district and the Savannah River.
Savannah's outdoor drinking and dining scene is popular with both locals and visitors! Grab some great food, an ice cold cocktail, and enjoy the scenic views. There's nothing quite like outdoor dining in Savannah!